A first hand account of Brazil's nightmare semi-final versus Germany, by Samindra Kunti at the Estádio Mineirão in Belo Horizonte.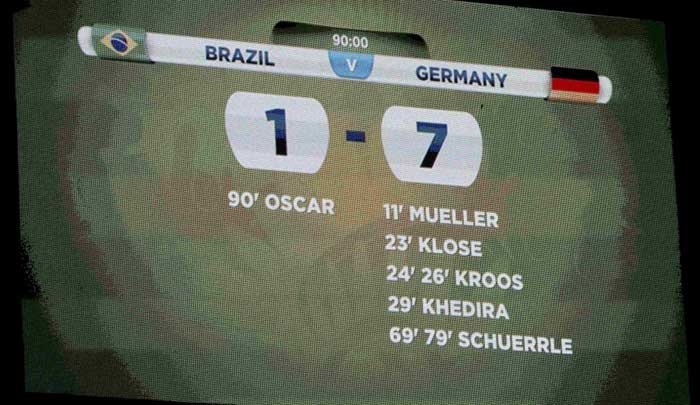 'Campeao voltou," they sang. Brazil's fans turned the Mineirao, a bowl-like stadium, into a sea of yellow.
They had sung the same song at the same stadium against Chile. Then, the bar and Julio Cesar saved them, but this time around there was no saving a feeble Brazil. Germany smothered any of Brazil's hopes, and July 8 became a historic date.
Before the kick-off the fans belted out Brazil's national anthem acapela, a custom at this World Cup. A genuine sense of occasion permeated the stands at the Mineirão, a contrast with the sometimes antiseptic atmosphere at World Cup stadiums. This was a World Cup final between the hosts and Germany. Both teams boasting an illustrious history.
But Brazil couldn't defend the great history and legacy of its famous yellow shirt on the pitch. Germany annihilated Brazil. Muller opened the scoring. The unease and fear of the Brazilian fans was palpable, but they backed the Selecao with repeated chants of 'Brasil, Brasil'.
Then came a flood of goals. The Germans showcased the best of modern football: plenty of ball possession, quick transitions, quick-fire passing, superb movement and lethal counter-attacking. They dispossessed Brazil as the owners of the beautiful game. On this night, Die Nationalmannschaft invented its own superb version of the game. It made look Brazilian football outdated, outmoded and irrelevant.
The fans went from hope to disbelief to despair. When Toni Kroos scored Germany's third goal, Brazilians realized a miracle was needed, but it never came. Slowly they went into shock mode – how was this possible?
Germany went on to further dismantle Brazil. The Mineirão morphed into The 'Mineirazo', Brazil's own renewed little hell. Yet there were no diabolic scenes. Brazilians fans vented their anger and disappointment at each other. Occasionally, they fought and stewards intervened. The hectic scenes in the stands were a sharp contrast with Germany's well-oiled machine on the pitch. Chants of 'Super Deutschland' were audible.
Slowly, fans, media and every living soul in the stadium realized they were witnessing football history, a unique game that would go down in the annals of football history. Utter disbelief became appreciation and then admiration, as they clapped and applauded Joachim Löw's men.
But they booed their own fallen heroes.
The post-mortem has quickly become a debate about where the future of the Selecao lies. Still the Brazilian press is using plenty of melodramatic words to dissect Brazil's humiliation. Placar's cover read 'Massacre. 'Vexame' wrote the business magazine Epoca. Folha de Sao Paulo, Brazil's largest quality newspaper, called it 'the worst defeat in the history of Brazilian football.'
The question is, however, how Brazilian will move forward from the annihilation? For now, it seems nothing much will change. Jose Maria Marin and Marco Polo Del Nero, the number one and number two at the CBF, want to cling on to their power. They have even suggested that Scolari might stay on till the end of this year. More progressive voices speak of appointing a foreign coach as a solution to Brazil's problems. One who could overhaul youth development, where winning is still more important than the player development, and reform Brazil's outdated tactical approach.
For the fans though, Brazil have failed – in Brazilian culture winning is everything, coming second is nothing. This generation of players will forever be marked by their semi-final defeat. No redemption is possible, except for Neymar, whose reputation remains relatively intact after this World Cup.