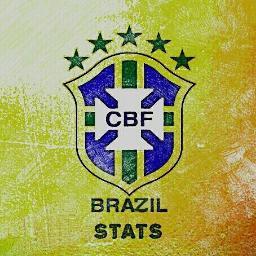 The Botafogo Star had the pleasure of interviewing @BrazilStats and its accompanying blog http://brazilstats.wordpress.com. Read on to see what he had to say about the current state of the Brazil national team ahead of the World Cup next year, and his view on Neymar's development amongst other things.
Who do you think Brazil's star players will be at the 2014 World Cup, and are there any players who are currently relatively unknown who could stand out?
Brazil has lacked a true star player since a long time now, almost 3 or 4 years since Kaká started losing shape. At the moment, Neymar Da Silva seems to be the one stepping up. With 20 goals, 12 assists in just 32 caps, he seems to have established himself as Brazil's star player, as all World Cup hopes are on him. On the other hand, Oscar who has 5 goals and 6 assists in 15 caps doesn't look too far away, having played a major role for Brazil since 2011. The 2 young players will only get better by World Cup, as they will mature and get closer to their peak.
As for other players who could step up, it all depends on Brazil's performances in the FIFA Confederations Cup that kicks off June 15. Say the team won the competition, key players are likely to be kept, as was the case in 2009, and other unknown players wouldn't get their chance, a year before World Cup as Scolari would be looking to let the team gel and improve chemistry furthermore.
If Brazil fails, their could be many changes to the team, as was the case after Copa América 2011, where players like Lúcio, Ganso and Robinho paid the price. In this case, dropped out players like Ronaldinho and Kaká, with some good performances at club level, are likely to get the notch as well as Liverpool's very in form Philippe Coutinho.
So to conclude, it all depends on how Brazil performs next month.
---
Do you think Luiz Felipe Scolari is currently the right man to be managing Brazil?
I think that no other manager could have done better than Scolari. The results weren't too positive, but he is rebuilding the team. As Thiago Silva said, Brazil has a lot of quality players but their main problem is that they haven't played together for too long, unlike other teams like Germany and Spain who have been using the same system, and many same players over the last 4 or 5 years now.
Scolari apparently, by snubbing Ronaldinho and Ricardo, wants Neymar to be the playmaker, taking that free role, that he couldn't have with the presence of one of them, as they are players who only play well when they keep the ball. And when they lose it, they might be so bad, at the extent of damaging the whole team, unlike Oscar for example, who is more consistent, and who, on his worst day, still doesn't perform that bad.
With Neymar having that free role, I expect performances from him, similar to the one against Italy, and mainly the first half, rather than the game against Russia for example, when he was stuck and heavily marked every time he touches the ball. In that free role, he will be liberated, more like Messi at Barcelona, with the only difference of Fred being a striker instead of Neymar being a false 9.
That's the idea Scolari has in mind, and it seems brilliant. But surely, you can never really know how good it will turn out to be, unless we watch how it goes practically on the field. And before judging Scolari, we should at least wait until the outcome of the FIFA Confederations Cup. As Lionel Messi said recently, Brazil is a great team that cannot be judged on friendly matches.
---
The key positions of goalkeeper and striker seem to be up for grabs in the Brazil national side. Which players do you think could best fill these positions?
For the time being, I think that Scolari has a starting eleven in mind, with J.César and Fred among the starters. Before seeing how the perform next month, judging them would be unfair. They have done a great job so far, with the goalie making some outstanding saves, while Fred scored 3 goals in 3 matches under Scolari, even though he may not be a very popular name for the European crowd, but let's not forget that he was the Brazilian league's top scorer, last term.
---
So, with all this in mind, do Brazil have a realistic chance of winning the 2014 World Cup?
Brazil has the quality of the players required to win World Cup, I have no doubt about that. The only thing Scolari needs to work on, is preparation. By choosing Neymar to be Brazil's playmaker, Felipão has already taken a step forward.
As they say, to be the best, you have to beat the best. I'll quote Thiago Silva there, one more time, when he said that Brazil could beat Spain by shortening the free spaces and concentrating all over the hour and a half of the game. For a player who was a part of PSG, who could have eliminated Barcelona from the UEFA Champions League, thanks to great defending and brilliant counter attacks guided by Lucas Moura, I think Brazil can do the same.
Brazil has the best 2 players who performed against Barça, from PSG. Add to that, the likes of Dante, Marcelo, Oscar and Neymar. I really think that all of them could have featured in that PSG side, without any trouble, that could have beaten Barcelona that day.
---
Has Neymar's development been affected by the fact he's stayed at Santos, and not moved to Europe?
This point is a very important and large one. I would say that having stayed at Santos so long, has had both positive and negative effects.
With Santos, Neymar is the engine of the team. He plays for a side that isn't the obvious dominant one in almost any game they play. Which requires more work from him, more individual effort, whereas at the Spanish side most games end up with a large win for Barça in La Liga, and there is no pressure. Lucas Moura and Oscar didn't find any trouble to replicate their Brasileirão form immediately in Europe. That said, Neymar is head and shoulders above them. He would find his task much easier at Barcelona, the crowd would probably only want from him to score a goal or two, from at least 5 scoring opportunities he would get every match (excluding the 5% games against big teams, which are very few. For example last season, they were only: Classico, Milan, PSG, Bayern).
On the other hand, Santos has really been bad recently, after selling Ganso. And for a person who follows their matches regularly, I can tell you that it is affecting Neymar's form, enormously. The player has reached an all time low, having missed out on scoring any goal in his last 7 games. And the reason for that is first of all, Santos' form, playing so bad and never being the dominant side.
My worry was that Neymar at Barcelona, would become like Messi and C.Ronaldo at their clubs, they shine and do miracles sometimes, when their team is the dominant side, but when they go to their national team, they find it very difficult to replicate their club form, because Argentina and Portugal are usually never as dominant against there opponents as much as Barcelona and R.Madrid are. Which explains both players' disappointing World Cup campaign.
That said, Neymar needs confidence now. He is being harshly judged by some Joey Barton-esque people, who only judge him on one game, where he was clearly not the Neymar we know. Neymar's crime was that it was still pre-season when he faced England, he wasn't at his best shape. He missed Oscar's cross for example, which he would never miss against any team. It's not that England were too good for him, it's that, that day, Neymar was always going to miss that easy tap in no matter who was the opponent, which gives an idea how uncomfortable he was that day. He even said after the game that he felt his legs were freezing as if they were in a refrigerator, which is very understandable considering the climate in Brazil, and considering his brilliant performance against EURO 12 runners up, Italy, the month after.