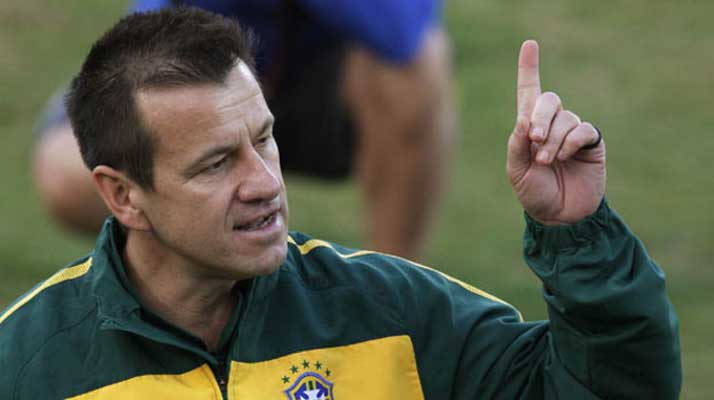 When asked the question – "which is the greatest footballing nation ever?" – the majority would answer Brazil, or the first name that would come to one's mind will be Brazil. Despite this, The Seleção are going through one of their roughest periods at the moment, with critics claiming that it's the worst Brazilian national team in recent history. Some have gone as far as to say that they're being carried by the one and only star man in the team, Neymar. Not many would argue against this, because this has been pretty much the case for the past two years.
After the resignation/sacking of Luiz Felipe Scolari due to his team's horrible display in the World Cup on home soil, the Brazilian Football Federation decided to bring back Carlos Dunga, yes the same coach whose Brazil had to pack their bags after a quarter-final defeat to Netherlands, who then went onto the final of the tournament in South Africa.
Often known for his pragmatism, just like his predecessor, Dunga's squad-selections wouldn't go down too well among the football fans around the world.
Here I take a look at his team from 2010 and predict a possible Brazil XI under him.
Goalkeeper:
2010: Júlio César

He was one of the world's best goalkeepers at the time, and had won the UEFA Champions League with Inter Milan. He was always going to be Brazil's #1.

Fast forward to today, and Júlio César is no longer be part of the Brazilian national team, with the player himself admitting that he's considering retirement. So who's next?
There are a number of options for this position. Fábio, who won the Brasileirão last season with Cruzeiro is a fantastic goalkeeper. There's Atlético Mineiro's Víctor who showed what he's capable of producing during the club's successful Copa Libertadores campaign last year. Jefferson could still be in contention for the role and he was the second-choice under Scolari.
Moving to Europe, Fiorentina's Neto is having a terrific spell and could push for a place. Another option is Napoli's Rafael Cabral, who's widely regarded by fans as Brazil's automatic choice to become the long-term goalkeeper. He had suffered a serious injury last season, but is expected to be Rafa Benítez's first-choice in the 2014/15 campaign, with Pepe Reina returning to Liverpool following a loan spell.
Rafael's arrival in the national squad will depend on his performance at club level. At the current moment, it's very hard to predict who'll stand between the posts under the new manager.
Back Four
2010: Maicon, Lúcio, Juan, Michel Bastos

Maicon was expected to be the first-choice right-back prior to the 2010 World Cup. This meant Dani Alves, despite being national team material, more versatile, and also better than Maicon in many aspects, had to be happy with a back-up role. Lúcio was Brazil's captain, and led his club Inter Milan to Champions League glory. He was partnered by the classy central-defender Juan. Dunga didn't even call-up Marcelo, who was regarded by many as the nation's best, and Michel Bastos was given the starting left-back role – someone who wasn't even playing that position at club level.
The future of Maicon and Dani Alves at the national team could be in doubt, with both of them ageing and declining. But I wouldn't be surprised one bit if both of them stay around the squad. Reason? You guessed it, Dunga.
Fans have been calling out for Porto's Danilo over the past year, and it's about time he's given a chance to showcase his ability in the main squad. Now to the other wing-back position. Scolari was never going to change his team and it was evident even before the Confederations Cup. Marcelo's poor display in the 2014 World Cup echoed fans' claims of how stupid Scolari was to prefer the Real Madrid player and Maxwell, over Atlético Madrid's Filipe Luís. He was an instrumental part of Diego Simeone's side which won La Liga, and came ever so close to win the Champions League.
Over the years, Marcelo has gone far from being once regarded as the best in his position. He has struggled to stay in shape and makes silly mistakes during plays. Unlike Marcelo, Filipe Luís is really comfortable in both defending and attacking – something we don't usually see in Brazilian full-backs, as they're generally known for their attacking qualities. I expect Filipe to be Brazil's first-choice under the new manager, but as you know, it's Dunga!
Moving onto the centre-backs now. Considered by the majority fans as the world's best central-defender, Thiago Silva will of course keep his place in the team. It's untouchable, and should stay so for atleast a couple more years. The real question is, who should/would partner him? Filipe Luís' ex-club mate João Miranda wasn't given a decent chance by Scolari. Another one was Cruzeiro's towering defender Dedé who was arguably the best in his position in Brazil last year. Both Miranda and Dedé deserve(d) to start instead of David Luiz who's pretty much a headless-chicken without Thiago Silva – the factor which makes his partner, Luiz, look good. But after his big money move to Paris, the meltdown is expected to continue because he'd most probably keep his place in the Brazil XI as his partner at club level would be the same Thiago Silva.
Midfield
2010: Gilberto Silva, Felipe Melo, Elano, Kaká

Dunga played with two defensive midfielders in his team. One was the destroyer, Gilberto Silva, standing firmly in front of the defence, and the other, Felipe Melo, had less defensive duties and served to connect the attack to defence, whilst also getting forward at times.
Besides these, there was Elano who was the creative midfielder collecting the ball and getting forward in most of the plays, feeding the exceptional Kaká. 
Expect Luiz Gustavo to keep his place and should be Dunga's destroyer in a 4-3-1-2 formation providing protection for the two centre-backs. As it stands, Fernandinho is the one who's expected to be the other deeper lying midfielder, and he'd be my preferred choice too. A powerful runner, he's comfortable going forward but is also a classy number five who can regain possession and start an attack.
Time will tell whether Dunga sees Oscar as the natural replacement for Kaká, or as his Elano. This can be Philippe Coutinho's breakthrough year with the youngster expected to play a big role for his club after the departure of Luis Suárez. But Coutinho lacks the defensive qualities of Oscar who can flourish as a number six. Oscar is quick, tracks back, tackles well, and carries the ball excellently. I can only hope Dunga deploys Oscar deep, and slowly introduces Coutinho into the national set-up. 'Little Phil' has all the 'Brazilian' qualities in him. He's blessed with blistering pace, dribbling skills and the ability to deliver through-balls to find the right man. It should be a joy to watch the boy from Rio pulling the strings behind Brazil's front-two.
Attack
2010: Luís Fabiano, Robinho

Luís Fabiano was a strong, classic number nine. He was partnered by the technically better and quick forward, Robinho. Both had goals in them, too. 
Neymar will be the star attraction in the new team, as he has been for quite a while. Positioned on the left-flank, he was a free bird under Scolari with the freedom to roam around and do his thing. Dunga has always said that a team should not be about one or two players, so one of his objective will be to change the Neymar-dependency. Neymar cannot be used as a classic #9 like Luís Fabiano because he just isn't that player. He'd still be roaming around, providing that extra width to his team.
The question now would be who'd come into the team instead of Fred who announced retirement after an absolutely poor display in the World Cup. Just like the goalkeeper, this position also has many contenders. After Dunga's news broke, there were reports in Brazil that he'll give Shakhtar Donetsk striker Luiz Adriano his first opportunity at senior level. I wouldn't say no to this because it will only be a reward for his hard work in Ukraine over the years, after leaving Brazil early on in his career. Brazil managers are often famous for avoiding players from the smaller-leagues' and perhaps that can be said in Luiz Adriano's case. However, it's also reported that he's considering playing for Ukraine.
Hoffenheim's versatile player Roberto Firmino, who had a terrific season in Germany, has been tipped by many to operate as a false-nine in the national team.
The player considered to have most chance of breaking into the squad under Dunga, would be Alan Kardec, who recently joined São Paulo after helping Palmeiras to gain promotion to the Brasileirão. He's someone who deserved to be tested even before the World Cup, due to Fred and Jô's poor run of form.
Pie-eater Walter is also in contention for the spot after a stunning last season with Goiás and getting his move to Fluminense. Alexandre Pato, who was once regarded to be Brazil's long-term number nine, has declined massively and became a boo-boy in Brazil.
Leandro Damião, who had some European big guns following him not so long ago, seems to have stalled in his development, and 17-year-old prospect Gabriel Barbosa has already proved to be a better option for their club side Santos.
Finally, there's Rodrigo Moreno who possesses the most 'Brazilian' qualities among all the above mentioned forwards. Rodrigo has previously represented the youth team of Spain but is apparently eligible to play for the Seleção. His dad said recently that CBF didn't say anything about a call-up the last time they got in touch, but is open to playing for Brazil if CBF want him.

Trying to be be realistic here, so this is how I'd expect Brazil to
line-up under Dunga:

Jefferson

Dani Alves
David Luiz
Thiago Silva
Filipe Luís

Luiz Gustavo
Fernandinho
Oscar
Coutinho

Neymar
Alan Kardec

4-3-1-2
Jefferson; Dani Alves, David Luiz, Thiago Silva, Filipe Luís; Luiz Gustavo, Fernandinho, Oscar; Coutinho; Neymar, Alan Kardec.