France – 1
Varane 21′
Brazil – 3
Oscar 40′, Neymar 57′, Luiz Gustavo 69′
This victory at the Stade de France was Brazil's 16th consecutive friendly win, and one which saw Dunga's men line up in a formation containing no real centre forward. The shape was a very fluid 4-2-2-2 formation, in which much of the play was focused down the left hand side.
The roaming play of Neymar, Oscar, and occasionally Filipe Luis down this left flank, meant that a France side which looked impressive on paper often looked confused on the pitch as their players struggled to follow the movement of Brazil's attacking quartet.
Oscar started from a position from the left, but could often be found building play up in midfield beside Elias, or drifting in behind Neymar into an advanced playmaking position. This was demonstrated early on in the game when he slipped Neymar through on goal with a great pass from a central area.
Neymar would also drop deep into the position previously occupied by Oscar, which then allowed left back Felipe Luis to foray into opposition territory.
To further confuse the opposition defence, The nominated striker Roberto Firmino would also drop deep at times, with right winger Willian taking his place or drifting centrally himself. Willian and Firmino saw less of the action, but played important roles when it came to dragging defenders around and creating space for Neymar and Oscar.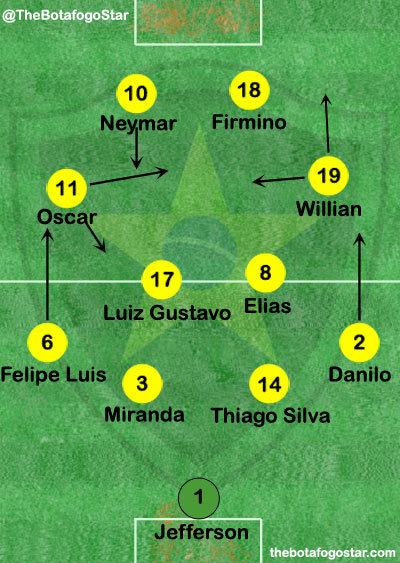 It was Firmino, dropping deep to link up play, who assisted the first Brazil goal for Oscar. At this point Neymar had taken up Firmino's place ,whilst Oscar found himself in the space previously occupied by Neymar. The goal was a good example of the interchange between Brazil's attackers and the way they pulled the French defenders around.
Felipe Luis was the more active and advanced of the Brazil full-backs, thanks to the concentration of play down the left. However, Danilo would get forward on the right if the opportunity arose. Danilo also defended well on the night, making one excellent covering tackle on Benzema.
Brazil's pair of central midfielders acted in a typically Brazilian double-volante set-up. Luiz Gustavo would hold his position and shield the defence, whilst Elias played the more adventurous role, supporting both phases of play as and when required. Elias played an important part in Brazil's second goal, as he carried the ball forward from deep in the midfield, before passing to Willian who sent Neymar in to score.
Roberto Firmino was also key to this goal, as his run across the France defence to the right meant Neymar had space to go through on goal on the left.
The set piece goal scored by France was an excellent header by Raphael Varane, as the defender towered above his own team-mates as well as any Brazil defenders who were in the vicinity. There wasn't much Brazil could do about this, other than maybe pick Naldo or Luisão in the centre of defence!
Brazil goalkeeper Jefferson made one outstanding save from a Benzema header, reacting in mid air to get a hand to the French striker's close range shot.