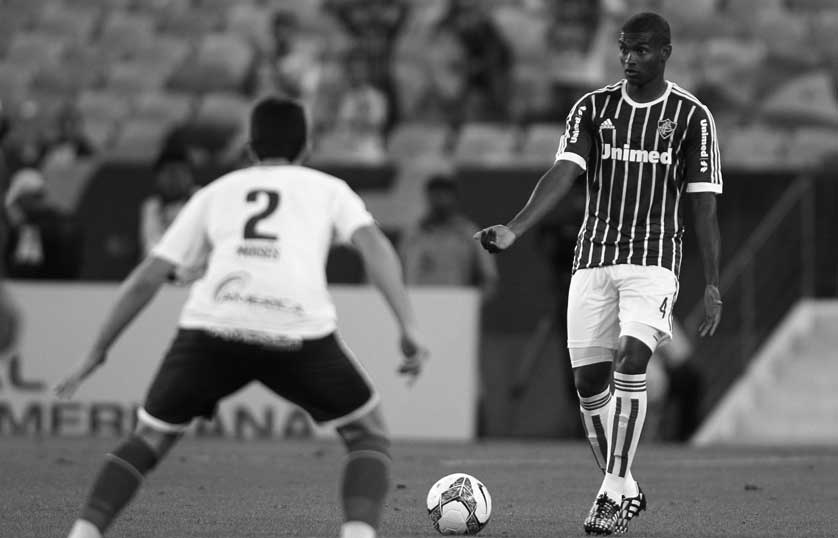 Though fiscal buffoonery remains very much part of the Brasileirão's fabric, it's fair to say that clubs are economically stronger than they were in the early part of the 2000s (for now).
Generally speaking, the league features a mesh of players at either end of their career spectrum. Rising young bucks toil alongside more mature players that have returned home from Europe (or other far flung territories), for one last graze before they are put out to stud.
As a consequence of Brazil's burgeoning economy and with the prospect of a World Cup on Brazilian soil, promising youngsters were retained in the league into their early 20s from around 2010 until recently.
The recent travails of the Brazilian real, together with the fiscal power of the Chinese Superleague could soon put paid to that, but for now the pattern just about holds. Previously, the talons of European clubs swooped on young Brazilian talent before they had exited their teenage years. Yet recently even Neymar, the jewel in the country's crown, stayed with Santos until his 21st birthday.
This is broadly good for Brazilian fans who had become so accustomed to being a warehouse of footballing talent. Now they are able to sample the goods for themselves a little longer before they are exported. Whether this trend bodes well for the prospect of young Brazilians in Europe remains to be seen.
Brazilian sporting culture is somewhat inconsonant to Europe and there is an argument that the younger a player is when he makes the move, the easier it is to remould habits so incompatible with expectations in Europe.
In recent years, clubs such as FC Porto, Villarreal and Shakthar Donetsk have turned smoothing this transition into a cottage industry, planing off the rough edges, blowing off the sawdust and polishing for resale to Europe's powerhouses.
With the 2016 Estudais and Copa Libertadores competitions about to get under way, I decided to look at 4 Brazilian talents in the late teens to early 20s age bracket, who will be looking to make the leap across the Atlantic soon.
The Libertadores is significant in this respect because it only occupies first half of the Brazilian football calendar, neatly finishing during the height of the European summer transfer window.
The competition often convinces players to stay in Brazil for the first stanza of the season, and its prestige couples nicely with its virtues as a shop window to impress European (or Chinese!) scouts.
Jemerson (Atlético Mineiro)
One such player that may be convinced to delay that big European move until July is Galo's lithe centre half Jemerson. The subject of intense interest from Sevilla, A.C. Milan, Lazio and FC Porto, the 23 year old has caught the eye with his athleticism and ability to play out from the back at Atlético, very desirable qualities for the European game.
Atlético placed full faith in Jemerson when they sold first choice centre half Réver to Internacional 12 months ago, allowing Jemerson to become the undisputed first choice alongside vastly experienced captain Léo Silva. Galo typically play a pressing game with a very high line and Jemerson's pace and awareness are key components of this strategy, defensively speaking. 36 year old Silva spent much of the season injured, leaving Jemerson to partner the slightly less impressive Edcarlos.
His performances remained unaffected as he fetched the eye of Dunga, earning himself a call up to the Brazil squad for November qualifiers against Argentina and Peru. It ought to be noted that Jemerson was part of a Galo backline that conceded 47 goals last season, despite finishing in second place. (Relegated Goías shipped 48 and rock bottom Joinville 49).
Yet Jemerson has clearly come of age, at 23 and with a lean, 6 foot plus frame, he is custom made to be an agile, waspish centre half. Galo are resisting offers for the moment, in the hope that he can play a part in their Libertadores campaign; but expect this assured defender to be leaving on a jet plane this summer.
---
Thiago Maia (Santos)
In a team featuring the delicate brush strokes of Lucas Lima, the maturing craft of Gabigol and the ruthless incision of Ricardo Oliveira, it was easy to rave over a Santos attack that began to animate nicely under the stewardship of Dorival Junior in 2015. But behind that tantalising triplet, roamed the quietly assured presence of 19 year old Thiago Maia in the 'volante' role.
Injury to first choice defensive midfielder Alison saw Thiago given his chance last June. It was an opportunity he seized, establishing himself as first choice and keeping Alison out of the side. Thiago is likely to stay with Santos for 2016 at least, having recently signed a deal that ties him to O Peixe until 2019. Due to archaic coaching practices, Brazil does not nurture attacking technique as once it did, but the country still does a very good stock in trade when it comes to the defensive midfielder.
Thiago Maia is a fairly prosaic prototype in that sense, he likes to win the ball and redistribute it to more technical teammates, such as Lucas Lima. He reads the game very well for a player of his age and is strong with both in the tackle and with interceptions. There are creases to iron out, his distribution could certainly improve. But if he can stay in the Santos side for the duration of 2016, his development should continue at a pleasing rate.
---
Alisson (Internacional)
The rise of Inter goalkeeper Alisson was the Brasileirão's folk song of 2015. From third choice goalie at O Colorado to first choice for the Seleção in a breathless year for the 23 year old. Injuries to ex Milan stopper Dida and reserve choice Agenor opened the door for Alisson and he simply has not looked back. (Incidentally, his brother Muriel is Inter's current third choice goalie). He has good handling and is learning exactly how to use his 6'4 frame to be imposing in his area.
Alisson became a feature of Dunga's Brazil squad during the middle of last year. Since Jefferson suffered a crisis of confidence in a chastening away defeat to Chile, Alisson has started the last 3 qualifying games for his country. Though Dunga is oft accused of looking rather kindly on players from Internacional, Alisson's rise says as much about his character as his ability. Has been keenly linked with a move to Italy, with Roma lurking. His days in the Brasileirão already appear to be numbered.
---
Marlon (Fluminense)
A smart centre half, 20 year old Marlon is a player that already appears to have one foot on the plane to Europe. Barcelona are rumoured to have secured first refusal on the Flu defender, likewise, Serie A side Roma have been sniffing around this cultured centre back. Marlon is very much in the ball playing mould of central defender, so much so that he can also play in midfield. The Rio born youngster is likely to be a part of the Brazil U-20 squad that will compete in the Olympics Games in Rio later this year.
The games could prove to be Marlon's final soiree as a domestic based player on home soil. When prominent financial backers Unimed relinquished their Fluminense subsidies in 2014, the Carioca club were forced to delve into their academy as part of a cost cutting exercise. Though their status has diminished greatly since winning league titles in 2010 and 2012, they have at least expedited the progress of young talents such as Gérson and Marlon.
A tall, composed defender, Marlon specialises in reading the game, breaking up attacks through interceptions and calm redistribution of the ball. He plays with a maturity that belies his tender years. He could stand to improve physically and probably aerially too. But his decisions in the tackle are judicious for such a young player, nearly always reclaiming possession for his team. He usually stays on his feet when executing challenges, often retaining possession of the ball for his side, as well as impeding opposition attacks.