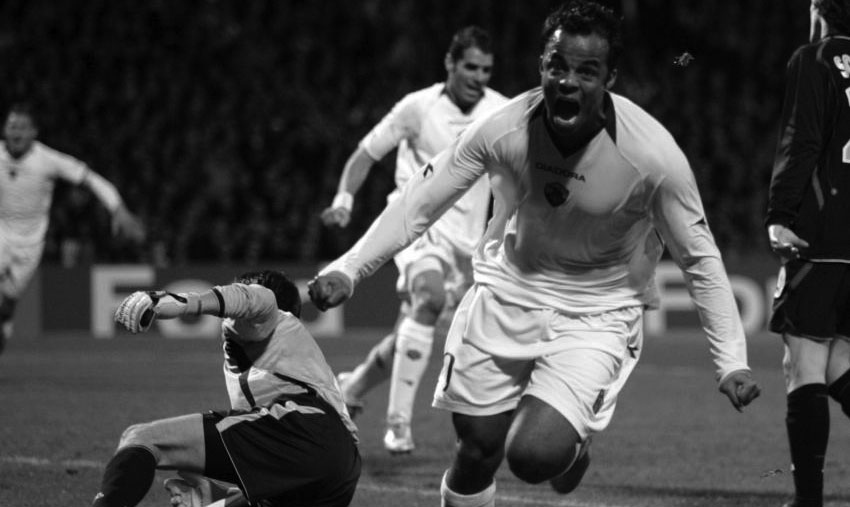 He is remembered mostly for one moment of brilliance; a flurry of step overs that turned defenders from actors to spectators before he proceeded to fire a ferocious shot into the roof of the net.
Amantino Mancini's goal against Lyon is a natural inclusion whenever a highlights reel of the best goals of the Champions League is compiled and that moment of genius has granted him immortality.
That goal, however, is also Mancini's curse.  It overshadows all else that he achieved during his career.
A product of Atletico Mineiro's youth system, Mancini was identified as a player of promise from an early age.  He was a regular by the time he turned nineteen and over the following three years made more than a century of appearances for the Belo Horizonte based club.
Europe beckoned as it does for most talented young Brazilian footballers but, surprisingly, his next destination was lowly Italian Serie B side, Venezia.
What's more, he struggled to make an impact with his flamboyant style not being a good fit with the rigid functionality of his new surroundings.
Surprisingly, AS Roma still made the move for him and got him for a measly €1,000.  It would prove to be an exceptionally good deal.
In Rome, Mancini enjoyed the best moments of his career as he became an integral part to the side that went close to winning the Serie A title on a number of occasions, even though he only managed to win a Coppa Italia in his five years there.
His career wound down during unsuccessful spells at the two Milanese clubs and in the midst of a scandal as things turned sour when he was convicted of sexual assault. He was sentenced for two years back in November 2011, but served only a few months.
In 2013, understandably, he ended up without a club.  At thirty three, many would have simply given up but Mancini opted to keep playing moving to lower league sides Atletico Mineiro and Vila Nova.
His arrival at the latter club was particularly interesting because it confirmed their penchant for the flamboyant.  Indeed, in the same week that Mancini signed they also brought in a player who had been made famous by one outrageous piece of skill years earlier, Kerlon.
There is, however, a big difference between Mancini and Kerlon.  Whilst the former had actually enjoyed a successful career, Kerlon had failed to do so and in hindsight, this was hardly surprising.
He had risen to prominence thanks to a rather unique ability, the "drible da foquinha" or seal dribble, where he bounced the ball on his forehead while running.  This attracted attention and turned Kerlon into a household name.
Indeed, the reputation he built through it allowed him to sign for a number of clubs across the world.
Yet it wasn't enough for him to actually play that many games even at Vila Nova where he is largely a squad player.
Even so it is rather delightful of Vila Nova to have the audacity of bringing together two such flamboyant performers.  If they can recreate a fraction of the genius for which they came to prominence, it will be well worth it.