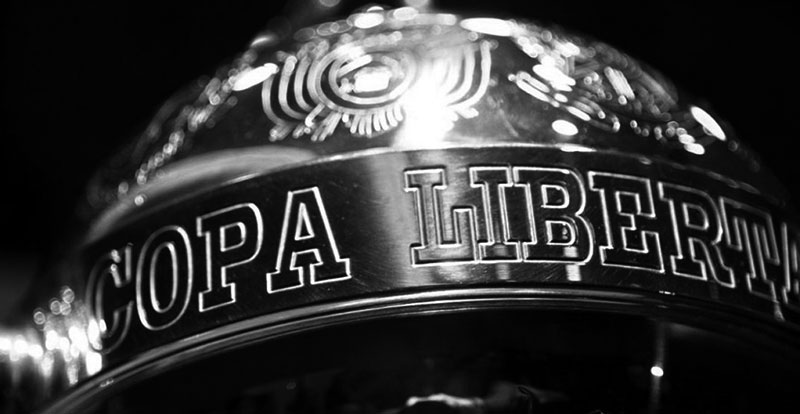 An absorbing Copa Libertadores group phase has rattled by in a flash of power cuts, on field brawls, red cards, centre halves in goal, and matches played at severe altitude or in the middle of the Andean desert.
Occasionally some football broke out too. Four of the five Brazilian clubs have progressed to the knockout rounds, with Copa do Brasil winners Palmeiras narrowly missing out.
How did the Brazilian clubs fare? Who awaits them in the last-sixteen? Who are the players to watch? Find out exactly what to think by reading on…..
CORINTHIANS
Group opponents: Santa Fé (COL), Cobresal (CHI), Cerro Porteno (PAR)
Finished: 1st (13 points)
Assessment: Having had the guts of their 2015 title winning team dissected in the transfer window, qualification by any means necessary was always the main objective for a team seeking cohesion. Corinthians won their group fairly comfortably, but were far from swashbuckling in doing so. (As an additional curiosity, power failures delayed play in three of their matches).
They started with a very fortunate stoppage time winner against Cobresal deep in the Andean desert and that fortune carried over into match day two, with an uninspiring 1-0 win over beleaguered Santa Fé. The Colombians represented the biggest threat to Tite's side in this group and the fact that they were temporarily beset by a managerial crisis in March smoothed Corinthians' progression.
Having scored 14 goals in the group phase, it seems anomalous to suggest that goalscoring might be the São Paulo side's biggest obstacle to winning the tournament. That figure is massaged by a 6-0 win over an already eliminated Cobresal side on match day 6. Timão have recruited creative players like Guilherme and Giovanni Augusto, but they lack a convincing number 9.
Tite's renowned flair for organisation makes this Corinthians team more than the sum of its parts, especially as they find their feet during a difficult transition. They face Nacional of Uruguay in the last sixteen, who are themselves a tough to beat outfit. In Sebastien Fernandez and Nicolas Lopez, they have two strikers that probably outstrip anything Corinthians can offer in the same position. It will be a closely contested tie.
Player to watch: Whilst clubs from all corners of the globe were busy picking off the likes of Gil and Renato Augusto in the off season, right-back Fagner was one piece of low hanging fruit left on the vine. He has reportedly caught the eye of Barcelona scouts as they seek to replace Dani Alves. Fagner is a very modern full-back, capable of lung busting shuttle runs down the flank, but defensively secure enough to satisfy the demands of Tite, who prizes organisation over all.
ATLETICO MINEIRO
Group opponents: Colo Colo (CHI), Independiente del Valle (ECU), Melgar (PER)
Finished: 1st (13 points)
Assessment: Galo also qualified comfortably, their progression never really looked in doubt. Their only defeat arrived on match day 5 in difficult conditions in Ecuador. Marshalled by new coach Diego Aguirre, Galo look the most settled of the Brazilian teams, even if there are still defensive kinks to iron out.
Given the creative, attacking talent at their disposal, Atlético have lined up with fairly solid looking midfield structures, with three disciplined central midfielders; Leandor Donizete, the impressive Rafael Carioca and new boy Junior Urso. Ahead of them, Atlético field a revitalised looking Robinho, Argentine powerhouse Lucas Pratto and any one of Luan (now injured), Jonathan Cazares, Jesus Dátolo or Hyuri.
After a fairly cagey start to the group, where they still took 7 points out of a possible 9, Galo released the handbrake in the second half of the group phase, scoring 9 goals in their final 3 matches. Atlético had 10 different goalscorers in their 6 group games. They also kept clean sheets in 4 of the fixtures. A generous defence cost them the Brasileirão title last year and plugging that leak remains one of Aguirre's priorities.
They face Racing Club of Argentina next round and the draw could have been much kinder for Galo. Racing Club came through a tough group with compadres Boca Juniors. Racing have ageing duo Lisandro Lopez and Diego Milito upfront, who remain more than capable of testing Atlético's defensive resolve.
Player to watch: The signings of attacking talent such as Robinho, Hyuri, Clayton and Jonathan Cazares set pulses racing in Belo Horizonte. But it is the acquisition of midfield busy body Junior Urso (which literally means 'Junior Bear' in Portuguese), that has caught the eye. Junior aids Galo's transitions from defence to attack, which was a key weakness in Galo's setup last season. It was a failure to master midfield transitions in a quarter-final match with Internacional that saw them eliminated from the competition in 2015.
GRÊMIO
Group opponents: San Lorenzo (ARG), LDU Quito (ECU), Toluca (MEX)
Finished: 2nd (11 points)
Assessment: Grêmio did what Grêmio do, came through the group with minimum fuss. They benefitted from a very weak San Lorenzo side (2014 winners), who did not manage to win a single game in the group. That said, Grêmio drew both games with the Argentines. LDU Quito were also quite a way behind the Porto Alegre side and group winners Toluca of Mexico.
Having lost Ecuadorian centre half Frickson Erazo to Galo, coach Roger has rebuilt his defence around the senior figures of Fred and Pedro Geromel. In Luan, they have one of the most talked about young attackers in Brazil, however, he did not manage to get on the scoresheet in the group phase. Grêmio's last-sixteen tie with Rosario Central might just be the tie of the round, with a crackling atmosphere certain in both legs.
Player to watch: O cinza ('the grey') Douglas still pulls Grêmio's creative strings. With his distinctive shock of white hair, Douglas is capable of carving open defences and equally adept at striking from range.
SÃO PAULO
Group opponents: The Strongest (BOL), River Plate (ARG), Trujillanos (VEN)
Finished: 2nd (9 points)
Assessment: Possibly the most fortunate of the Brazilian sides that qualified. São Paulo's group phase will be remembered for their two encounters with Bolivian side The Strongest. Having not lost at home in the Libertadores in over a decade, Tricolor welcomed The Strongest to the Pacambeu on match day 1. The Bolivians were without an away win in the competition since 1985.
The Strongest produced a coupon wrecking 1-0 win in one of the shock results in the competition's recent history. São Paulo only took two points from their opening three games, so they did rally impressively to qualify with 9 points. On loan Argentine forward Jonathan Calleri carried the team through to the knock-outs rounds almost single handed, chalking up seven goals. His two against River Plate on match day 5 and the equaliser against The Strongest in La Paz were especially important.
São Paulo grappled to an impressive point in La Paz on matchday 6 to qualify. They secured the draw they needed to qualify, but goalkeeper Denis will be suspended from the last-sixteen tie against the impressive Mexican side Toluca. Calleri will also be suspended; he was shown a red card during a melee after the final whistle in La Paz, which saw military police take to the pitch to separate feuding players.
Player to watch: It's all about Jonathan Calleri, who can score any type of goal. With Luis Fabiano and Alexandre Pato now departed and Allen Kardec struggling for form and fitness, São Paulo may have brokered the best deal of the transfer window by taking Calleri on loan from  Deportivo Maldonado. Strong, direct and with an eye for goal, Calleri is the leading scorer in the competition.
PALMEIRAS
Group opponents: Rosario Central (ARG), Nacional (URU), River Plate (URU)
Finished: 3rd (8 points)
Assessment: Had the group stage begun some two to three weeks later, it is quite likely that Palmeiras would have squeezed through in this tight group. They endured managerial upheaval half way through the phase, with Marcelo Oliveira sacked in a period of rotten form. The team took a few weeks to acclimatise following the arrival of 2013 Libertadores winner Cuca, but have looked a better outfit of late.
As my Botafogo Star colleague Austin Miller is fond of saying, Palmeiras scored 5 goals in the away matches at Rosario Central and Nacional and only took two points from those games. This is despite having one of the best goalkeepers in Brazil in Fernando Prass. So it's not difficult to see why and where Palmeiras failed to qualify. In Gabriel Jesus, they have uncovered one of the tournament's young gems (along with Marlos Moreno of Atlético Nacional).
Player to watch: Gabriel Jesus has always been a box of tricks; a skilful forward in the spirit of Robinho. But he has developed a really keen nose for a striker's goal. In the breathless 3-3 draw with Rosario, he calmly converted a one on one, hungrily snapped up a header from a setpiece and eked out a chance for himself; hitting the post with a precise shot.
He was also sent off in that match, which suggests that the maturing process is still underway in this teenager (he turned 19 in April). But his performances will have been keenly assessed by scouts from all over Europe, with Juventus said to be keen to secure economic rights on the player this summer.