The 1958 World Cup was an important moment in the history of Brazilian football for many reasons. It was the first World Cup appearance of one of their greatest players – Garrincha. It was also Pelé's first tournament, and a competition in which Didi was able to display his unflinching class on a world stage, winning the Golden Ball in the process.
It was a tournament of balance for the Brazilians. A healthy mixture of scientific preparation, scouting, and inspired managerial whims from Vicente Feola and his technical staff. They mixed the energy and fearlessness of youth, with the calm heads and knowledge of experience; from the 17-year-old Pelé making his first steps towards greatness, to the experienced 31-year-old full-back Nílton Santos reaffirming his own place in the hall of fame.
Brazil were drawn in the obligatory group of death, alongside Austria, England and the Soviet Union. The England squad contained two rare talents in the shape of skilfull wing-forward Tom Finney, and the scheming passer Johnny Haynes. The Soviet Union also boasted stars such as the versatile Igor Netto, striker Nikita Simonyan, and one of the best goalkeepers of all time in Lev Yashin.
After dispatching Austria 3-0, and drawing 0-0 with England, Brazil defeated the much feared Soviets in their last group game. This was thanks partly to Garrincha who, like Pelé, was making his first appearance in a World Cup match. Brazil's right winger instilled fear in the minds of the opposition defence from the outset, hitting the post early on and setting up Pelé to do the same. But it was Didi's innovation in midfield which created the first goal, with striker Vava converting the chance, before adding another late on as he went in bravely after good work from Pelé.
You don't hear Vava's name much when the '58 retrospectives are written, and whilst a young Pelé might be a handy, more glamorous reference, Vava's goals were scored at vital times in the biggest games, and were a major reason Brazil lifted their first World Cup.
These important goals were part of a wider plan drawn up by Brazil to ensure success on the World Stage. The players, management, and staff were all determined to put the misery of previous tournaments behind them, especially the 1950 disaster, and left no stone unturned in their quest for success in Sweden.
Brazil's World Cup staff included the coach Feola, a supervisor, doctor, dentist, psychologist, administrator, scout, and trainer, who combined to plan Brazil's Sweden trip down to the finest details. The team doctor, Hilton Gosling, was also assigned the task of choosing the team hotel. He took into account numerous factors when selecting an appropriate base for the team, including its distance from the matchday stadiums, the quality of the local training facilities, and even the local climate. Rumour has it that he also requested that the hotel's female staff be replaced with men, so that the players wouldn't be distracted by too many non-football activities. However, the nearby nudist beach was probably enough of a distraction in that sense, and after just one day in Gothenburg some players had already invested in a pair of binoculars.
Perhaps the most innovative addition to a World Cup staff was the sports psychiatrist, João Carvalhaes. Having begun his career working with boxers and bus drivers, he swapped the ring and bus depot for the football pitch, treating local referees and São Paulo players before being called upon to travel with the Brazil squad to Sweden. Carvalhaes carried out tests which assessed the players mentality, which found Pelé to lack "the responsibility necessary for a team game."
Garrincha also performed badly in these tests of mental agility, but luckily other members of the team's technical staff recognised his physical attributes. One of the psychological tests required the player to draw the first thing that came into his head. Didi drew the house he planned on buying with the money he would make at this World Cup, and Garrincha drew a sphere with spokes emerging from it, which his assessors presumed was the sun. When asked to explain his artwork, Garrincha surprised the team by stating that it was a drawing of Botafogo friend and team-mate Quarentinha who, granted, was a man of particularly round face.
Despite his apparent mental failures, the technical committee decided that Garrincha had to be picked for that third game against the Soviet Union, as they feared the stamina, organisation, and ruthlessness of the new world power. There were stories that the players forced the management to pick Garrincha and Pelé, but it was very much a group decision. The plan was to attack them with everything they had, and it worked. After the game the only players requiring mental health checks were the Soviet defence, as Garrincha, Pelé, Vava, Didi, and Mario Zagallo carried out Feola's tactics to perfection.
Zagallo was another important member of this triumphant side, and whilst he was positioned on the left as one of the attacking four, he was also required to retreat when the side didn't have the ball. Brazil were looking for defensive solidity going into this tournament, and had abandoned the old WM formation in favour of something more flexible when it came to the transitions from attack to defence, and vice versa. Zagallo's defensive duties were part of a wider plan which saw early use of a back four, a midfield duo including a volante (defensive midfielder – see below), and a deep lying forward.
Zagallo motored up and down the left flank, and it was his urgency which led to Brazil's first goal in the final against the hosts. Having just gone a goal down he took a quick corner which Sweden struggled to clear, and the ball eventually found its way to Garrincha on the right, who predictably beat his marker and crossed for Vava to make it 1-1. The second goal was a carbon copy as Garrincha again beat his man with predictable yet unstoppable dribbling, squaring to Vava to finish. Pelé then announced himself in the biggest game in world football with an excellent third, looping the ball over a defender's head before volleying home. Zagallo himself added a fourth as the ball ricocheted back to him from a corner which he'd taken, before putting the ball on Pelé's head to complete the rout in the 90th minute. Brazil had trounced the hosts by five goals to two, using a combination of pragmatism and stereotypical Brazilian skills, with both of these aspects being evident in the performance of their young number ten.
Pelé's slightly withdrawn role enabled him to combine effectively with forwards and midfielders, forming part of a central spine with Vava at the head, and captain Bellini at the base. Alongside Bellini was the excellent Orlando Peçanha, who had a reading of the game to compliment his defensive partner's leadership and brawn. Garrincha's club-mate, mentor, and fellow Botafogo legend Nílton Santos operated on the left of defence, whilst Djalma Santos (no relation) did a similar job on the right. Both fullbacks looked to support their wingers in attack, but maintained a narrow position at times when in possession, allowing them to sweep up on either side of defensive midfielder Zito. The side didn't concede a goal in the tournament until the semi-final against France.
Believe it or not, there were defensive midfielders before Claude Makelele, and Zito was an early example of a player in a position which became known in Brazil as the Volante. The phrase has its origins at Flamengo where, as far back as 1941, they were employing Carlos Volante in a defensive midfield role alongside a slightly more attacking partner, in a variation of the WM.
Brazil's 1958 World Cup winning formation could be seen as a 4-2-4, 4-2-3-1, or even a 4-3-3 with the withdrawn Pele operating in a position somewhere between an inside forward and a modern number ten. Rather than list meaningless numbers, here's what the team's average shape looked like: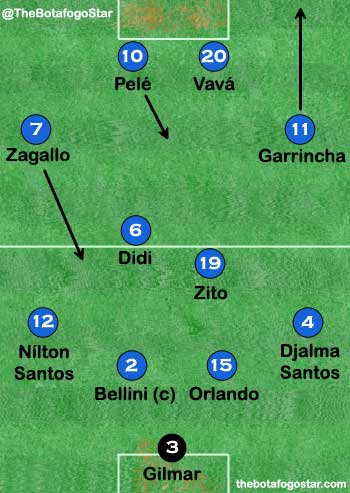 Why are the dots blue? Brazil's blue shirts were bought in Stockholm just days before the final, as Sweden won the draw to wear their yellow home strip. Brazil's lack of a suitable alternative meant the badges had to be removed from the yellow jerseys, and sewn onto the freshly bought blue ones.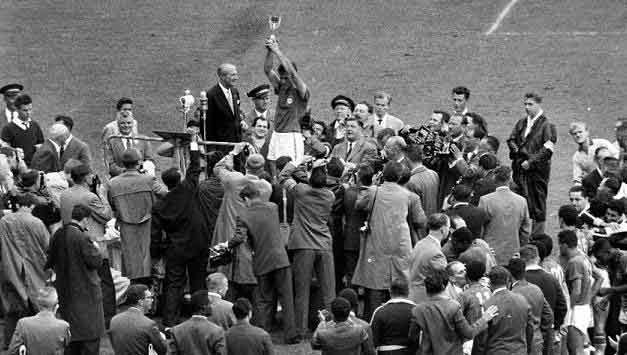 As Hilderado Bellini lifted the trophy above his head, so that the Brazilian journalists at the back of the press pile-on could see, legends, memories, and World Cup traditions were born. This group of players won Brazil its first World Cup trophy using methods and systems which were quite unique for their time, laying down a marker for future Brazil sides.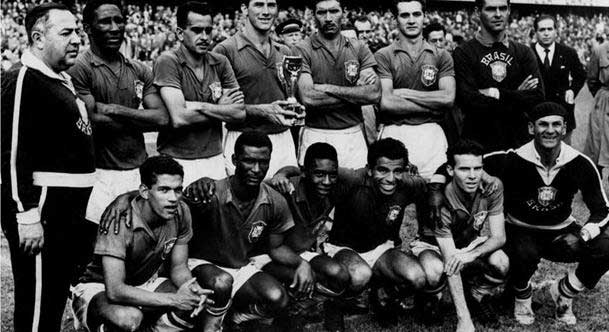 In their quest to win a cup which had eluded them in 1950 thanks to overconfidence, and in 1954 thanks to an era-defining Hungary team, Brazil left little to chance in 1958. An assortment of brains and feet combined to produce what was expected of them – to win. Going into a World Cup on home soil in 2014 the expectations remain the same, nothing less, and contrary to popular belief, nothing more.
---
Bibliography:
A star is born as Brazil are champions at last, (http://www.fifa.com/tournaments/archive/worldcup/sweden1958/index.html), FIFA, (accessed 09/03/2014).
História e Memória da Psicologia em SP – Pioneiro da Psicologia no Esporte, João Carvalhaes, (http://www.crpsp.org.br/memoria/joao/default.aspx), Conselho Regional de Psicologia SP, (accessed 09/03/2014).
Bellos, A., (2002), Futebol: The Brazilian Way of Life, London: Bloomsbury.
Castro, R., (1995), Garrincha: The Triumph and Tragedy of Brazil's Forgotten Footballing Hero. Translated from Portuguese by A. Downie. London (2005): Yellow Jersey Press.
Rubio, K., (2002, May 10), Origens e evolução da psicologia do esporte no Brasil. (http://www.ub.edu/geocrit/b3w-373.htm), Universitat de Barcelona, Spain, (accessed 16/03/2014)
Vickery, T., (2010, February 16th), A Brazil legend's lasting legacy, (http://sportsillustrated.cnn.com/2010/writers/tim_vickery/02/16/pecanha.brazil/), Sports Illustrated, (accessed 23/03/2014).
Wilson, J,. (2008), Inverting the Pyramid: The History of Football Tactics, London (2009): Orion.