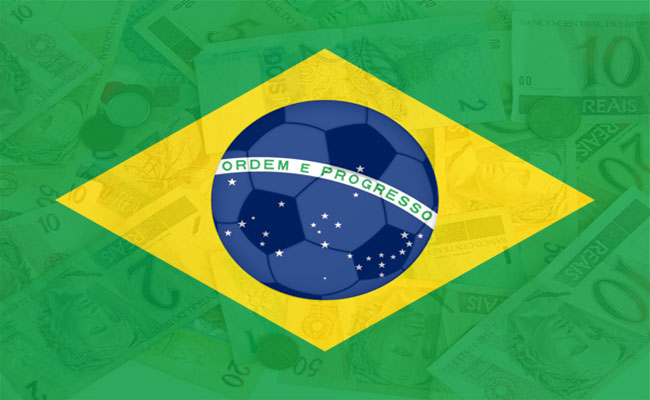 Last Friday, caps in hands, the chairmen of 12 of Brazil's biggest football clubs travelled to the national capital Brasilia to meet with president Dilma Rousseff. The reason for the trip was to discuss the proposed Law of Sporting Financial Responsibility, which aims to restructure teams' massive public debts over a 25 year period, while not unreasonably requiring them to comply with their financial obligations, such as paying players' wages on time. In the murky world of Brazilian football, such obligations are often seen as optional.
"If the law isn't passed, some clubs won't make it to the end of the year," said Brazilian football minister Toninho Nascimento at the meeting, while Botafogo president Mauricio Assumpção claimed that the club's financial crisis had made him consider withdrawing Fogão from the Brasileirão national championship.
Yet it is hard to feel too much sympathy for Mr Assumpção (now under fire for some dodgy financial shenanigans of his own) and his ilk.  According to a report by sports research agency BDO last year, Brazil's top 23 teams are an eye watering £1.24 billion in debt. The country's biggest club, Flamengo, who boast of having 30 million fans across Brazil (although such figures are derived from the dubious local custom of basing fan numbers on market research figures rather than such airy-fairy concepts as turning up at the stadium to support one's team) currently owe close to £200 million.
Even more alarmingly, the debt level is growing by the day – five years ago that £1.24 billion figure was just £540 million. Nor is it the manageable result of stock market manoeuvring – £700 million of Brazilian football's debt mountain consists of outstanding taxes and other government payments. If the UK tax laws that punished Scotland's Rangers in 2012 were applied here, not a club would be left standing. A number of Serie A teams, including Copa Libertadores winners Atlético Mineiro, paid players' late last year, and many currently have transfer fees and other income streams withheld by the justice system – Atlético are still to receive their share of the £20 million transfer fee for the sale of Bernard to Shakhtar Donetsk, Flamengo have had payments from their main sponsor, Caixa Bank, put on hold, while Botafogo are currently suffering a total block on their receipts.
Botafogo are perhaps the most visible example of the financial mayhem that swirls around Brazilian clubs. At Sunday's clássico against Flamengo at the Maracana in Rio de Janeiro, players took the field carrying a banner that said "We're only here because we're professionals, and for you, the fans" before listing the money that they were currently owed by the club – five months of image rights payments, three months' wages and FGTS (an unemployment/retirement fund).
On the surface, Botafogo should hardly be crying poverty. One of the country's most storied clubs – home of Garrincha and Nilton Santos – A Estrela Solitária claim to have around 2.8 million fans (according to the aforementioned market research estimates) and are based in a leafy part of Rio de Janeiro. Yet in practice all such intangible splendour achieves is to inflate the egos, and therefore the expectations, of fans and directors.
In reality Botafogo have no real ground of their own, are £184 million in debt (£33.5 million of which is owed to the government) and as described above, in recent years have frequently struggled to pay players their wages. While the club's average attendance this year of 3,960 is in part the result of the closure of the Maracanã before and after the World Cup, it is not much of a decline from the puny crowds that watched the team in 2013 (12,685) or 2012 (8,522). Whatever the delusions of their fans or directors, on the balance sheet, Botafogo are more Brentford than Barcelona.
The reason behind the financial crisis that affects Brazilian football is fairly simple. Clubs spend more than they earn. A lot more. While football makes an odd business model – the end goal is almost always to accumulate trophies, rather than profit – the Brazilian game takes this to extremes. Fans are feverishly impatient and clubs are run by presidents (usually local politicians of one stripe or another) elected on short mandates, meaning the aim is to garner as much glory in as little time as possible. Long term planning, financial or otherwise, is rarely a priority.
The same impatience means managers are sacked after months rather than years, leading to regular compensation pay-outs – unglamorous Recife club Náutico hired and fired seven coaches in 2013, and were unsurprisingly relegated from Serie A. Clubs pay ludicrous salaries and transfer fees – Palmeiras coughed up £184,000 a month for the pleasure of having Luiz Felipe Scolari lead them into Serie B in 2012, while Santos (average 2013 crowd: 10,405) decided to spend £11 million (all borrowed) on oft-injured, goal-shy striker Leandro Damião just a few months ago. The growth of Brazilian society has seen clubs' old bad habits catch up with them – in recent years the courts have begun to take action against teams for historical non-payment of wages. An avalanche of claims from players who went unpaid in the 1980s and 1990s and earlier have emerged, which, together with interest and penalties, have added millions to the debt mountain.
In short, Brazilian clubs spend like big European teams but are run more like amateur outfits, often with income levels to match. According to the Folha de São Paulo newspaper, a whopping 32% of the income of Brazilian football's top 20 clubs comes from domestic TV broadcast rights. But the TV deal was negotiated on a club by club basis – in 2016 the country's two biggest teams, Flamengo and Corinthians, will earn £45 million each, while outfits such as Botafogo, Grêmio and Cruzeiro will make just £16 million. With a few honourable exceptions, merchandising operations are antiquated (there could hardly be a more timely example of this than the recent inability to close a licensing deal with EA Sports, meaning the names of Brazilian clubs will not be included in FIFA 2015), and money from overseas TV deals is miniscule.
Ticket sales bring in just 10% – the average Serie A crowd was a paltry 14,000 last year. This is due to a number of factors, such as a nonsensical, crowded fixture calendar which tires players and wearies fans, high ticket prices, blanket TV coverage and inconvenient kick-off times, a fear of torcida organizada violence, rickety public transport systems, and a fickle fan culture where supporters will only turn up for big occasions, or if their team is doing well. Brazilian clubs offer sócio (members) packages rather than season tickets, as membership can always be cancelled midway through the season if the team is doing badly, whereas season tickets cannot – and few Brazilian fans are going to sign up to a scheme that means they have to pay out hard earned cash irrespective of whether their team is winning or losing.
The result is that Brazilian clubs have long depended on money from overseas transfer fees to survive. Yet ironically the financial crisis in the domestic game, coupled with other factors – the global economic downturn, the globalisation of football, which means wealthy European clubs now draw on growing talent pools in Africa and Asia, and the role of commercially minded third party owners in the South American market – means players are leaving Brazil at younger and younger ages and, a few windfalls such as Neymar and PSG's Lucas Moura aside, at cheaper and cheaper prices.
If there is any cause for optimism, it is that at least now the problem can no longer be ignored. Just as the 7-1 humbling of the national team at the hands of Germany in the World Cup semi-final called attention to Brazilian football's on-field inadequacies, so the actions of players at Botafogo and other clubs – most notably in the form of the Bom Senso FC ("Common Sense FC") player movement, which emerged last year demanding better working conditions for Brazil's footballers – are bringing the financial chaos in the local game to light, and not before time.