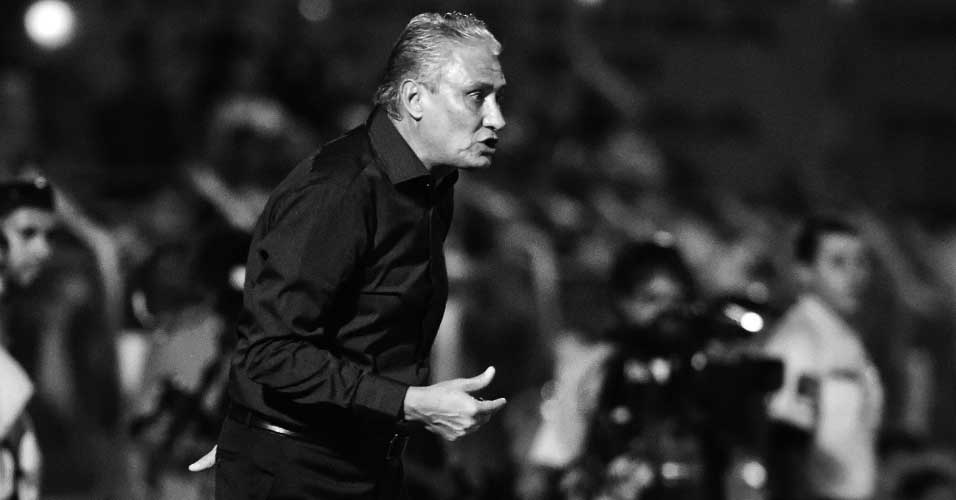 Corinthians have begun the new season in storming fashion and have a strong claim to be the best team in Brazil right now. They are unbeaten in all competitions with 12 wins and 3 draws, and have conceded just 6 goals along the way. More impressive than the numbers, however, is the manner of their performances: Ruthlessly efficient, combining stout defending with precise, targeted moments of beautiful and devastating counter-attacking football, they have rarely looked like they are anything less than 100% confident that they will win the game.
This has especially been the case in the Copa Libertadores, where despite being drawn in the 'Group of Death' alongside reigning champions San Lorenzo, local rivals São Paulo and Uruguayan champions Danubio, they have laughed in the face of death with three wins out of three so far. With much the same squad as the inconsistent one that finished 4th in the Brasileirão last year, what can explain the vast improvements in displays and results? In one word: Tite.
Perhaps the finest manager working in Brazil at the moment, Tite is most famous for his previous spell at Corinthians, when he led them to the Brasileirão title in 2011 and then Libertadores and Club World Cup glory the following year. The team he built was renowned for being tough to break down and score against, but this was taken to a whole new level in 2013, and not in a good way. Corinthians shipped as few as 22 goals in the league but scored just 27 themselves as the team sleepwalked to a 10th-place finish. It was at this point that Tite decided to take a sabbatical to study coaching methods at top clubs around the world, including Arsene Wenger's Arsenal and Carlo Ancelotti's Real Madrid. His replacement, Mano Menezes, led the club to Libertadores qualification but his side often lacked the mental capacity required in important games – the 4-1 defeat to Atlético Mineiro in the Copa do Brasil quarter final and the 5-2 thrashing at the hands of Fluminense in the season run-in spring to mind.
Although 2014 was an improvement on 2013 overall, Tite was reinstated as Corinthians manager and has certainly put to work the knowledge he gained during his year away. While his 2013 side was often labelled as 'boring' (Timão fans were treated to no less than ten goalless draws in the league), his current crop is blessed with talent going forward and have proven that they can actually play a bit too.
Tite has experimented with a few formations – last season's 4-2-3-1, 4-5-1, even trying something as adventurous as playing two strikers up front – but he has settled on 4-1-4-1, which provides defensive rigidity as well as ample space further forward for the midfielders to burst into.
Mano Menezes's 4-2-3-1:
Tite's 4-1-4-1:
The shift in shape to 4-1-4-1 is subtle but significant, with the trio of attacking midfielders (the '3' of the 4-2-3-1) effectively just dropping deeper to form a flat midfield four alongside Elias. While Renato Augusto, who unlike most playmakers is over six feet tall and possesses the strength to deal with the physicality of playing in central midfield, has fitted seamlessly into his new role, there has been a change in personnel in the wide positions.
Petros and Malcom were two of Corinthians's top performers last year but they do not fit in as comfortably into the new system and have been sacrificed for a more balanced team. Petros seems like the type of player Tite would love – versatile, tenacious and hard-working – but he has been regularly shunned this year, while 18-year old Malcom is an out-and-out forward who lacks the stamina and defensive discipline to play in a deeper role.
Emerson Sheik has always been a fiery, controversial character but he is back in favour this year after a difficult season on loan at Botafogo, in which he was excluded from the squad for disciplinary problems shortly before their relegation. Although his natural position is a striker, he is capable of playing on either flank and he has adapted well to playing in a deeper position than usual at left-midfield. His aggression and work-rate means he is well-suited to the role – even at the age of 36 he still seems to possess more energy than most players on the pitch – and he has the drive and attacking nous to provide a spark going forward too. Although a foul probably should have been given against him in the buildup, his assist for Jádson's goal against São Paulo is a good example of this.
On the opposite flank, Jádson has come in from the cold after being largely ignored by Mano Menezes last season. As a typical no.10 there has long been questions asked about his ability to play out wide, but he has answered them emphatically so far. He has enough pace to play there and performs his defensively duties competently, but in theory the position should negate his biggest strengths – his vision and range of passing. In actuality, he has flourished in the new system with 4 assists in the Libertadores so far.
Although opposition teams have begun to cotton on and have tightened the marking on him, he has still been able to drift around in search of pockets of his space on the right, before hitting a diagonal dink over the top, or a perfectly-weighted ball into the channel for Guerrero or the overlapping full-back Fágner. This first play has been seen so often that whenever Jádson has room and is facing forward with the ball, it almost seems to act as a signal for one of the midfield runners to dart into the space behind the defence, as the no. 10 shirt will almost invariably find him with the pass.
This was the case against São Paulo, as his beautiful first-time chipped through ball made Elias's difficult volley a much easier task to finish off.
The 4-1-4-1 formation can often leave a big gap between midfield and attack so it takes a special kind of lone striker to cope with the isolation up front, but fortunately for Corinthians they have that in the form of Paulo Guerrero. After the departure of Atlético Mineiro's Diego Tardelli, the Peruvian is arguably the outstanding striker in the Brasileirão and certainly the most well-rounded. Although he is not always the most clinical, he is capable of scoring a wide variety of goals, but the rest of his game that is equally as important to this tactic.
He is very adept at coming deep or moving into the channels, especially wide left, to stretch the defence and create space for the midfielders to burst into. He is also very capable on the ball and uses his strength and skill well to hold up play, or turn the defender, and lay it off. Guerrero also has the ability to pick out a pass, as he did when he found himself in the space on the right against São Paulo (again) and provided a pinpoint ball for Danilo's goal.
It is a difficult position to play and while Danilo, filling in for the striker while he served a three-match suspension in the Libertadores, did a fine job in a false nine role, with neat and tidy link-up play, the team lacked the cutting edge that the Peruvian brings.
Without doubt the biggest benefactor of the new system though has been the centre-midfielder Elias. He had a fabulous season on loan at Flamengo in 2013 but failed to live up to expectations at times after being bought by Corinthians last year. He has always been a box-to-box midfielder but under Tite he has been given a much greater licence to get forward into goalscoring positions and he has delivered with goals in the big games. He got on the scoresheet in each of the team's first four Libertadores games and these weren't just goals – each one was an undeniable golaço, displaying dynamism, skill and a finishing touch.
His form has made him an early candidate for player of the season and he has kept his place in Dunga's Brazil squad for their friendlies next week, with many calling for him to start ahead of Fernandinho in midfield. His talent is so unique in Brazil at the moment that pundits have struggled to categorise him as either a volante (a defensive-minded midfielder) or a meia-campo (an attacking midfielder) – in the end they settled on simply 'midfielder'.
His defensive awareness, passing ability and speed means he is near enough the complete package, but it is his goals that have stood out, including the beautiful team goal against Once Caldas – the perfect example of Timão's ability to flick a switch and begin playing rapid and deadly, one-touch football.
The foundation of this Corinthians side though, like any good team, is built on defence. Like the rest of the team, the players are very talented individually. Powerful centre-back Gil is a Brazilian international and the best in the league in his position, while Cássio is a consistent and commanding goalkeeper.
The 4-1-4-1 system itself though is set up to be compact with two lines of four, with the pitbull that is Ralf in between defence and midfield to mop up any danger that slips through the cracks. His marking job on Ganso is the primary reason why São Paulo have failed to score against Corinthians on two occasions so far this year. Each player understands the part they play in the team's overall defence and work hard for each other. This understanding means they feel comfortable to sit back and soak pressure, confident in their structure, and then spring forward on the counter. This applies to the fall-backs too, especially Fágner, whose performances have improved immeasurably this year. Previously he was the weak link in the defence, but with the new system providing greater protection he can happily bomb forward without worrying so much about the gaps he was leaving behind him, and he has become an integral part of the team's build-up play.
This Corinthians team is extremely well-drilled, undoubtedly the most organised Brazilian team of recent years, and also one of the most resilient, as even having a man sent off does not seem to faze them or make them adjust their play. On three occasions this year, against Once Caldas, Palmeiras and São Paulo – each one a big game – they have gone down to ten men and yet their record for these periods reads: 131 minutes played, 3 scored, 0 conceded. It's an incredible feat but almost unsurprising. Each time they were already holding the lead, so the formation simply became a 4-4-1 and they continued to be very difficult to break down. They have rode their luck a bit at times – they were under siege for long periods of their 1-0 away victory at San Lorenzo, while Cássio came to the rescue with a brilliant penalty save against São Paulo – but this is a team that possesses the determination and know-how to come away with a gritty win.
So, how far can this team go? Timão's main focus is the Copa Libertadores and have made the perfect start, including negotiating tricky away wins in Argentina and Uruguay. It may well take one of South America's other form teams, such as Racing Club or Boca Juniors, to halt the machine in the knockout rounds. Tite has winning pedigree in this competition and Corinthians would undoubtedly be very tough to overcome over two legs, so it would not be a surprise to see them go all the way again this year.
The manager has rotated sensibly to keep the squad fresh in the gruelling Brazilian football schedule, meaning he has mainly played mixed-strength or reserve teams in the Campeonato Paulista. But when their 'B-team' features players as talented as Danilo, Petros, and Bruno Henrique, as well as new signings Vágner Love and the speedy Colombian Stiven Mendoza, they will be expected to at least make the latter rounds of the state championship.
Beyond that, they already look like the team to beat in the Brasileirão come the opening weekend in May, but it would be a real coup if they can keep hold of both Guerrero and Malcom over the summer. The club are also excelling at youth level at the moment, as they are the current holders of both the Campeonato Brasileiro Sub-20 and the prestigious Copa do São Paulo youth tournament. With Tite in charge, the future, and near-future, looks very bright indeed for Corinthians.