Young Vasco da Gama midfielder Danilo Barbosa da Silva recently attracted the interest of two European football powerhouses, Liverpool and Inter Milan, after their scouts spotted him playing for Brazil U20 at the 2013 Toulon Tournament.
Here we take a look at what type of player Danilo is, and what it is about his game that attracted the interest from Europe. Thanks to Guilherme Melo for some of the extra information, and the Paulinho comparison!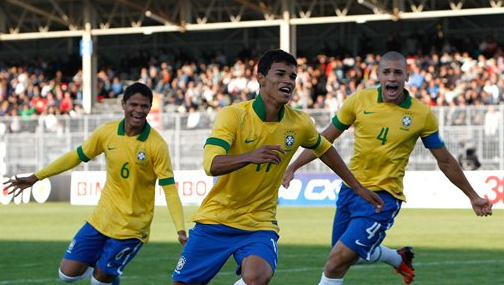 Danilo Barbosa da Silva was born in Simões Filho – an area of North Eastern Brazil near Salvador – on the 28th of February 1996, but moved to the south as a youth to learn his footballing trade. He first played for Grêmio aged around eleven, before moving back up north to Vitória in 2009. He played in the mini Copa América for Brazil U-15s whilst still at Vitória, before moving down to Vasco da Gama in Rio de Janeiro.
At Vasco the midfielder began his rise through the youth ranks, both at club and international level. He was part of the Brazilian under-15 squad which won the South American Championship in 2011, and recently won the Toulon Tournament with a squad of Brazilian under-20 players.
Danilo had to work his way into the first team at Toulon, but impressed enough in his appearances from the bench that he was given a start in the final against Columbia. His appearance in the final saw him pick up the "Plus jeune finaliste" (youngest finalist) award.
His performances in this tournament alerted Liverpool to his talents, as they initially sent their scouts there to run the rule over another player, Matheus Biteco. However, it was Danilo who impressed the assessors and the club were rumoured to be making a bid for him not long after.
He's also played in several other youth competitions, including the 2012 U17 Copa 2 de Julho, 2012 U17 Nike International Friendlies and the 2013 U20 Valais Cup. He was called up for the 2013 South American U17 Championship, but he did not play due to an injury.
He recently won the Taça Belo Horizonte U20 tournament with his club Vasco da Gama, and is likely to be called up for Brazil's squad for the 2013 FIFA U-17 World Cup which starts on the 17th of October in the UAE.
Danilo is right footed, but as with many Brazilian youngsters he's comfortable with both feet, and uses his skills to carry the ball in midfield as well as laying passes off for more advanced team-mates..
He can play as a defensive midfielder, or use his skills going forward to play more of a box-to-box type role, and has been compared by some to the current Brazilian midfielder Paulinho. He lacks some of the skill in the air Paulinho has, but more than makes up for this with his ability when the ball is on the deck.
He has good passing skills, and a physicality which will stand him in good stead as he progresses into the Vasco first team. These attributes will serve him well should he move to Europe, and given that both Liverpool and Inter Milan have already shown interest, it's more than likely that he will move sooner rather than later.
If he stays in Brazil he'll no doubt be in the Vasco da Gama first team for the 2014 season where he'll get even more exposure, and no doubt further interest will come from the prying eyes of the European clubs.
Some video reports of Danilo in action during the 2011 South American Under-15 Football Championship.