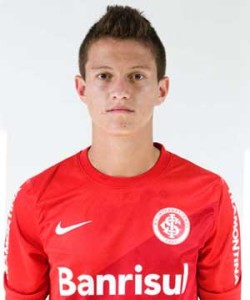 Full Name – Otávio Edmilson Da Silva Monteiro
Born – 09/02/1995 – João Pessoa PB
Postion – Attacking Midfielder
Foot – Right
Height – 5.7 (171cm)
Otávio Edmilson Da Silva Monteiro, more commonly known as simply Otávio or occasionally Otávinho, is an attacking midfielder who currently plays for Porto Alegre side Internacional.
Otávio began his career in the youth sides at International, where he was part of their U17 Copa FGF winning side, and managed by Brazilian former goalkeeper Clemer who is now the club's goalkeeping coach.
He showed enough promise and maturity to be thrown into the first team at an early age, and he made his first team debut against Santos on 15th July 2012, aged just 17.
He went on to make 7 appearances in the league during 2012, and demonstrated to coaches and fans alike that he could potentially be an important player for the Inter first team in the future. He displayed good technique, showed a willingness to run at defenders, and demonstrated an awareness of fellow attackers in these sporadic early appearances..
However, it was in the 2013 season where he really began to make onlookers take note of his talents. Alongside another young attacking midfielder, Fred, he became a regular in the Internacional first team set up and linked up well with his team-mate, until Fred was signed by the Ukrainian club Shakhtar for £13m in July.
So far in the 2013 season, Otávio has scored 5 goals and notched up two assists, and playing alongside the impressive experienced campaigner Andrés D'Alessandro will have aided his development.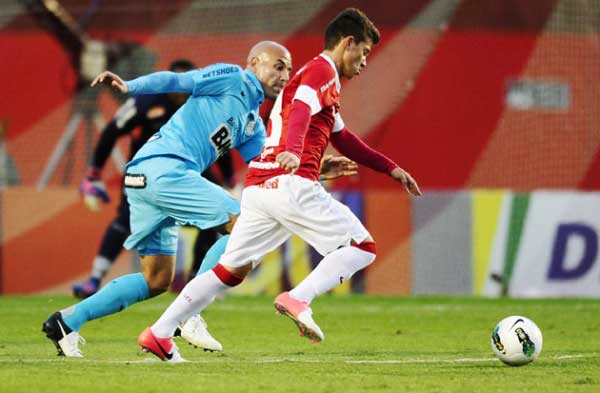 Otávio is an exciting attacking midfield flair player who likes to take on defenders. He can play across the attacking midfield three, and will run into channels between the opposition defence should the opportunity arise.
In a recent game against Góias he showed that he can also head the ball, as he looped a pinpoint header over a stranded goalkeeper after sneaking around the back of the defence onto a deep cross. Not an easy header to control, but he did it well.
His main skills lie in attacking creativity and invention. This includes the dribbling side of the game as well as the passing and movement required to pull defences into uncomfortable positions. He's one of those players who will give a centre forward more space, and often give them a through ball to exploit the space he made for them.
If we were to compare him with current Brazil national team players, he lands somewhere between Oscar and Bernard. He might lack the all round midfield genius of Oscar, and maybe some of the quickness of Bernard, but he has just enough of these two traits to make him a dangerous attacking player when they're combined.
At the moment Otávio is a young footballer who'll do well enough for himself, but if he sees more game time in 2014 and continues to improve, he could turn out to be Internacional's next wonderkid.