Neymar's absence from the rest of the World Cup has turned into a national crisis. Even Brazil's president Dilma Rousseff chimed in with this message for the main man, in what a cynic might see as a political move to get fans onside ahead of October's elections…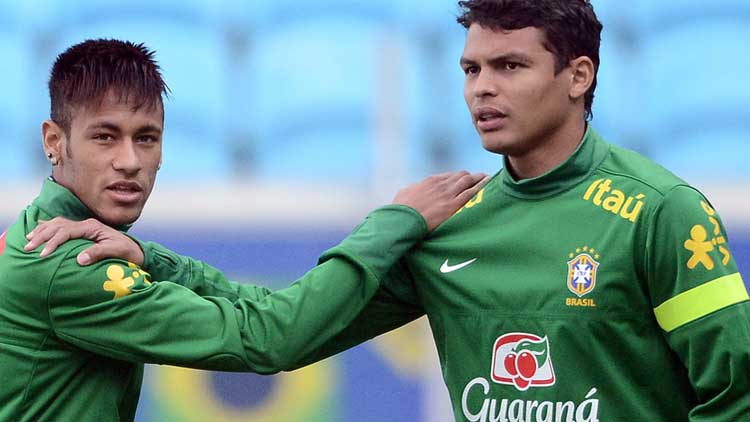 The worrying thing is that no one seems to have a confident answer when asked about the team without Neymar. Even more worrying is the prospect of playing the match versus the stubborn but intelligent Germanness of Germany, without one of the best defenders in the world, Thiago Silva.
To make things even worse, these two key members of the Seleção bring much more than their footballing skills in their respective positions, they also play vital roles for their team.
Thiago Silva is Brazil's captain, and in his own way, a leader. Possibly not in the traditional sense, as was evident from his nervous delivery of the pre-match message to the crowd before the Colombia game, but he's definitely respected by his peers for his abilities on the pitch.
He brings a much needed air of sanity to Brazil's defence, which in turn gives it some organisation and something resembling structure. He can also be found covering all across the back four for his three team-mates who like to roam forward.
Silva's leadership is often criticised, not least after the penalty shootout tears versus Chile, and rumours that he wasn't willing to take one himself. Legendary Brazil defender Carlos Alberto Torres commented that "In Brazil, we expect our captains to illustrate strong postures", but whilst David Luiz-esque bursts of emotion go down well with onlookers, Brazil need a calm head amongst their group of emotional wrecking balls.
Thiago Silva's absence means two roles will need to be replaced. His world class defending, and his unique brand of captaincy which is ideally suited to Brazil
If Thiago Silva is there to steady the ship, then Neymar was there to guide the Brazilian vessel to the cup. The undoubted star of this side, the Barcelona man has had little in the way of star quality supporting him in the World Cup, but so far the team has been set up primarily to get the best from its number ten with other players being forced to play supporting roles.
Now he's out of action, someone else could step up as the system is geared towards a team unit rather than an individual player. Like Silva, Neymar needs replacing both in terms of football ability, and the role he plays as talisman, attacking weapon, and the hope of a nation.
Broad shoulders are required, and whilst Willian is likely to come into the team Neymar's spiritual replacement could lie elsewhere in the squad. Whoever steps up will require nerves of steel, a connection with the fans, and enough footballing ability to become Brazil's new Craque.
Its a mammoth task, and the pressure faced by the players has been ramped up as they reach the last week of this historical tournament. Heroes or scapegoats will be made during the next few days, and new roles will need to be forged for those players facing Germany in the semi-final.