We're entering the dying throes of another Brasileirão season which, though somewhat elongated due to the World Cup, still seems to have gone by in a flash. The Campeonato Brasileirão looks like it will stay with Cruzeiro this year. The Copa will join the trophy in residency in Belo Horizonte, with Atlético Mineiro and Cruzeiro battling out the final.
We are also approaching the time of individual appraisal, when awards and trinkets are handed out to the outstanding players of Brasileirão. Below, I don a rubber glove and give some of the leading candidates the once over.
---
Everton RIBEIRO (Cruzeiro)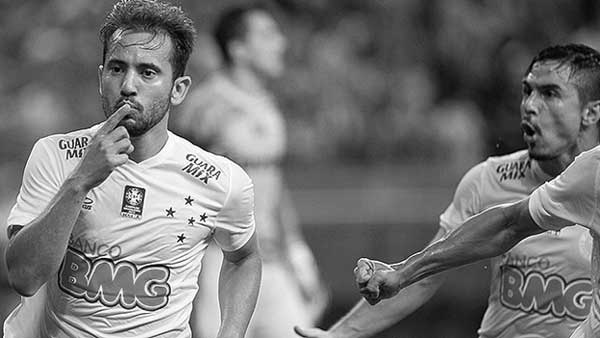 Last year's winner picked up in 2013 where he left off in 2014. Despite being linked with a move to Europe, most notably Manchester United. One of Marcelo Oliveira's greatest achievements in constructing this all conquering Raposa side has been his ability to keep it together and fend off vultures from Europe.
Cruzeiro's talent in attack and the speed with which they impose their will on opponent's defences has again been too much for the rest of Brasileirão and Ribeiro's verve, pace and skill have again been central to the Belo Horizonte's side's domestic dominance. Ribeiro actually started as a buccaneering lateral, but has become one of the most rounded, roaming attacking wingers on the continent.
With a left foot like a paintbrush, his craft is central to Cruzeiro's quite frightening attack, he has 10 assists in 28 appearances in the Brasileirão at the time of writing. Dunga has been forced to take note and has called Ribeiro into the Seleção. In truth, those extra trips in the canary yellow shirts of Brazil appear to have taken their toll in recent weeks, as Ribeiro's cheeks have puffed under the weight of Brazil's calendar. But there can be few players that can claim to have left as big a mark on the Serie A season.
---
Diego TARDELLI (Atlético Mineiro)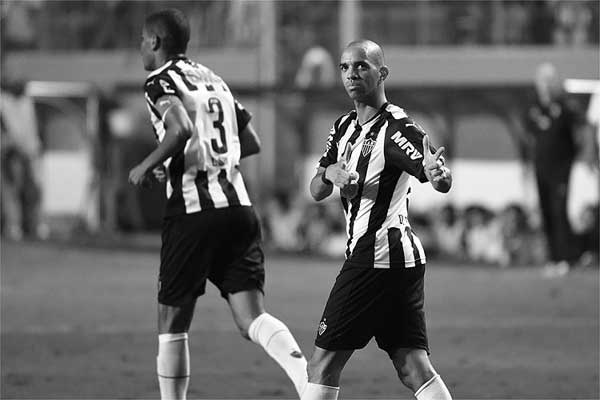 Tardelli has been the darling of the Galoucura since his return to the club in 2012, but predominantly because of his feats in his previous spell at the club, where he amassed 73 goals in 114 games as a central striker. Tardelli's return to Atlético had been by no means a failure prior to this season. He played a prominent role in a four pronged attack alongside Bernard, Ronaldinho and Jô as Galo shot to 2nd in the league in 2012 and won the Copa Libertadores in 2013.
That said, you were left with the impression in that period that he was the most junior of the quartet in terms of importance and contribution. He ddidn'thave the close control of Bernard, the magic of Ronaldinho or the brute box prowess of Jô. When Ronaldinho tore his thigh muscle in August 2013, Tardelli underwent a very indifferent spell, where, by his own admission, he struggled to remodel his game as a provider with the bucktooth genius sidelined and Bernard shunted off to Shakthar Donetsk for a bag of sand.
It's actually taken the removal of the final piece of that jigsaw, the dishonourably discharged Jô, for don Diego of Belo Horizonte to really find the spur in his boots. No longer is he an orbiting planet in Galo's attack, but he is the sun around which everything else resolves. Young pups such as Carlos and Dôdo look up to him and the whole team marches to his beat. Without a recognised central striker of any repute to replace Jô, Tardelli has been given the freedom of the entire ffront-line with liberty to pick the ball up wide and start attacks as well as to drift infield and play as a false 9, should the mood take him.
You get the impression that Tardelli likes to be the sheriff. But he has managed to marry ego with a dose of humility too as he approaches his 30th year. He admitted in an interview last month that his career lost momentum in his mid-20s as he prioritised cash over career progression. But he appears to be back on track again, scoring in both legs as Galo defeated Lanus for Recopa Sudamericana in July and also celebrating his return to the international fold with both goals in Brazil's 2-0 win over Argentina in October.
---
Marcelo MORENO (Cruzeiro)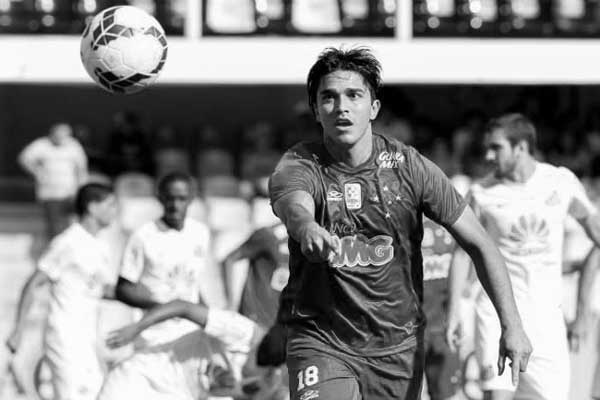 In 2013 Cruzeiro won the league at a canter, largely due to their frighteningly potent attack. Raposa scored 77 goals en route to the title. Atlético Paranaense were the next most prolific team with 65 (Vitoria were the 3rd in the net botherers list on 59).  So it was perhaps a surprise when Marcelo Oliveira decided to bolster his forward line with Marcelo Moreno, despite already boasting Julio Baptista, Ricardo Goulart, Borges, Dagoberto and Willian as forward options.
The Bolivian had struggled to make an impact in Europe with Shakthar Donetsk, Werder Bremen and Wigan Athletic. He returned to Brazil with Grêmio in 2012. But he has found love hard to find in Porto Alegre and spent last season on loan at Flamengo, where he managed a fairly impoverished return of 4 goals from 20 appearances. It seemed like a curious acquisition for Cruzeiro, a club Moreno had represented in his younger years with no small amount of distinction. Moreno has come to embody Oliveira's canny recruitment policy.
Moreno has slotted right into Raposa's attacking play as the point in the needle, his strength, movement, aerial ability and cool finishing has been the iron fist to Cruzeiro's velvet gloved build up play. At time of writing, he has 16 goals from 28 league appearances this season. He's provided the physical presence of Julio Baptista, but to a much higher standard. What Moreno, Cruzeiro and Grêmio do now remains a point of intrigue. It's difficult to imagine Moreno co-existing easily with Barcos at Grêmio due to their similarities. The Porto Alegre club may be willing to do business.
---
Marcelo GROHE (Grêmio)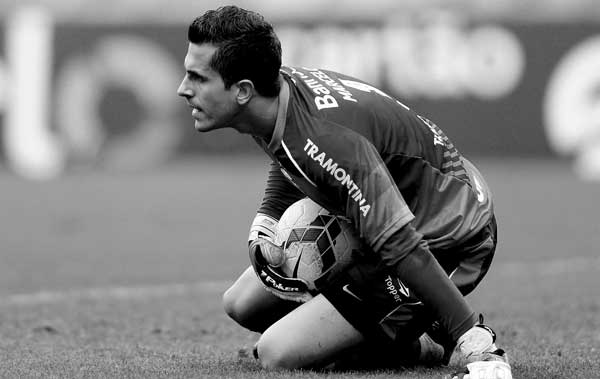 When Luiz Felipe Scolari returned home to Grêmio back in July, his mandate was pretty clear. To make Imortal defensively much more resolute, as is often Felipão's wont. Gradually, Grêmio began to bend to Scolari's will and in September, they kept a thoroughly respectable eight consecutive clean sheets. From this platform, the Gaucho side have eased themselves into the race for the G4 in Campeonato Brasileirão. Central to this defensive meanness has been 27 year old goalkeeper Marcelo Grohe.
Grohe is a Grêmio academy graduate, having served with the club for his entire career. 2014 has been a real coming of age season for the Campo Bom born stopper. Since his debut in 2006, Grohe has drifted in and out of favour with Tricolor, but has this season established himself as Brasileirão's in form keeper, which is no mean feat in a league that possesses custodians such as Jefferson, Rogerio Ceni, Victor and Diego Cavalieri. The departure of veteran goalie Dida has paved the way for Grohe and he has clasped the chance with both hands and clutched it close to his chest.
Grohe has emerged as a communicator and an organiser of the defence. It was this quality that led Scolari to stick with Julio Cesar between the sticks for Seleção despite a lack of game time at QPR. Despite the loss of Alex Telles at left back, Grêmio have retained the experience of Zé Roberto and the quietly impressive vice captain Rhodolfo in defence. Grohe has been able to settle and, much like a backpacker on a gap year, has been able to find himself. At time of writing he has conceded only 3 times in his last 10 matches.
---
Ricardo GOULART (Cruzeiro)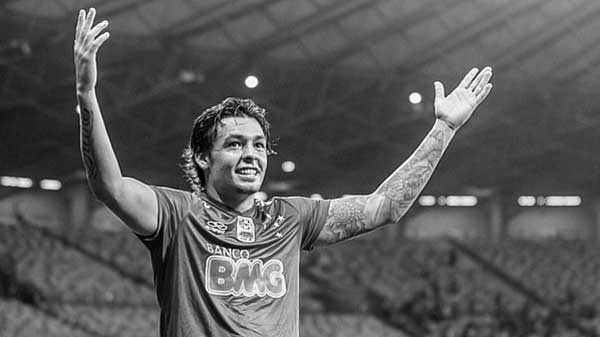 It stands to reason that Cruzeiro players dominate this piece given their superiority for the duration of the campaign. Goulart makes up the holy trinity of Cruzeiro forwards in the list that have worked so impressively in concert, as well as individuals. Both Goulart and Ribeiro were on the score sheet in Cruzeiro's 2-1 win at stingy Grêmio this week. If Ribeiro floats like a butterfly and Moreno stings like a bee, then Goulart sits somewhere between those two poles.
Ribeiro starts the moves with his grace and poise, Moreno, not unlike Diego Costa, finishes them with force. Goulart is the link between the two. Goulart links the play around the penalty area and oils the wheels of Cruzeiro's unstoppable attack. But he also offers goal threat, with 16 goals this season to show for it. Goulart likes to sit just behind Moreno and makes himself a conduit between Ribeiro and Moreno.
Like Ribeiro, Goulart has picked up from where he left off last year and this is a crucial point. Defences have had plenty of time to become acquainted with his attributes. In his last season at Goiás he notched 25 goals, which persuaded Oliveira to buy him in the first place. At Cruzeiro he hasn't quite been the main man in the same way as he was in Goiânia, but he's contributed to an attacking chain that is the envy of the continent. Like Ribeiro, his form has been impossible for Dunga to resist as he earned call up to the Brazil squad.
---
Paolo GUERRERO (Corinthians)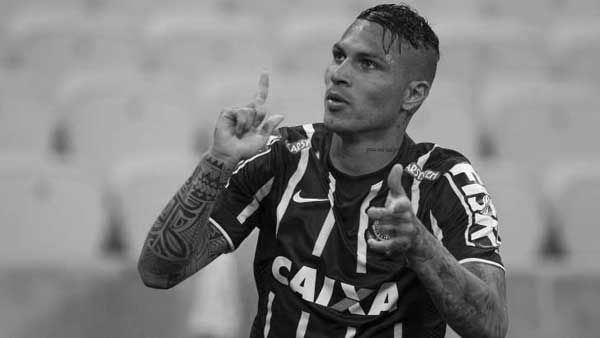 The second 'gringo' on the list, the Peruvian forward came to Brazilian football after a solid, if unspectacular, spell in the Bundesliga with Bayern Munich and Hamburg. Tite's Corinthians side hardly got the pulses racing last season, they scored a yawn inducing 27 goals in 38 games (they only shipped 22). Only bottom club Nautico ruffled the net less. With Tite's conservative style and marquee striker Alexandre Pato misfiring, it was reasonably obvious where Timão needed to improve in 2014.
Under Mano Menezes, Guererro, whose name bears an uncanny resemblance to 'guerreiro', the Portuguese word for 'warrior', the Peruvian striker has been let off of the leash. Guerrero usually plays with either Jadson or Renato Augusto roaming behind him and his appreciation of space has seen him plunder 10 goals as well as 4 assists this season. He has led the line with a presence lacking from last season's limp outfit. Corinthians were the dreariest of midtable teams in 2013, Guerrero's goals have made them contenders for a Libertadores spot going into the season's dying embers. LD.