Another season of one of the most competitive leagues in world football has come to an end. Although they weren't as convincing this campaign, last year's champions Cruzeiro have successfully retained their crown, which speaks volumes about the difference in quality between the Belo Horizonte club and the other teams in the league.  Even if Cruzeiro don't rise to their normal standards they don't have much to worry as the other so-called title contenders (São Paulo, Internacional and Corinthians) look fairly limited.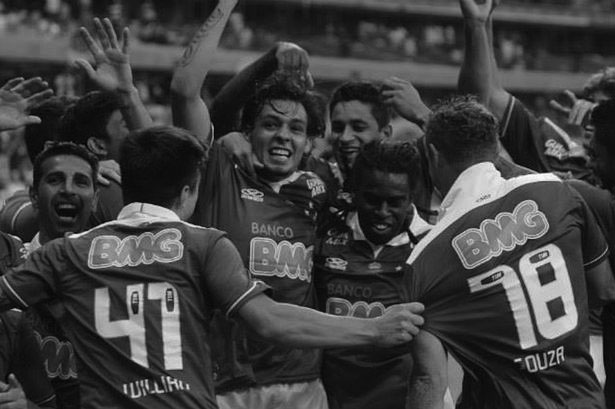 Fatigue has had its say in this, with the likes of Éverton Ribeiro who was once again elected as the best player in the league, barely managing an hour on the field in the latter stages of the season. Cruzeiro's defense has also looked sloppy, and could often be found conceding silly goals. On top of this I don't think there's much wrong in saying the players didn't show the same character they displayed over the course of last season.
One example would be last year's stand-out centre-back Dedé who generally declined in 2014, only occasionally impressing in games this season although he did have his fair share of injuries. Young right-back Mayke managed to establish himself in the starting XI by taking his chances after being initially used as a rotational player. Central defender Léo had an excellent campaign in a year where his partner Dedé under-performed, as he stood courageously in front of under-appreciated goalkeeper Fábio.
Ricardo Goulart improved vastly compared to last season as he scored 15 goals and would surely have become the championship's top-scorer, if not for injuries. Striker Marcelo Moreno also contributed well, making full use of the service from Éverton, Goulart and Álisson. Fatigue played its part in Lucas Silva being off form for the last two months of the season, but he still remains an integral unit of the title-winning team. He was unanimously chosen as the best defensive-midfielder of 2014, a little reward for the brilliance which lead to him being in the radar of some European big guns, Real Madrid included.
It would be so unfair to move on without mentioning Cruzeiro's revelation, Álisson, who worked his way past senior players to nail his place in the first-team after being mainly used as an impact sub earlier in the season. Marcelo Oliveira being named the coach of the year was hardly a surprise because he sits a level higher than any of the top-flight coaches in the country, with continental success perhaps the only badge that's left for him to be recognized in the same bracket as Tite.
São Paulo were the only club that looked like challenging Cruzeiro for the title, and even reached a point where fans thought they'll eventually catch up, only to slip up. São Paulo players would be kicking themselves for not capitalizing when given the opportunity, but on a positive note, they showed great improvement from last season.
The amazing revival of Paulo Henrique Ganso was instrumental to their season, with the player who's often labelled 'lazy', improving his work-rate in the pitch, thanks to training methods of coach Muricy Ramalho. The arrival of club idol Kaká from Milan and the versatility of Michel Bastos, combined with the energy of midfielder Souza was so influential to the overall display from São Paulo this year. Alexandre Pato showed signs of improvement at a point, which didn't last long, with the manager preferring the likes of Alan Kardec and Luís Fabiano towards the end of the season. Tricolor's only hope of silverware was denied when they were defeated by Colombian side Atlético Nacional in the semifinals of Copa Sudamericana, the South American version of UEFA Europa League.
We saw a rejuvenated Fluminense this year after an horrendous campaign in 2013, where they luckily escaped relegation after a court order which saw Portuguesa go down to Série B. However, they still missed out on a Copa Libertadores spot, despite the heroics of Darío Conca and striker Fred who returned this season fully fit. Stubbornness and some questionable team-selection from manager Cristóvão Borges would've let them down this season. Time will tell if the team can hold onto Conca and Fred with the striker reportedly dissatisfied and Chinese Super League side Guangzhou Evergrande ready to pounce. Fred ended the championship as top-scorer [with 18 goals], becoming only the second player to achieve this twice after 2003. Fred lead his team to the title in 2012 where he finished the campaign as top goal-scorer with 20 goals. Conca provided 10 assists to come 2nd in the assists table behind league's MVP Éverton Ribeiro [11 assists], but the Argentinian was unlucky to not make it into the team of the year.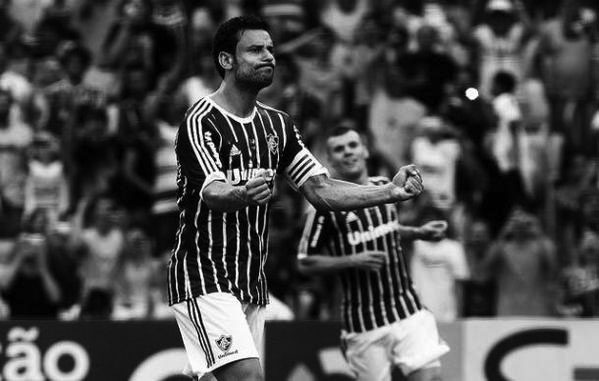 Abel Braga's Internacional finished 3rd in the league after a disappointing 13th placed finish the season before, and would be hoping to continue their resurgence next year. Whether they will manage to keep their talismanic Chilean Charles Aránguiz at the club is a question that will concern any Inter fan, especially after rejecting a €15 million offer last summer. Club captain Andrés D'Alessandro remains as one of the most consistent players in the country; he registered 9 assists.
Corinthians also took one of the Libertadores spot as they came 4th in the standings, jumping 6 places up from 2013. They looked compact and solid under Mano Menezes, with defender Gil having a fantastic year and getting selected as the best in his position for 2014. Elias was another player who made an impact this year, with Dunga rewarding the midfielder by selecting him to the national team. Peruvian striker Paolo Guerrero somehow made it into the team of the year, somewhat undeserved, perhaps; I'm sure Fred, Marcelo Moreno and Palmeiras' Henrique would want to have a say on that.
Atlético Mineiro, despite not managing a top-4 finish in the Brasileirão, booked their Libertadores ticket by overcoming rivals and national champions Cruzeiro in the Copa do Brasil Final. Their coach Levir Culpi deserves majority of the applause as he made his team the best in form team in the country towards the final stages of the season. Defender Leonardo Silva, forward Diego Tardelli and playmaker Jesús Dátolo were the highlights of 2014, with Tardelli celebrating a wonderful year himself and was partnered with Guerrero in the team of the year. Leonardo Silva lost by one vote to Dedé who somehow managed to sneak into the XI.
Grêmio, who came 2nd in last year's Brasileirão, couldn't maintain their level and finished 7th. This could've been worse, though. Newly appointed Luiz Felipe Scolari did a pretty remarkable job after being responsible for the greatest embarrassment in Brazil's history in the FIFA World Cup. Notable players include Dudu, who seemed to be at the heart of everything at Grêmio, on loan Argentinian teenager Alán Ruiz, and versatile attacker Luan. Goalkeeper Marcelo Gröhe though, should've been in the best XI, but CBF decided it should be Jefferson whose Botafogo were relegated to the 2nd-division.
Paulistão losing finalists Santos had to satisfy with a 9th placed finish after coming 7th in the previous campaign. Their coaching is clearly below par, with an exciting set of attacking players [Robinho, Gabigol, Geuvânio and Lucas Lima] failing to click. Fans would be wondering why they signed Leandro Damião who has been awful overall. Lucas Lima is probably the club's best player, with some of his stats astonishingly similar to São Paulo's Ganso. Gabriel Barbosa or Gabigol, was Santos' top-scorer in 2014 with 21 goals. He also became the top-scorer in Copa do Brasil with 6 goals – Quite unbelievable that the 18-year-old and Neymar are the only players in the club's history to achieve this. Winger Geuvânio was sent to the bench after his brilliant performances in the state league, but was recently introduced into the starting XI again where he did considerably well. Robinho's arrival has added some much needed sharpness to their attack, but we're yet to see the team functioning well collectively. The club's back-line has been comical at times with David Braz probably the only defender who turns up with good games, but too sporadically. A semifinal finish in the Copa do Brasil where they were eliminated by Cruzeiro can be considered as acceptable but a lot more is expected next year, and the return of centre-back Gustavo Henrique from a knee injury and highly talented midfielder Lucas Otávio from Paraná is expected to give the team stability which has been lacking.
It was an year to forget for Botafogo. They've been relegated to the Série B but I don't think the players are very disappointed, although they might claim to be sad. The club haven't paid the players for months, and obviously, that'd reflect on the team's performance on the pitch. Would Jefferson undeservedly being voted as the best goalkeeper in the league provide some relief to their fans? Probably not…
This year's best young player was Goiás' 20-year-old striker Érik as he edged Santos' Gabigol in the voting. Érik stood out in a team with no other high-profile players and finished the season with 12 league goals, none coming from penalties.