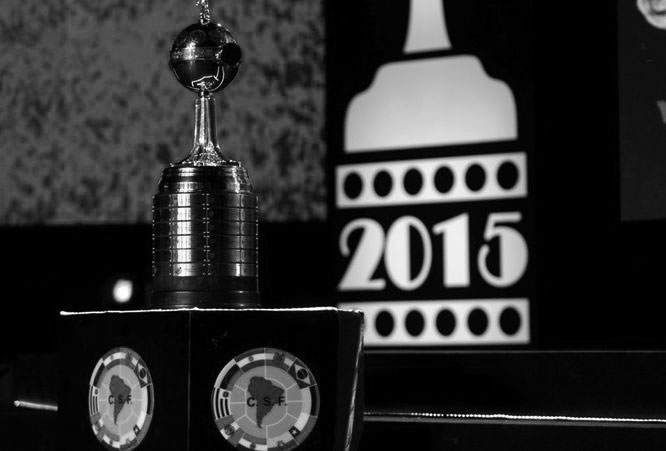 The Copa Libertadores group stages start this week and the five Brazilian clubs taking part will look to improve on the country's rather dismal showing in 2014. There were no Brazilian clubs in the last four, which, given Brazil's economic supremacy over their South American brethren, represents a severe underperformance. As a paradigm, that's the rough equivalent of all Premier League and La Liga teams striking out of the Champions League before the semi-final stage.
Even in 2013, when Atlético Mineiro clawed their way to their maiden title, they were the sole Brazilian representative in the tournament from the quarter final onwards. Were it not for Victor's outstretched leg thwarting a stoppage time Tijuana penalty in Belo Horizonte, they would have tumbled out at the quarter final stage. In short, Brazil expects better in 2015. Yet with players such as Kaká, Diego Tardelli, Everton Ribeiro and Ricardo Goulart amongst the notable departures from Brasileirão's Libertadores representatives, righting last year's wrongs will not be a straightforward task.
Copa Libertadores is a condensed competition, it starts during the nascent, sleepy opening rounds of the state championships, when pre-season cobwebs are still apparent. It ends in July. Given its truncated structure, a bad spell of form can terminally damage your aspirations of progression. Without further ado, I decided to evaluate the condition of the five Brazilian heavyweights as they prepare to don gloves and slug it out with South America's finest.
---
CRUZEIRO
Copa Libertadores winners: 1976, 1997
Last time out: quarter finals, 2014.
Players in: Fabiano (Chapocoense), Joel (Londrina), Felipe Seymour (Genoa), Leandro Damião (Santos), Duvier Riascos (Monarcos Morelia), Giorgian de Arrascaeta (Defensor Sporting), Eugenio Mena (Santos), Pará (Bahia), Willians (Internacional), Paulo André (Shanghai Shenhua), Henrique (Mirassol), Douglas Grolli (Grêmio).
Players out: Borges (released), Marcelo Oliveira (Grêmio), Marlone (Fluminense), Ananias (Chapocoense), Egídio (Dnipro), Elber (Recife), Pedro Ken (Coritiba), Nilton (Internacional), Ricardo Goulart (Guangzhou Evergrande), Uelliton (Avaí), Souza (Bahia), Everton Ribeiro (Al-Alhi), Mauricio Victonino (Independiente), Anselmo Roman (Hangzhou Greentown).
Group 3: Cruzeiro (BRA), Mineiros (VEN), Universitario (BOL), Huracán (ARG).
Squad: 1.Fábio, 2.Ceará, 3.Léo, 4.Bruno Rodgrigo, 5.Felipe Seymour, 6.Eugenio Mena, 7.Tinga, 8.Henrique, 9.Leandro Damião, 10.Julio Baptista, 11.Duvier Riascos, 12.Rafael, 13.Hugo Ragelli, 14.Judivan, 15.Willian Farias, 16.de Arrascaeta, 17.Grolli, 18.Pará, 19.Gilson, 20.Breno Lopes, 21.Willians, 22.Mayke, 23.Joel, 24.Alan, 25.Willian, 26.Dedé, 27.Paulo André, 28.Fabiano, 29.Gilson, 30.Henrique Dourado.
The bi-campeão of Brasileirão, Cruzeiro have undergone significant squad upheaval. Star turn Everton Ribeiro has left for UAE, surprisingly given the level of interest in Europe for the dazzling winger. Ricardo Goulart has eloped to China, whilst the heart has been transplanted from O Raposa's midfield, with Nilton and Lucas Silva having departed. Perhaps more significantly, they also lost Director of football Alexandre Mattos, whose canny recruitment underpinned Cruzeiro's recent success.
Cruzeiro have not been slow to spend their windfall however, with the likes of Leandro Damião, Duvier Riascos and Henrique coming in. The question for Oliveira is how quickly he can make his new look side gel. Initial signs in the Campeonato Mineiro have suggested that time may be an unforgiving mistress. They scraped wins against Democrata and Guarani and stuttered to a home draw against lowly Tombense.
That said, they probably have the easiest group of the Brazilian sides, so they ought to still have enough to qualify and once the knockout stages are reached, familiarity may have had some time to germinate in the team. At this stage, it's very difficult to evaluate their chances of winning it. They should certainly aim to improve on last year's showing.
Prediction: Quarter-Final
---
SÃO PAULO
Copa Libertadores winners: 1992, 1993, 2005
Last time out: Round of 16, 2013.
Players in: Souza (Grêmio), Carlinhos (Fluminense), Bruno Vieira (Fluminense), Thiago Mendes (Goías), Daniel (Botafogo), Jonathan Cafu (Ponte Preta), Ricardo Centurión (Avellaneda), Wesley (Palmeiras), Dória (Olympique Marseilles).
Players out: Kaká (Orlando City).
Group 2: San Lorenzo (ARG), São Paulo (BRA), Danubio (URU), Corinthians (BRA)
Squad: 01.Ceni, 2.Tolói, 3.Caio, 4.Antônio Carlos, 5.Souza, 6.Carlinhos, 7.M.Bastos, 8.Daniel, 9.Luís Fabiano, 10.Ganso, 11.Pato, 12.Denis, 14.Alan Kardec, 15.Denilson, 16.Reinaldo, 17.Wesley, 18.Maicon, 19.Ademilson, 20.Centurión, 21.Edson Silva, 22.Bruno, 23.Thiago Mendes, 24.Léo, 25.Hudson, 26.Dória, 29.Ewandro, 32.Auro, 33.Breno, 35.Gabriel Boschillia, 37.Jonathan Cafu.
Tricolor have been installed as favourites for the 2015 Brasileirão by many, with Muricy Ramalho's tenure well and truly settled. Muricy took over a São Paulo team in crisis in 2013, but they have progressed consistently during his third spell in charge. Kaká has shuffled off to the MLS as planned, his rejuvenating effect on the likes of Ganso and Alexandre Pato is not to be underestimated. Muricy will need to ensure that the upward curve enjoyed by the aforementioned pair in 2014 continues.
In Luis Fabiano, Allen Kardec, Pato and Ademilson, the Paulista side probably boast the most handsomely stocked striking cabinet on the continent. The refreshed Ganso certainly has plenty of movement to work with ahead of him, whilst the signing of Ricardo Centurión tucked just behind him looks a good antidote to Kaká's departure. They have added impressively in defence with the arrival of Dória from Marseilles. That said, São Paulo find themselves in the Group of Death alongside city rivals Corinthians and defending campeões San Lorenzo.
Legendary goalkeeper Rogerio Ceni has decided to delay his retirement to give the competition one last whirl around his increasingly weathered palate. Muricy will want to be careful not to turn his team's campaign into a Ceni farewell tour, because Tricolor will harbour genuine aspirations of winning the tournament. There again, they could just as easily exit at the group stage, given the competition that awaits them.
Prediction: Final.
---
INTERNACIONAL
Copa Libertadores winners: 2006, 2010.
Last time out: Round of 16, 2011.
Players in: Vitinho (CSKA Moskva), Anderson (Manchester United), Nilmar (El-Jaish), Charles Aránguiz (Universidad de Chile), Carlos Luque (A Colón), Nicolás Freitas (Wanderers), Gustavinho (Vila Nova), Nilton (Cruzeiro), Réver (Atlético Mineiro).
Players out: Willians (Cruzeiro), Gilberto (Botafogo), Murilo (Botafogo), Josimar (Ponte Preta), Caio (Al-Wasl), Ygor (Goías), Marcos Aurelio (Bahia), Jackson (Palmeiras), Wellington Paulista (Coritiba).
Group 4: Internacional (BRA), Emelec (Ecuador), Universidad de Chile (CHI), The Strongest (BOL)
Squad: 1.Dida 2.Léo, 3.Réver, 4.Juan, 5.Freitas, 6. Fabrício, 7.Nilmar, 8.Anderson, 9.Eduardo Sasha, 10.D'Alessandro, 11.Rafael Moura, 12. Alex, 13.Rodrigo Dourado, 14.Ernando, 15.Cláudio Winck, 16.Alan Ruschel, 17.Bruno Gomes, 18.Luque, 19.Nilton, 20.Aránguiz, 21.Vitinho, 22.Alisson, 23.Jorge Henrique, 24.Géferson, 25.Paulão, 26.Alan Costa, 27.Alisson Farias, 28.Taiberson, 29.Valdívia, 30.Muriel
Inter have been one of the Brasileirão's biggest movers in the pre season transfer market, making eye catching purchases such as ex Botafogo winger Vitinho, Manchester United midfielder Anderson and Cruzeiro lynchpin Nilton. They have also added experience and leadership to their back line with ex Galo captain Réver. However, their most significant move was to make Charles Aránguiz's loan deal permanent. Aptly enough, he will face his old team in the group stage.
Arranguiz was one of the league's foremost performers last season and bears much of the responsibility for pushing the Porto Alegre club into the competition in the first place. If their new signings can quickly establish chemistry, then Inter could be a threatening prospect in the Libertadores. A midfield of Anderson, Nilton and Aránguiz is certainly tantalising on paper, with the exciting Vitinho just wide of them. However, their group will be no walkover with plenty of Libertadores experience.
Emelec are in their third consecutive campaign in the competition, Universidad de Chile won Copa Sudamericana in 2011 and are about to embark on a fourth consecutive Libertadores bid as are The Strongest. That said, none of these sides has ever won the competition. Inter ought to qualify from their group and, like Cruzeiro, by the time the knockouts come around, the team might have a little more familiarity following the transfer window overhaul.
Prediction: Round of 16.
---
CORINTHIANS
Copa Libertadores winners: 2012
Last time out: Round of 16, 2013
Players in: Cristian, Edilson (Botafogo), Stiven Mendoza (Chennaiyin), Edu Dracena (Santos), Vágner Love (Shandong Luneng).
Players out: Douglas (Grêmio), Danilo Fernandes (Recife), Julio César (Nautico), Nicolás Lodeiro (Boca Juniors), Elton (Vitoria).
Group 2: San Lorenzo (ARG), São Paulo (BRA), Danubio (URU), Corinthians (BRA)
Squad: 2.Edilson, 3.Yago, 4.Gil, 5.Ralf, 6.Fábio Santos, 7.Elias, 8.Renato Augusto, 9.Guerrero, 10.Jádson, 11.Emerson Sheikh, 12.Cássio, 13.Uendel, 15.Guilherme Arana, 16.Cristian, 17.Edu Dracena, 18.Luciano, 19.Matheus Pereira, 20.Danilo, 21.Malcom, 24.Matheus Vidotto, 25.Bruno Henrique, 27.Walter, 28.Felipe, 30.Mendoza, 33.Romero, 34.Pedro Henrique, 35.Fagner, 40.Petros, 80.Vágner Love
Corinthians have probably been the most 'stable' of the Libertadores clubs in terms of incomings and outgoings. With Tite back in charge for a third stint in charge of O Timão, you pretty much know what to expect from Corinthians. His previous tenure in 2013 oversaw one of the most eye wateringly tedious teams in Brazilian football history. They completed a frankly binary set of scorelines, scoring 27 and conceding 22 in their 38 games.
That said, in terms of 'box office' names, Corinthians are probably the weakest of the 5 Brasileirão contenders. This being the case, being organised and difficult to beat is not a bad path to tread. With Vágner Love, Tite's "new look" Corinthians side at least have more of a semblance of creative quality. Tite will certainly have his team drilled to concede 'nil.' But his team's scoring chances will rest almost exclusively with the unpredictability of Vgner Love and Jadson, allied with the ruthless finishing of Paolo Guerrero.
Cruelly, Corinthians have been drawn in the group of death with neighbours São Paulo, so they may view getting out of the group as an achievement in itself. If they can do so, they will have already vanquished at least one of their biggest opponents for the crown. It won't be pretty, Tite will likely look for 0-0s away from home and 1-0 wins at Arena Corinthians. Like a kind of Brazilian George Graham. One advantage the Libertadores has over the Champions League is the prospect of a 'clasico' in the group stages. Expect the derbies with São Paulo to crackle with tension.
Prediction: Group stage exit.
---
ATLÉTICO MINEIRO
Copa Libertadores winners: 2013.
Last time out: Round of 16, 2014.
Players in: Sherman Cárdenas (Nacional), Lucas Pratto (Valez Sarsfield), Danilo Pires.
Players out: Alex Silva (Recife), Renan Oliveira (Avaí), Filipe Soutto (Nautico), Réver (Internacional), Diego Tardelli (Shandong Luneng), Marion (Sharjah).
Group 1: Atlético Mineiro (BRA), Santa Fé (COL), Colo-Colo (CHI), Atlas (Mexico).
Squad: 1.Victor, 2.Marcos Rocha, 3.Leonardo Silva, 4.Jemerson, 5.Pierre, 6.Douglas Santos, 7.Jô, 8.Leandro Donizete, 9.Pratto, 10.Dátolo, 11.Maicosuel, 12.Giovanni, 13.Carlos, 14.Lucas Cândido, 15.Edcarlos, 16.P.Botelho, 17.Guilherme, 18.Rafael Carioca, 19.Cárdenas, 20.Cesinha, 21.André, 22.Emerson, 23.Dôdo, 24.Uílson, 25.Danilo, 26.Tiago, 27.Luan, 28.Josué, 29.Patric, 30.Eduardo.
The 2013 winners did not give a great account of themselves defending their crown last year. The knockout rounds came at a time of transition for the team, with Paulo Autori having just been sacked and Ronaldinho mulling over a move away from the club. This time around, Galo ought to be in better shape, though they have lost their Prêmio Craque in the close season, with Diego Tardelli moving to China.
However, Atlético have made a pair of eye catching recruits in the shape of Argentine striker Lucas Pratto from Velez Sarsfield and Sherman Cárdenas from Nacional. Pratto is a bully of a striker tailor made to head Galo's front 3. Midfield schemer Cárdenas was instrumental in Galo's elimination last year with Colombian side Atlético Nacional. Effectively, Cárdenas will look to go some way to replacing Tardelli's creativity. When Bernard and Ronaldinho left the Belo Horizonte side, Tardelli was handed both the crown and the sceptre.
Operating in a roaming role from the right, he was prober and creator. Cárdenas, in league with Jesus Dátolo, will look to replace Tardelli's build up play. Pratto essentially replaces Jô as the physical striker at the tip of the arrowhead. He will play something of a Diego Costa role, imposing himself on centre halves and plundering goals. Levir Culpi has managed to keep hold of star lateral Marcos Rocha and if Atlético can integrate Pratto and Cárdenas quickly, they ought to be able to improve on last year's showing. The two new players certainly have plenty of recent Libertadores experience between them, as do their group stage opponents.
Prediction: semi-final