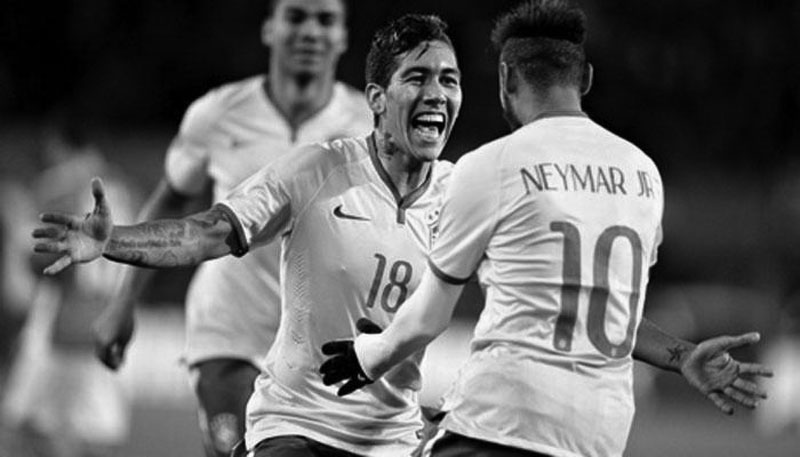 The Copa América is not as illustrious in South America as its continental cousin the European Championships. It falls in the proceeding summer after the World Cup and precedes the Olympic Games, which is seen as a superior prize.
Any tournament in which the Americas pit their wits against European counterparts stirs the loins to a much greater degree than continental competition. The fact that there is no qualifying process for Copa América means that anticipation for the tournament doesn't get the chance to fully germinate.
There aren't quite enough South American nations for the tournament format as it is, so guest nations are invited, usually Costa Rica, Mexico and the USA; this year Jamaica are taking part. Mexico often play a reserve or largely U-23s side and regard Copa América as an Olympic warm up at best, especially when it clashes with the CONCACAF Gold Cup, as it does this year.
Pressure from European sides and the absence of any great interest ordinarily sees teams spare their star players in favour of those on the fringes of the squad. Shakthar's Fred was this week called up as a replacement for the injured Luiz Gustavo and he immediately suggested that he would use the opportunity as a warm up for next summer's Olympics in Rio.
Amazingly, the Seleção has never won an Olympic gold; they fell to a surprise final defeat to Mexico at Wembley in 2012. With the 2016 edition on home soil, Brazil, who will be coached by Dunga at the tournament, will have this hitherto elusive title in their sights.
Yet Dunga will be taking the 2015 Copa América very seriously. He masterminded Brazil's win in this tournament in 2007, but this year's edition in Chile represents more than just silverware for team and coach. The Brazilian public is still learning to trust the Seleção again following last summer's humiliation against Germany. As the FIFA piñata explodes, murky accusations laid at the doors of Marin and del Nero hardly shatter public trust in Brazilian football administrators, for there is no trust left to shatter.
But they certainly multiply the feeling that Brazilian football is petrified in stasis by an old order, a mafia fuelled by hubris and self interest. Players' union Bom Senso took to twitter this week to reflect the public mood of frustration, "We have never had such a strong backdrop for change: 7 – 1 in the World Cup, CBF vice president arrested, indebted clubs. What more do you need?"
Reports that commercial partners have sustained input into the composition of the Brazil squad have invited only a collective sigh. Corruption and greed are merely a part of the genetic material in the corridors of power. Post Petrobras Brazil has maxed out its cynicism quota, a tab of resentment swells in its place.
Dunga's Seleção cannot abate the country's scepticism, but they can go some way to dressing the wounds of last summer's car crash. He has spared none of his stars with a full strength squad, the selections of over 30s Jefferson, Miranda, Thiago Silva, Elias, Fernandinho, Robinho and Diego Tardelli tell you that Dunga is not using Chile as a laboratory for his future charges. Kaká is on the standby list. He wants the short term boon of victory to provide a springboard and instil belief back into his squad and, if he's feeling congenial, the supporters too.
In fairness, 8 times winners Brazil will not be the only team taking this summer's soiree seriously. Argentina have selected the likes of Mascherano, Aguero and Messi. Chile, playing on home soil and boasting arguably their best squad in half a century, have Alexis Sanchez and Arturo Vidal in their ranks.
Brazil and Argentina will rank amongst the favourites once again, but Chile will view the tournament as their best ever chance to banish their silverware hoodoo. The Seleção will also have to negotiate something of a grudge match in their second group match when they take on Colombia. Last summer's World Cup encounter between the two was fiery to say the least and culminated in a vertebrae injury for Neymar.
The sides met in a friendly in Miami last September and horns were locked again in a game that carried more needle than an anaesthesiologist. Colombia's Cuadrado even managed to get himself sent off in that match for roughhousing Neymar. One can expect another bruising encounter when the teams meet in Santiago, the result of that game will go a long way to deciding who tops the group. Dunga will clasp his hands and pray that Colombia's 'industrial' approach to dealing with his captain does not again result in injury. Brazil's chances are almost entirely balanced on Neymar's slender shoulders.
The term 'one man team' is usually reductive and the product of simplistic thinking, but this Brazil side are the closest working example in elite football. Following last summer's copa, the global impression that 'Brazil is just ten guys and Neymar' (for best results, sing that sentence to the tune of Electric Six's 'Gay Bar') is not that far from the truth.
Argentina have Tevez and Aguero to call upon in support of Messi. Colombia have James Rodriguez, Falcao, Carlos Bacca and Jackson Martinez in their attacking arsenal. Brazil, once the global benchmark for attacking talent, are more akin to Chile and their reliance on Alexis Sanchez. Even Peru possess seasoned pros such as Pizarro, Jefferson Farfan and Guerrero in attack.
Last month I wrote about the prospect of Roberto Firmino  reducing the dependence on Neymar. Seasoned attackers Diego Tardelli and Robinho are further options operating in a false 9 capacity, but none of them are especially convincing at this stage.
The loss of Oscar to injury impairs Brazil's creative options further, whilst Luiz Gustavo's withdrawal exposes a midfield lacking in international pedigree. Three of Elias, Casemiro, Fred and Fernandinho are likely to be deployed in midfield.
With the industrious Willian preferred on the right hand side, there isn't going to be an awful lot of Joga Bonito going on. Creative options such as Philippe Coutinho and Everton Ribeiro will be firmly ensconced in the envelope marked 'Plan B.' (Or, 'the substitutes' bench', in layman's terms).
Any verve is going to have to foment from the creative juices of Neymar and whomever is preferred from Tardelli, Robinho and Firmino as his backing vocalist.
If Brazil emerge from Chile victorious, it is unlikely to be a victory of swagger, but a product of sweat. Dunga is no stranger to this avenue, having captained a functional Brazil side to World Cup glory in 1994. He also presided over the 2007 Copa América final which saw the Seleção tot up forty fouls in a 3-0 victory over Argentina. After that triumph, Dunga proudly proclaimed, "We came to rescue the self-esteem of the Brazilian worker, who wakes up in the morning and returns home late at night, whose only satisfaction in life is seeing Brazil win a football match." Whether victory in 2015 would be enough to placate the Brazilian worker and restore their trust in Brazilian football is open to debate.