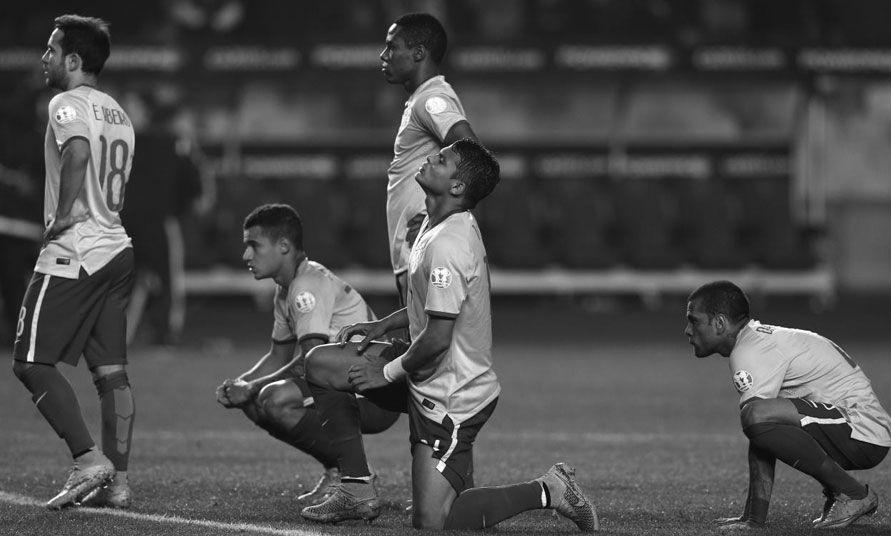 For Dunga and Brazil, the qualifiers for the 2018 World Cup get underway in October, so the coach does not have much time to pick over the rubble of a pretty disastrous Copa América campaign.
The Copa is usually considered a neat precursor to the qualifiers. It marks the beginning of a new cycle in the international calendar, and as such, many coaches use it as a laboratory to perfect the formula for the seasons ahead.
This year's edition was unusual in that Brazil, Argentina and hosts Chile all felt a unique pressure to win. For eventual victors Chile, with arguably their greatest ever squad, and on home soil to boot, it represented their best ever chance to break their silverware duck.
Argentina are 22 years trophyless, with Lionel Messi still yet to experience his international coronation. Brazil gambled on the short term boon of winning the Copa to chase away some of the ghosts of Mineirazão and repair the confidence of the squad, even if not convincing the Brazilian public.
It's a decision that Dunga may view with a hue of regret in hindsight. Jefferson, Elias, Robinho, Diego Tardelli, Dani Alves, Thiago Silva and Miranda were all starters during the tournament and all are the wrong side of 30. Admittedly Dani Alves was a late call up, however Fabinho, originally selected in the squad as back up to the injured Danilo, did not see action in Chile.
Many of these players will have little to no part to play in Brazil's next cycle, and Dunga has only a pair of September friendlies to freshen up his squad. Having won all ten of his friendly matches prior to the Copa, perhaps one can forgive the coach for wanting to preserve the winning feeling. However, even if Brazil's attempts to win the tournament had borne fruit, it would have represented a swansong for many of those involved rather than a springboard.
The CBF appear to be willing to keep faith with the manager, so his job was not under the sort of immediate threat that would have impeded a longer term strategy. Yet the DNA of Brazilian football is hardwired with short termism, coaches are sacked with a regularity that defies parody.
It's unlikely that a Copa América victory would have much fired the imagination of the Brazilian public. The cruel dismemberment administered by the Germans last July has been followed by another raft of corruption scandals with the country's top football administrators. The nation's trust in its football and its national team lies in a coma.
Failure to win the tournament does not represent the apogee of Dunga's issues, the limp manner of their exit also gives rise to serious questions. The twin losses of Oscar and Luiz Gustavo to injury created serious dysfunction in the midfield and that was unfortunate, but Dunga finished the tournament with more problems than he started it with. Problems that go slightly deeper than Everton Ribeiro and Douglas Costa's faulty penalty technique.
Vice-captain and defensive linchpin David Luiz produced a torrid display in Brazil's opener, a slightly serendipitous 2-1 win over Peru. The match proved to be Luiz's last action of the tournament, as he was dropped for club mate Thiago Silva.
Already stripped of the captaincy by the manager for emotional incontinence at the World Cup, Silva senselessly gave away a penalty against Paraguay in the quarter-final, which cost the team dear. Silva's brain-fart earned him public condemnation from CBF President Marco Polo Del Nero. "Our elimination is due to the failure of one of our players" he grumbled. On top of this, Silva's teammates visibly chided him for his handball in the fallout of the Paraguay defeat.
https://www.youtube.com/watch?t=31&v=mRCVIIml5_M
As this 4-4-2 article by Gregor Vasconcelos suggests, Thiago Silva's relationship with the Seleção is now surely beyond repair.
So Dunga very publicly lost trust in both of the centre halves vaunted as the greatest pairing in international football little more than a year ago. One would imagine that Marquinhos will be parachuted into the starting line up as a result, but in hindsight, Dunga missed the chance to fully integrate him.
It is not just the centre of the defence that leaves the manager's brow furrowed with worry lines. The coach has spoken at length about reducing dependence on captain Neymar, who cradles the team on his slender shoulders. The likes of Tardelli and Roberto Firmino failed to convince as load bearers, but more concerning still, the stress of chauffeuring his less able colleagues is apparently beginning to tell.
Neymar's petulance in the timid defeat to Colombia cost Brazil a tariff they could not afford. Even prior to his post final whistle meltdown, which prematurely ended his tournament, Neymar was lucky not to have been sent off as Colombia held Brazil at arm's length.
Neymar is the glittered band aid preventing Brazil's descent into total mediocrity, if his game and his temperament is compromised by that strain, then diffusing that situation represents the biggest challenge of Dunga's coaching career. That said, Neymar himself suggests that the ongoing investigation into his transfer from Santos to Barcelona has caused him significant stress and the elfish forward has form for self-correction. Most notably in 2010 when a fit of brattish pique cost Santos coach Dorival Junior his job.
That episode proved to be a bookmark in Neymar's nascent career, as he learned from it and matured notably. It is true that he is dealt with very robustly by opponents when he dons the canary shirt, but he need look no further than Lionel Messi for mentorship in how to deal with rough customers. His visible exasperation encourages defenders of the effectiveness of the strong arm approach, while his confrontational stance with referees hardly persuades them to come to his aid.
In the Copa del Rey final in May, Neymar earned opprobrium from Athletic Bilbao defenders after a particularly cheeky piece of skill. As a result, he suffered no small amount of intimidation, all of which he largely ignored. But the expectation on him is not as burdensome at Barcelona with players of equal and even superior ability around him.
Shortly before the Paraguay match, Dunga's legendary persecution complex was allowed to plumb new depths. He snorted at the press, "I think I'm an Afro-descendant because I get hit so much," a comment for which he was later forced to apologise. This PR gaffe served only to further the unwanted themes of farce and mistrust. That said, it is not an entirely doom and gloom scenario for the Seleção.
Though Dunga's gamble with experience failed, there are extenuating circumstances. Luiz Gustavo and Oscar will certainly be a significant part of the Seleção's qualifying effort and their absence underpinned Brazil's malfunction. Meanwhile, only injury prevented Danilo from nailing down the right back spot.
Younger talents such as Casemiro were integrated into the squad, Shakhtar Donetsk's Fred was afforded some exposure and the stock of 25 year old Douglas Costa increased sufficiently to seal a move to Bayern Munich.
In 2015, Philippe Coutinho and Roberto Firmino have been gradually blended into the mixture. Coutinho and Firmino now have an opportunity to cement their understanding at club level, with the latter's recent move to Liverpool from Hoffenheim.
Brazil's U-20s made it to the U-20 World Cup Final in June as well. The Copa was certainly too early for some of the players in that squad, as well as other young bucks like Gerson, Kennedy, Nathan, Gabigol and the exciting Valdivía at Internacional. A group stage exit with a wet behind the ears roster would have done little good long term, least of all for those young players themselves.
Dunga's most immediate priorities are to continue to try and lighten the load for Neymar and to consolidate a centre half partnership that he can trust. You are left with the impression that Dunga will be more comfortable with the latter assignment, being a conservative coach with a defender like Marquinhos in his arsenal.
A year on from Mineirazão, the question as to whether Brazil have progressed, or whether they are even on the path to progress, feels uncomfortably open ended. Realistically, Dunga was never going to build Rome in a day, but as Brazil embarks on its new epoch, the manager wields a pencil and a drawing board, rather than a spade and a hard hat.
Follow Tim on Twitter – @Stillberto