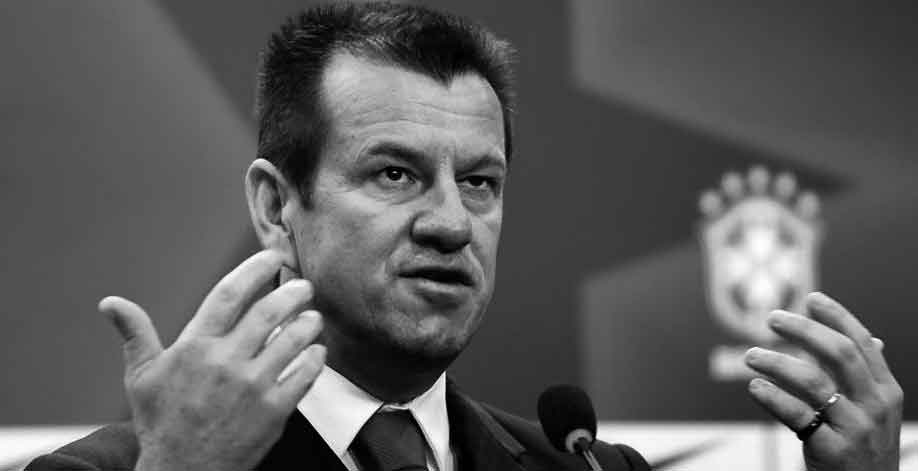 The contrast between two of the managers at June's Copa America could hardly have been more obvious.
First there was Dunga, the arch-paranoia-pragmatist, piling on extra central defenders – there were four on the pitch by the end of the game – to protect a slim lead against humble Venezuela, before his side's paucity of attacking options sans Neymar was painfully revealed in defeat in its next game against Paraguay.
On the other hand there was Jorge Sampaoli, the uber-Bielsista, urging his vibrant Chile side into ever more intense frenzies of pace, movement and pressing. Sampaoli may have his faults, and Chile looked both fragile and over-elaborate at times, but at least the Argentinian has an idea and a philosophy. Dunga, on the other hand…
"Brazil needs a coach with scientific knowledge and the wisdom of a good observer, a pleasant manner, someone who is independent and creative…You can forget that! It was just a fantasy and now it's gone. The reality is different. The reality is tragic. The reality is Dunga," wrote Tostão, one of the stars of Brazil's 1970 World Cup winning team, in the Folha de São Paulo newspaper after the manager's appointment.
Not that Brazil's current failings are all Dunga's fault –Brazilian football fans' least favourite drill sergeant is in fact more the symptom than the cause of the Seleção's woes. For amongst the many reasons posited for the decline of the Brazilian game, the hire 'em, fire 'em management culture, and the consequent atrophying of promising young coaches, is surely as important as any.
Last year a survey by Mexican publication El Economista found that the average Brazilian coach lasts just 15 games in the job, and also reported that seven of the ten most trigger happy teams in the world since 2002 have been Brazilian, with Fluminense just pipping Náutico and Flamengo to the title of the world's most impatient, not to say most foolish, club.
One of the most absurd examples of how Brazilian football eats its young (coaches) came with the sacking of Marcelo Oliveira at Cruzeiro earlier this year. At 60 Oliveira is no spring chicken, but he is relatively new to management, and had shown not just in Belo Horizonte, where he won the league two years in succession, but also in a previous spell at Coritiba, where his team won 24 games in a row and earned a spot in the Guinness Book of Records, that he is an intelligent, innovative and attack minded coach.
"I try and get as many players as possible to press the opposition. Marking is about organisation, positioning, and desire. If you couple that with a lot of technically gifted players, when you win the ball the outcome will generally be positive. We tell all our midfielders both to get into the opponents box as much as possible and to track back when we lose the ball," he explained to World Soccer magazine last year.
While not exactly rocket science, perhaps, such a clear-headed analysis of the modern style is remarkably and depressingly scarce in Brazilian football.
None of which counted for much when Cruzeiro ran into some stormy weather recently. Oliveira, mistrusted by certain unenlightened sections of the club's support from the outset after starring as an attacking midfielder for city rivals Atletico Mineiro in the 1970s and 80s, was sacked in May, just four games into the Brasileirão league season.
While his club had endured a miserable 2015, losing to Atletico in the Campeonato Mineiro semi-finals and being humiliatingly knocked out of the Copa Libertadores after a 3-0 home defeat against River Plate, it was hardly Oliveira's fault – the club had sold off the bulk of the title winning team in the off-season, replacing them with quantity, rather than quality.
Reunited now at Palmeiras with his former director of football at Cruzeiro, Alexandre Mattos, Oliveira is already off to a winning start. It will be a surprise if it lasts very long, however, though again, that will probably not be the manager's fault.
Only two current Brazilian coaches have remained in the job for more than a year – Levir Culpi at Atletico Mineiro and Eduardo Baptista at Sport. To the apparent stupefaction of many club chairmen, such "long-term planning" seems to be paying off – Galo currently lead the league, with Sport also punching above their weight near the top of the table. An enthralling game between the two sides earlier this month, played in front of a crowd of more than 50,000 at the Mineirão, was notable for the cohesion and crisp play of both teams – a far cry from the usual disjointed fare on display in the Brasileirão.
Perhaps it was fitting that the game was played on the first anniversary of one of 2014's other memorable occasions at the big stadium in Belo Horizonte – Brazil's 7-1 annihilation by Germany at the World Cup. When the blame was being handed out following the Seleção's Mundial meltdown, coach Luiz Felipe Scolari arguably got off lightly, for whether it was muttering darkly about conspiracy theories, encouraging the histrionic Us against the World shtick that contributed massively to Brazil's emotional fragility, or plain old tactical incompetence – playing the inexperienced and lightweight Bernard against the Germans instead of shoring up his hopelessly outmatched midfield – Scolari turned in a miserable performance at the tournament.
He was also, like Dunga, a retread, in itself an indictment of Brazil's lack of managerial options. For who else could the CBF have turned to once Pep Guardiola, or indeed any foreign coach, had been ruled out through jingoism and a blinkered world view? Muricy Ramalho, whose last brush with international level football had seen him gawping in bewilderment as Barcelona treated the 2011 Club World Cup final against his Santos side like a training ground romp? Corinthians' Tite, an excellent, if prosaic, club manager and a solid organizer of teams, but whose sides play with a chronic lack of attacking invention? Zico, whose management career has been patchy at best?
It is much the same at club level, where, like aging buffalo, the same few names – like Dorival Junior, Celso Roth and Vanderlei Luxemburgo – seem to circle endlessly around the watering hole. At the same time, coaching success at an early age becomes a double-edged sword, for it inevitably brings promotion to a bigger club, where the stakes are higher and patience is in even shorter supply.
Dado Cavalcanti, 34, currently doing well with Paysandu in Serie B, has coached 15 clubs in nine years, while after impressing at Avai in 2008 and 2009, Silas managed Gremio for eight months, and was then sacked by Flamengo after just over a month in charge. In 2012 repeat offenders Gremio sacked Caio Junior, who had managed a lively Botafogo team in 2011, after just eight games in the job, rather suggesting the fault lies more with the men who hired the manager, rather than the manager himself.
It appears to be a never-ending vicious cycle, with clubs, led by ego-driven, often hopelessly under-qualified chairmen, who rely on populist measures and promises to win the support they need to get elected in the first place, and who must then deliver immediate success in order to maintain the loyalty of often overly passionate and highly impatient fans, treating under-fire coaches as disposable, in turn ensuring that said coaches are unable to grow and develop in a rational, professional environment.
Proof of the negative effects of such a culture are everywhere, from the dispiriting sight of Dunga scowling from the Seleção dugout, to the often unimaginative, uninspiring play on display in the Brasileirão, and perhaps most visibly of all, in Brazilian clubs' continuing struggles in the Copa Libertadores. Despite the fact that Brazil generally pays by far the highest salaries on the continent, the country will once again be on the outside looking in when River Plate take on Tigres in the final over the next two weeks, after Inter were comfortably beaten by the Mexican side in the semi-finals, Cruzeiro were destroyed by River, and Corinthians were humiliatingly knocked out by little Guarani of Paraguay. It was a similar story in 2014, when only one team made it to the quarterfinals, and in 2013, when only one Brazilian side (eventual winners Atlético Mineiro) made it past the last eight.
This year's Libertadores provides a little further proof of the weaknesses of Brazil's coaching culture. Foreign coaches have struggled in Brazil in recent years – the brief, unhappy experiences of Ricardo Gareca at Palmeiras and Jorge Fossati at Internacional spring to mind – but despite a disappointing end to his club's campaign in the competition, Uruguay's Diego Aguirre overcame initial doubts over his rodizio (in this context, squad rotation) system to take Inter further than any other Brazilian side, blending promising youngsters such as Rodrigo Dourado, Geferson and William with established stars such as D'Alessandro and Charles Aranguiz.
Perhaps inspired by Aguirre's relative success, São Paulo recently appointed Colombia's Juan Carlos Osorio as coach, after reportedly sounding out Sampaoli, Alejandro Sabella, and even Andre Villas Boas. "We want someone with scientific knowledge and international experience, even if it's not a foreigner," said chairman Carlos Aidar.
While the likes of Aguirre and Osorio can bring a breath of fresh air to a moribund coaching scene, the real problems run deeper. Until Brazil's clubs adopt a more patient, long-term approach to planning, and bring an end to the managerial merry-go-round culture, it is hard to see how the country will ever be able to produce the kind of bright, intelligent tactical thinking that is inherent to success in the modern game.
Instead, Brazil will continue to delude itself that outdated dugout philosophers like Vanderlei Luxemburgo, a successful coach in the past and Marcelo Oliveira's replacement at Cruzeiro, represent anything other than a step sideways.
"We're more advanced than foreign coaches," growled Luxemburgo recently, without explaining which of the presumably thousands of foreign coaches he was referring to, or why he thought this might be so.
"Ferguson was at Man Utd for 30 years (sic), and he only won two Champions…if he was in Brazil, he'd be screwed!" he continued – a statement, which, sadly, rather tells you all you need to know about Brazil's ongoing coaching crisis.