Brazil made it to the final of the 2015 U20 World Cup thanks to wins on penalties v Uruguay in the last 16, and Portugal in the quarter finals.
A 5-0 thrashing of Senegal in the semi-final was the only time the side had really let loose as they always threaten to do, but they returned to their previous guise for this, often frustrating final match.
The first chance came after ten minutes, when Boschilia whipped a free kick from the right with his left foot. It was partly dealt with by the Serbian defence, but Jean Carlos, lurking on the edge of the area, was able to get away a clean volley which went straight to Rajković in the Serbian goal.
Gabriel Jesus looked bright down the right hand side, and a burst of speed followed by a powerful shot forced another good save from Rajković. Lucão had a decent chance from the resulting corner but headed wide.
Brazil had much of the possession in the opening exchanges, with plenty of attempts to pass their way through the opposition with clever one-twos. However, the next chance came from a solo run through the middle by Jean Carlos, but he lost full control of the ball at the final moments, meaning the resulting shot was weak.
Brazil's domination often left chances for Serbia to counter. They managed to do so effectively on 29-minutes, until Lucão put a foot in to stop the attack at the expense of conceding a foul, but Serbia's star man, Andrija Živković, sent the set piece harmlessly over the bar.
An ambitions but well hit Milan Gajić shot from distance on 33-minutes was saved easily by Jean.
Possession was 65%-35% in Brazil's favour after 35-minutes, but they had still been unable to do much with it and, surprisingly, Serbia went in at half time having had more shots on goal.
Brazil were forced to defend several attacks towards the end of the first half, and they did so competently. Centre backs Marlon, Lucão, and keeper Jean looked in control of situations, despite an occasional lack of support.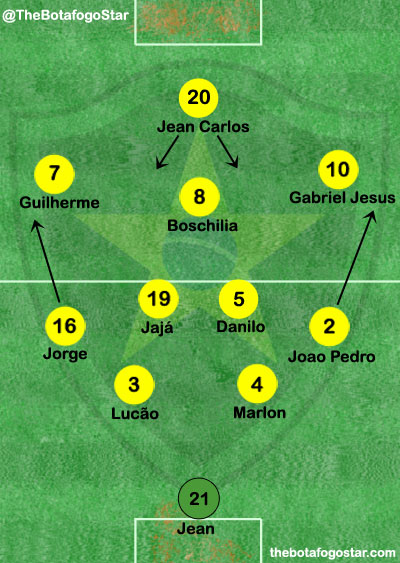 Brazil almost took the lead at the start of the second half. Left-back Jorge fired a dangerous ball in which just needed a foot on it to poke it home. Somehow Serbia were able to clear, with the ball falling to Danilo whose snapshot blazed over the bar.
Serbian right-back Gajić forced a good save from Jean, after good work between himself and Živković down the right with around an hour gone. Jean came off his line well as soon as he saw the danger, and the right-back's powerful shot was well stopped by the Brazil keeper.
Brazil created the odd half-chance, but shots from Gabriel Jesus and Jorge were off target. A long range effort from Jajá summed up Brazil's desperation at this point in the game.
Boschilia had tried to make things happen for his side, but couldn't quite find the space for himself or the runs of others to have an impact on the game. He was substituted on 64 minutes, and replace by Manchester United youngster Andreas Pereira.
With 70-minutes gone, a neat move gave Serbia the lead. Živković played Maksimović in on the right, and his cross found Mandić at the far post, who had been able to steal ahead of a sleeping Joao Pedro to score.
However, it wasn't long before Brazil were level thanks to a brilliant piece of individual play from the substitute Pereira. He received the ball on the left and was able to cut inside, beating three players before curling the ball into the far corner past Rajković with his right foot.
Brazil created the odd chance after this, but nothing of note, as again they struggled to break down a well drilled Serbian side. Indeed, Serbia still looked dangerous on the break, which meant Brazil were slightly wary of pushing on to get the winner.
Malcom had replaced Jajá, and Alef had come on for Gabriel Jesus by the time Periera almost scored the winner from a free kick in stoppage time. Rajković saved well, sending the game to extra time.
As the rain teemed down in extra time, Brazil passed and probed, whilst Serbia maintained a tactical discipline rarely seen at this age group.
Corinthians' Malcom produced most of the highlights in extra time, using his fresh legs to charge at the Serbian defence down the right, almost scoring himself, as well as creating havoc in the opposition box with a cross on another occasion.
Maksimović came close for Serbia, letting a powerful shot go after another dangerous counter-attack, but the attempt flew just over the bar. Serbian centre back Babić was gifted a free header at the far post from a Živković free-kick, but he was only able to nod it into the hands of Jean.
It was then Brazil's turn to have a go from distance as Joao Pedro forced a save from Rajković.
Brazil's fears were realised on 118 minutes when the impressive Maksimović caught Brazil on the counter. Živković's through-ball cut straight through a confused defensive line who didn't know whethjer to play the runner offside or follow his run. Marlon made the wrong decision, as a tired Maksimović trundled through, finishing coolly past Jean despite his fatigue.
Serbia won thanks to their excellent team performance, and whilst Brazil tried to pass the ball around nicely, and build up play through midfield, they lacked a directness in their attack and were too often waiting for an individual moment of brilliance.
Serbia's moments of individual brilliance came as a result of well organised team play, epitomised by the counter attack which led to Maksimović's winning goal.