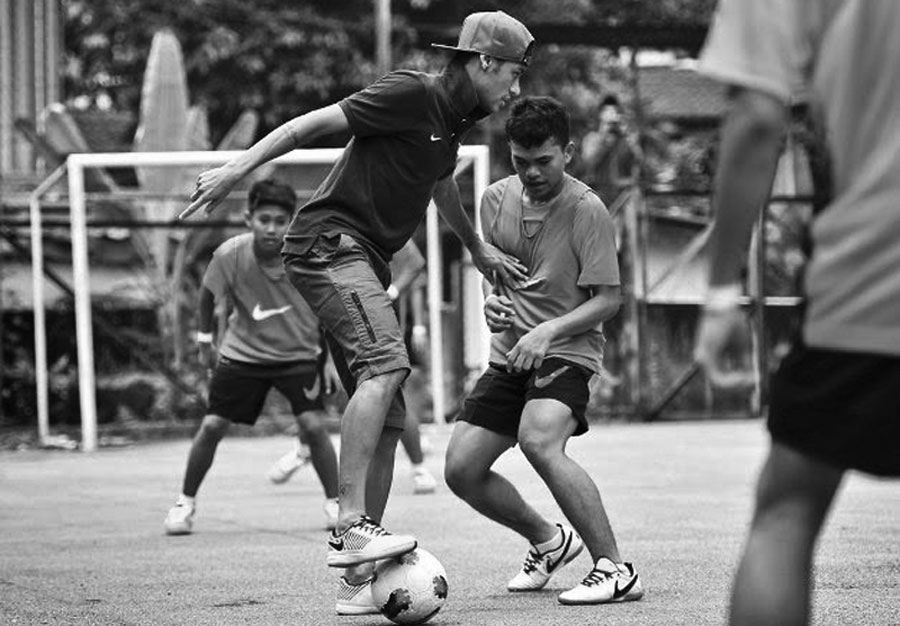 There's a video on YouTube which shows Liverpool and Brazil midfielder Philipe Coutinho getting hold of the ball, slaloming past three defenders and then slamming it past the goalkeeper.  It is a wonderful expression of skill and technical mastery; the fluidity of execution breathtaking.
In this video, shown below, Coutinho isn't in a Liverpool shirt.  Nor is he playing for any of his previous European clubs; Inter and Espanyol.
Indeed, he isn't even on a football pitch.  For the one in the video is a very young Coutinho – probably in his early teens – and the game he's playing isn't football but rather an indoor equivalent of it; futsal.
Yet the mastery of the ball, the movement and the ability to effortlessly shift direction make him hard not to recognise for anyone who has seen him play over the past couple of years.
Much of that is down to the very nature of the game that he is playing. Futsal, with its small and narrow pitch coupled with the use of a smaller ball, forces players to refine their control.
Players quickly learn that unless they can keep the ball close to their feet, they won't be in possession for long. They also learn that in order to avoid those wanting to take the ball off them, they can't rely on speed or brute force – there simply isn't room for that – so they have to turn to tricks and flicks that will take them past people.
Futsal couldn't have been born anywhere other than South America. It distils football to its purest form; where imagination and creativity are the most important elements. There is physicality, sure, but like a villain in a comic book it is only there to highlight the virtues of the hero.  Because ultimately it is flair that wins out.
It is easy to see why Brazilians love this game. Despite the national team having been forced to take a more European approach in its attempt to find success, at heart Brazil is nation that loves players with flair who allow football to be the ultimate expression of the joy of life.
There will never be a national side as beloved as that which went to Spain for the World Cup in 1982 because even though that team didn't do what it was expected to do – win – it still played the kind of breathtaking football that is truly, undeniably and uniquely Brazilian.
Zico, Socrates, Falcao', Junior, Eder, Serginho…that was a side that had players with true natural ability; the kind that could control the ball as if they had laid a magical spell on it.
This belied the number of hours they had spent throughout their life with the ball at their feet.  The popular image is of Brazilian kids spending hours playing football on the beach, and that is true to an extent.  Yet futsal has become increasingly more important; solving a problem faced by many kids' clubs struggling with a shortage of grass fields on which to play the game.
Despite the game's popularity among Brazilian children, it actually originated in Uruguay.  Juan Carlos Ceriani Gravier, a teacher in Montevideo, wanted to create a game for those attended the local YMCA centre.
This new game was based on football but given the restrictions in facilities that he faced, was played indoors. Indeed, its full name Futebol de Salao. literally means football of halls.
The game quickly spread all over South America, especially after Uruguay's win in the 1930 World Cup, and has steadily increased in respectability particularly as a tool for training players.
Some of the most talented Brazilian players of the past two decades – Ronaldinho, Juninho, Robinho and Neymar – were brought up on futsal, as was Ronaldo. The former Inter Milan and Real Madrid forward commented:
"I needed extremely good feet, because you're always attempting to beat opponents in the minimum of space. I loved the challenge of playing on such a small pitch"
Marcos Sorato, also known as Pipoca, coached Brazil to the FIFA Futsal World Cup title in 2012, beating Spain in the final held in Thailand. Inevitably, he has strong views about the game:
"Most Brazilian clubs use futsal to help develop players; Santos, Fluminense, Vasco, Flamengo and many others. They have academy teams who will compete futsal leagues until they are 14-15 when they will start their transition to football."
What is it, then, that makes futsal so good at helping players develop?  What does it help teach?
"Without a doubt I would say quick thinking, fast decision making, a higher demand of technique to solve problems in small spaces," replies Sorato.  "It helps the player to think about the game and to learn how to defend and attack.  The player needs to be complete."
What it does not do is "coach the offside rule, but they can learn this when they transition to football. All the rest is transferable and useful in football."
The big question, then, is whether futsal and regulation football can co-exist.
"In Brazil they both co-exist for over 30 years now." says Sorato.
"Many talented football players have come from futsal. And many football players have continued playing just futsal instead."
Flair and the love of it, will never die in Brazilian football.  The hope is that there will eventually be a team that can rely on this to be successful on an international stage.