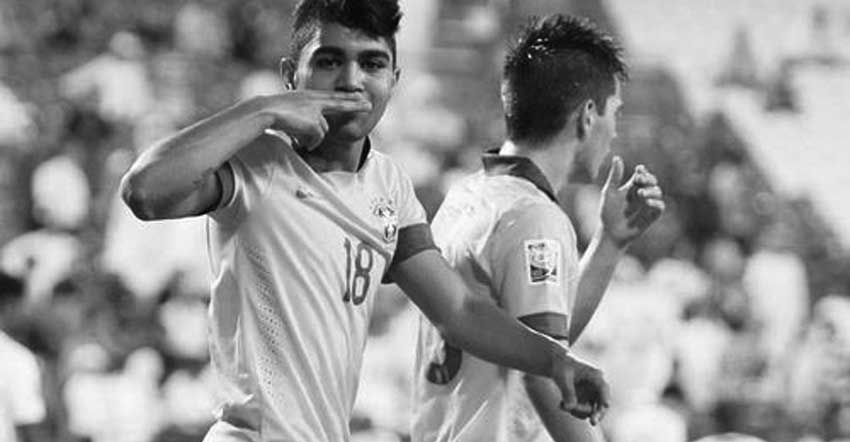 By now, it is apparent that Brazil's cupboard is startlingly bare when it comes to attacking talent. The situation has been obvious in the country for some time, but it took the world a little while longer to catch on.
The band aid of Neymar allowed the rest of the footballing world to blithely assume that the country was continuing its conveyor belt of jogo bonito action dolls.
The stereotypes prevailed and were able to breathe. Many assumed that a production line of bare footed young soccer doyens lay in wait on the sandy beaches of Ipanema and the dust bowl pitches of the favelas.
Then the 2014 World Cup rolled around and Brazil's embarrassment of attacking rags was laid bare. Fred and Jô were Scolari's centre forward options, both were already half-forgotten in Europe. Whilst Fred in particular was unfairly maligned, it soon became clear to the rest of the world that Neymar was not so much the jewel in the crown as crown jewels, sceptre and throne all at once.
After the shame of Germany's cool semi-final dissection, Fred shuffled off into international retirement, Hulk was cast asunder from the national side for over a year, Bernard has sagged into ignominy at Shakhtar, whilst Jô pretty much gave up on football altogether.
Dunga has tried to reimagine Brazil's attacking recipe, but with little more than broken eggshells and corned beef at his disposal. 31 year old Robinho, 30 year old Diego Tardelli, 35 year old Ricardo Oliveira and 33 year old Kaká have, at differing times, formed the fulcrum of his brave "new" age.
Whilst this illustrates his predicament to some extent, it is also true that Dunga is a very conservative coach. He has yet to find a way to eke the best from Philippe Coutinho and Roberto Firmino, whose Seleção shelf-life is surely longer than some of the more "seasoned" pros that he has called upon.
The average age of Dunga's Copa América squad was 28, as he prioritised the short, sharp shock of Copa glory over more long term squad building concerns. The decision backfired with Brazil's meek exit from the tournament and now the manager is faced with another rebuilding job upfront.
Hulk's impressive form at Zenit has seen him recalled, whilst Ricardo Oliveira's goal scoring exploits at Santos have earned him an unforeseen reprieve. The likes of Tardelli, Everton Ribeiro and Robinho have been quietly ushered off the scene. To the manager's credit, he has inducted ex-Shakhtar wide men Willian and Douglas Costa into bona fide choices for his front three.
But it is clear that Hulk and Ricardo Oliveira are little more than short term Polyfilla for the World Cup qualifying process. Hulk will be 32 and Oliveira will be 38 by the time Russia 2018 comes around. With Dunga electing not to use the Copa América as a playground for younger talent, Brazil are in a kind of holding pattern for the next year or so.
Gabigol of Santos is not so much banging on the door as punching through the wall to get Dunga's attention. The 19 year old has 16 goals for Santos in 2015 and last week became the club's record goal scorer in the Copa do Brasil; surpassing Neymar and Robinho in that respect.
Gabriel has played on the right hand side of O Peixe's forward line this season, with Oliveira prowling the penalty area. It's proved to be a potent combination and playing from the flank has aided Gabigol's technical progression, he's learned to be a more rounded team player from this position.
Despite signing a new deal with Santos recently, it seems a matter of time before Gabigol moves to Europe. Fenerbahçe made a firm offer during the European summer window, but it's clear that Gabriel Barbosa and his advisors are waiting for a bigger fish from across the pond, with A.C. Milan linked constantly.
For the time being, his development is being managed with kid gloves, but Brazil's football landscape is fettered with vultures keen to make a quick buck from the country's emerging talent.
Another Gabriel making a splash in São Paulo is Palmeiras' Gabriel Jesus. He is trickier and more svelte than his Santos namesake. Predictably, this has seen him draw comparisons with Neymar, a juxtaposition that Gabriel Jesus has been quick to bat away.
He likes to jink in field from the left, his soft, quick feet shuffling at terrifying speed. In his nascent career, the 18-year-old has embarked on a one man mission to bring the 'chapéu' back to the forefront of the Brazilian commentator's lexicon.
I was in Brazil this summer when a virtuoso performance from Gabriel Jesus gave Palmeiras a 3-2 win over Joinville. "Glória, Glória Gabriel Jesus" tumbled tunefully from the terraces at Allianz Parque. A blushing Gabriel was asked to recant the song during his post-match press conference, a segment which SporTV carried on a loop throughout the day. The headlines of the sports dailies gushed in response to this young talent.
Emerging alongside this pair of Gabriel Paulistas is Internacional's 21 year old enganche Valdívia. Valdívia's grounding is in futsal, and it shows in his 'freestyle' approach to the game. He is probably more mercurial than the Gabriels and still suffers from inconsistency in his tender years, but he scored 5 goals in this season's Copa Libertadores, which gives you some idea of his potential.
He has a deceptive gait and a low centre of gravity that is the preserve of many of Brazil's most famous number 10s. It is clear that watching Ronaldinho and Robinho left an impression on Valdívia in his youth. He has that unpredictability shared by so many beloved playmakers of yore and can score from range.
With the Seleção's futebol arte brand looking increasingly like a relic of a bygone age, it is tempting to cling to this young trio as a port in a storm. Brazil has more than its fair share of anthems for doomed youth where talented young footballers are concerned.
In the fallout of Brazil's 2010 World Cup exit, many a hopeful paean was penned to the ghosts of Seleção future, prematurely ushering in the era of Neymar, Ganso and Alexandre Pato. The latter two are now aged 26, kindred souls twinned in infamy together at São Paulo, reflecting on careers that continue to drift into the ether.
There are no shortage of warning tales for Valdívia, Gabriel Jesus and Gabriel Barbosa. Dunga has yet to call upon any one point of this promising young triangle, but they form the core of Brazil's U-23 side that will attempt to win the country's first Olympic gold next summer on home soil.
For now, in an international sense, they will have a chance to grow together and gain tournament experience in Rio as the arrowhead of a young Brazil side that will be coached by Dunga.
It is unlikely that the manager will interrupt that process by calling any of them into the senior side prior to next year's Olympics. If all goes to plan and these three young diamonds in the rough are smoothed with their clubs and with the Olympic team, then Dunga can start to integrate them into the senior side and begin restocking the cupboard with exciting attacking talent again.
Then again, Brazil has written enough volumes on unrealised potential to make one wary of chronicling a golden future prematurely.
---
Follow Tim on Twitter @Stillberto