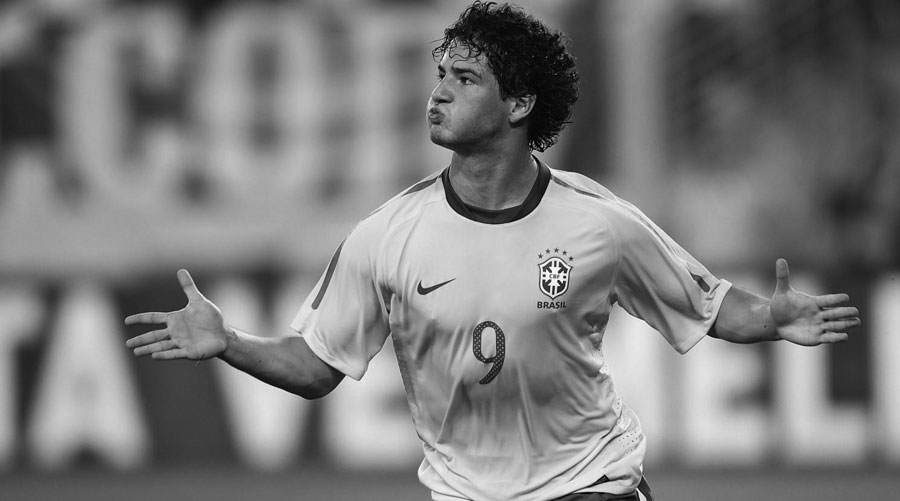 "I want to return to the Seleção, that's my aim. It (the squad) will be announced on Thursday, and I deserve to be in the national team. I am the best Brazilian striker, I don't see anyone better. I can be there, I can help teammates, either as false nine, on the left, on the right, but it's Dunga's decision."
So said Alexandre Pato, shortly before Dunga announced his squad for World Cup qualifiers against Chile and Venezuela next month.
There has seldom been any doubt over Pato's ability and, in that respect, his self-assured comments carry more than a molecule of truth. As predicted, Dunga, the manager who gave a teenage Pato his first Brazil cap, passed up on the opportunity to re-enlist his services.
Even with Neymar suspended, Dunga has opted for one centre forward in his 23 man squad in Hulk, and the majority of his international career has been spent on the flanks.
Pato has put left the knee problems that blighted his time in Italy behind him. The issue has long been one of temperament and Dunga is not fond of mavericks.
In his first spell as Seleção boss, Dunga cast Pato asunder from the international scene. As such, Pato's attempts to thrust his CV under the manager's nose were probably ill advised. Dunga is very much a coach in the sergeant major mould, unlikely to be swayed by cocksure proclamations.
In fairness, a lack of assertiveness has long been considered a weakness of Pato's. His recent move from centre forward to the left flank has been as much a consequence of a failure to impose himself on opponents as his slight frame.
After a torrid spell at Corinthians and a fairly inauspicious start to his loan spell at São Paulo, there are signs that Pato's flame is beginning to reignite. Under Colombian Juan Carlos Osorio, he has benefited from the 'arm around the shoulder' brand of management that he needs at Tricolor.
Alas, whilst Dunga oversees the fortunes of the Seleção, Pato will never get the same level of TLC at international level. Dunga is much more akin to Pato's Corinthians coach Tite, with whom Pato butted heads on many occasions, culminating in Tite branding his striker "an irresponsible kid" after an ill-advised Panenka penalty went awry.
Osorio has been more accommodating for Pato´s mercurial streak. The two conversed at the beginning of the year and Pato told his coach that he struggled with the physical element of being a centre forward. Osorio's solution has been to start Pato from the left hand side with free reign to roam across the front line. This has been an especially bold move from the Osorio given the centre forward situation at São Paulo, with Allan Kardec injured and Luis Fabiano suffering the dual rigours of age and indiscipline.
In his media salvo, Pato was careful to outline his versatility and his ability to interchange across the front three. This is the same liberty that Neymar is afforded for Brazil, so Pato's press release was calculated. He was auditioning for the role of the suspended captain´s understudy.
In principle, Pato fits into Dunga´s formation perfectly. He can play the false 9 role, as the likes of Diego Tardelli and Robinho have done before him. Tardelli and Robinho are now in their early 30s and milking the Chinese Superleague cash cow. Neither has figured since June's Copa América car crash.
Everton Ribeiro has fallen out of favour and Philippe Coutinho was initially left out of the squad for September friendlies against the USA and Costa Rica. Hulk was only reintroduced into the fold to keep Neymar´s pipe and slippers warm recently. The forward line is not set in stone and, Neymar aside, it is hardly a stellar cast.
Pato would be far from out of place. That said, he does not have the work ethic possessed by the likes of Willian, Roberto Firmino and Douglas Costa. To fetch the eye of the manager, Pato must show consistency and crucially, improve his work rate.
The ex Milan man's form is still too patchy and there is a suggestion that his best work coincides with European transfer windows. Corinthians, who own Alexandre's registration, have thrust him to the forefront of their yard sale with a big neon 'for sale' sign during each of the last three transfer windows. Despite a dearth of top class attacking talent on the market, a club has yet to tumble the dice on his talent as questions over his motivation continue to circulate.
Hours after Dunga announced his Pato-less squad, São Paulo played a home fixture with Chapecoense. If Dunga was watching, Pato's performance would not have caused him to shift uncomfortably in his chair.
Pato was substituted after 60 listless minutes. Even Osorio´s normally nurturing bosom became a cold shoulder. His insouciance in the press on Monday had melted into another indifferent performance before the week was out.
Displays of this ilk are still too regular an occurrence for 'The Duck.' Sometimes he cuts a peripheral figure, like a forlorn hitchhiker standing on the hard shoulder of a game, forlornly thumbing at it to slow down and let him board. Aged 26, it's difficult to believe that a player of his ability could not dominate a league like Brasileirão with greater application.
Since his latest omission from Dunga's cast, the sound-bites emanating from the São Paulo forward have been more measured. His reaction to Dunga's latest snub sounded chipper and focused:
"When you do not see your name, you are sad. But moving forward, I have to work, I strive more and more, in every game and in training, so maybe in the next call I will be remembered."
Meanwhile, Osorio praised the player's professionalism when he insisted on being part of the squad to play Avaí, despite his coach preferring to rest him for an important Copa do Brasil tie:
"Pato is a great professional, for whom I have great admiration. Apart from being a great player, he has always been a great professional. The schedule for seven days was to rest six or seven players that play more frequently. Pato was one of them. I said that to him, as for everyone else, but he said he was available."
Pato needs to forge words into deed and continue to boost his work rate and consistency. Brazil is not an all-star cast that can accommodate lazy mavericks in the way it once could. But chances afforded to the likes of Tardelli and Robinho show that the Seleção's forward line is no longer the exclusive preserve of world football's movers and shakers.
It is a functional team that relies on discipline and endeavour. As such, it is difficult to avoid the feeling that Pato and Dunga remain incompatible. Thiago Silva is a far more important and prestigious player than Pato, and the surly Brazil boss has shown no compunction in exiling him completely on grounds of weak will.
Hulk shares Pato's proclivity towards inconsistency, but he guarantees a physical presence and industry that the foppish São Paulo man cannot currently match.
International reconciliation would be a heart-warming patter for Pato. A cruel uncle may have given Carlos Dunga the nickname 'Dopey' ('Dunga' is Portuguese for 'Dopey', roughly speaking), but that's where his relationship with fairy-tales ends.
Follow Tim on Twitter @Stillberto