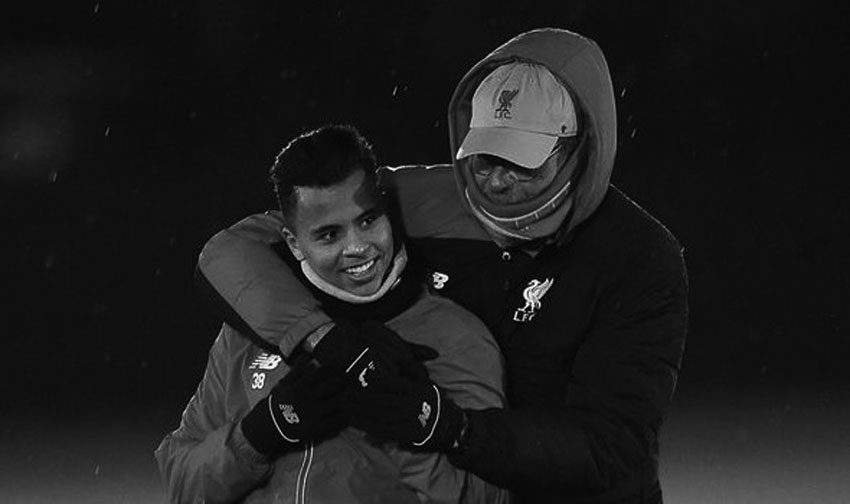 Countless articles have been written about the make-up of great players but, ultimately, the essential qualities are three.
The first, most obvious one, is talent. Regardless of what he has going for him, no player will ever manage to get to the highest level if they cannot play football.
This is not necessarily limited to the ability to go past players, which is where thoughts most frequently turn to when the word talent is mentioned, but is dependent on what position on the field a player holds.
Liverpool were already aware of Allan Rodrigues de Souza's talent when they agreed to pay Internacional £500,000 for his services. They had seen the Brazilian play at the Frenz U18 International Cup in 2015 and been impressed by his creative ability as Internacional went all the way, beating Estudiantes 3-2 in the final.
What they couldn't really gauge at that stage was his character, an often overlooked yet critical aspect that distinguishes those who go on to achieve greatness from those who disappear without fulfilling their potential.
Perhaps that is why they chose to send him out on loan to Finnish side SJK Helsinki when it became clear that he wasn't going to qualify for a work permit.
It was certainly a test of character. Allan's previous experiences had been restricted to his age category. So it was a step up for him to play among professionals and with the pressure of doing so for a club that was going for the first title in its history.
To boot he was doing so in a culture that was completely alien to him, playing in the kind of weather that he certainly wasn't used to.
If this was a test then he certainly passed it. In his eight games he scored twice – both goals a reflection of his ability for the spectacular – and in general provided the creative spark that SJK needed in order to claim the title.
The benefits of this experience haven't been lost on him. "I trained in the morning, studied English in the afternoon and stayed home alone at night," he said upon his return to Liverpool.
"I entered restaurants and asked for something to eat but the waiter wouldn't understand anything. And I would leave apologising, and ashamed."
"It was hard, but I grew up with all this and today I find myself more mature as a man."
His experiences are pretty common for young Brazilian footballers who migrate from their homes to strange countries in search for fame and fortune. At least he had the comfort of knowing that this was only a temporary thing.
Well, sort of. Because Allan still lacks the necessary work permit needed to be able to play in England. Which is why he will spend the coming months in Belgium on loan with St Truiden.
It will be another test; of his character for sure – St Truiden are fighting against relegation – but also of his ability to withstand the physical challenge that a more demanding league will ask of him.
And that is the final quality that enables potential to be transformed into performance at the highest level. If he succeeds at that then Liverpool will know that they've got a player on their hands.