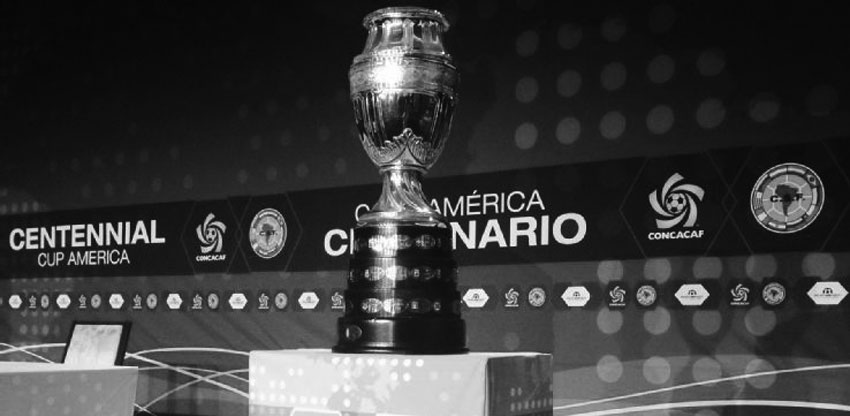 On Saturday, 4th June, Brazil kick off their Copa América Centenário campaign against Ecuador in the Rose Bowl in Pasadena.
The stadium holds happy memories for the Seleção and troubled coach Dunga as they lifted the World Cup in that very arena back in 1994.
Dunga interpreted that triumph as an act of defiance against a hostile press, who had come to regard him as emblematic of Brazil's transition from futêbol artistes to functional army.
22 years on and Dunga faces similar levels of hostility for similar reasons. Though his quality as a player was not subject to the same disenfranchisement as his coaching skills are.
After a tough start to World Cup qualification and last summer's tepid display in the Copa América in Chile, the CBF's patience with Dunga hangs by a thread.
The public have long since melted into apathy in the face of the CBF's egregious mishandling of Brazilian football.
As for the public's perception of Dunga, ex Seleção star and contemporary journalist Tostão had his finger firmly on the pulse of the nation when he wrote: "The reality is tragic. The reality is Dunga," upon his reappointment in 2014.
Olympic Priority
A Copa América triumph would do little to stir the imagination of a country sick from political strife and increasingly indifferent to the fortunes of a declining national side.
Dunga needs a good performance from his team at the very least to save his job – he probably needs to win it outright in fact. This explains his desperation to call up his talisman Neymar.
After months of lobbying with Barcelona, Dunga lost this political battle of wills. Barcelona insisted that he would only be released for one of the Copa América or the Olympics.
Brazil have yet to win an Olympic gold for soccer and with the games taking place on home turf, the Rio games have been prioritised so Neymar has been spared this centenary show-piece.
Strong Opponents
Surprisingly, most of Brazil's most likely rivals for the trophy have selected their big guns.
Chile's new boss Juan Antonio Pizzi is keen to make his mark following the departure of Jorge Sampaoli, so he has called up the likes of Alexis Sánchez and Arturo Vidal.
Argentina, who are without a trophy for 23 years, are desperate to taste success, having lost the World Cup Final in 2014 and the Copa América Final in 2015. So the likes of Messi, di Maria and Higuain are on the plane to the US.
Colombia have James Rodriguez in tow. Only the smaller nations have opted for experimental squads.
Preparing the Squad
Having lost his battle to call upon Neymar, Dunga has been forced to shift priorities.
Whilst another Copa América triumph would provide a short term salve for his job prospects (he won the tournament with Brazil in 2007), becoming the first Seleção boss in history to win the Olympic gold – on home soil to boot – would truly resonate, even if he were relieved of his duties thereafter.
As a result, his squad has a slightly more mix and match feel to it.
He has included the likes of Gabriel Barbosa, Rodrigo Caio and Douglas Santos in the roster for the US, staples of his Olympic squad.
The Copa will be used to prepare these younger charges for the games and possibly beyond.
Attack
Significantly, they each play in problem positions for Brazil. The Seleção attack looks as impoverished as it has ever been, but Gabigol (and Palmeiras' Gabriel Jesus, who will feature in the Olympics but not the Copa) offer hope for the future.
Gabigol has been handed the number 11 shirt, which suggests he may be afforded a prominent role, especially with Santos team-mate Ricardo Oliveira ruled out through injury.
Alongside Oliveira and Lucas Lima, Gabigol has matured into a rounded attacker at Santos. There, he plays from the left of the attack much in the same probing fashion that Neymar does for Barcelona.
Dunga tends to play his captain as a false 9, either side of Willian and Douglas Costa. It looks like Gabigol is earmarked for a similar role in the Copa, but since Douglas Costa's withdrawal he could also shift to the left, with Hulk being the other option in the position.
Dunga prefers to play with a false 9, but Diego Tardelli, Roberto Firmino and Robinho, who have all fulfilled this role under Dunga, have not made the cut.
Benfica's Jonas provides a different option as a more orthodox spearhead in the front three. The 32-year-old has 36 goals for Benfica this season, so arrives in America in healthy goalscoring form.
Neymar will not simply be replaced by one player; rather Dunga will expect his attackers to cumulatively share the captain's workload. Neymar has 46 goals for Brazil in total, this squad has 37 between them.
Defence
The divisive manager has fallen out with left-back Marcelo, with Filipe Luis in his 30s, the buccaneering Douglas Santos will provide the back up.
In truth, Juve's Alex Sandro is probably ahead of the Galo lateral in the pecking order, but Santos will be the Olympic side's starting left-back and this competition will serve as his induction into international tournament football.
The selection of the imposing Rodrigo Caio illustrates one of Dunga's biggest headaches. His relationship with Thiago Silva is beyond repair and he has entirely lost trust in the erratic David Luiz.
Luiz first fell foul of Dunga during last year's Copa América with a horrendous error allowing Peru to score just 3 minutes into their first game. He was mindlessly sent off during a qualifier with Argentina last November, before Luis Suarez led him a merry dance in Recife in March.
David Luiz and Thiago Silva formed a formidable centre half partnership with Brazil, their issues in the canary yellow only ever arise when they are parted. But surly Dunga is unlikely to offer the olive branch to either player, so he is tasked with finding a new centre half pairing.
This is where São Paulo skipper Rodrigo Caio may sense an opportunity to enhance his long term prospects.
It is likely that Dunga will plump for 29 year old Gil and 31 year old Miranda as his de facto pairing for the tournament. But they are not a long term solution given their advancing years.
Rodrigo has been a tower of strength at the heart of the Tricolor defence, as São Paulo have advanced to the semi-finals of the Copa Libertadores.
Caio, who is also capable of playing in defensive midfield, is a calm but commanding presence at the heart of the defence and he has impressive leadership qualities too.
A move to Valencia fell through last summer after he failed a pair of medicals, but his knees have held out just fine over the last year or so.
Rodrigo Caio and Marquinhos seems the most likely centre half pairing for the Seleção's future at this moment in time.
That said, we are unlikely to see them partnered in the states unless misfortune befalls Gil and Miranda. The back four is likely to have an experienced look to it, with 33 year old Dani Alves (assuming he recovers from a foot problem) and 31 year old Filipe Luis positioned either side of Miranda and Gil.
Midfield
In midfield, Dunga has surprisingly omitted Fernandinho in favour of Real Madrid's Casemiro, whilst there is also space for Barcelona's Rafinha.
Again, it seems more likely that Dunga will opt for the experience of Renato Augusto, whose leadership qualities the manager has been talking up recently, alongside Luiz Gustavo in the double pivot. Lucas Lima will start just ahead of them, with Philippe Coutinho considered his back up.
With Oscar out of favour and Kaká recalled but likely to be peripheral, Brazil have fewer options behind the striker, but Lucas Lima's star has risen markedly over the last twelve months and he will almost certainly move to Europe once this tournament concludes.
Can Brazil Win the Copa?
There is a smattering of youth in this Brazil squad and a nod and a wink to the Olympics, but this is no cradle of babes. The average age of the squad is 26 and the starting line-up will probably be closer to 28 or 29. Most of the younger players are serving something of an induction – a tournament taster session if you will.
With Ecuador, an experimental Peru squad, and Haiti in Brazil's group, they ought to qualify for the knock-out stages with consummate ease.
Ecuador started their World Cup qualifying campaign with alacrity, topping the CONMEBOL group, but they faltered in the March qualifiers, losing to Colombia and drawing with Paraguay – suggesting that their momentum has halted.
Dunga will need to hoist the trophy above his head in New Jersey on 26th June to allay any of the cynicism surrounding his continued employment. But whether he does or not, all roads point to Rio in August.
Brazil squad:
1.ALISSON
2.DANI ALVES
3.MIRANDA
4.GIL
5.CASEMIRO
6.FILIPE LUIS
7.KAKA
8.ELIAS
9.JONAS
10.LUCAS LIMA
11.GABRIEL BARBOSA
12.DIEGO ALVES
13.MARQUINHOS
14.RODRIGO CAIO
15.FABINHO
16.DOUGLAS SANTOS
17.LUIZ GUSTAVO
18.RENATO AUGUSTO
19.WILLIAN
20.RAFINHA
21.HULK
22.PHILIPPE COUTINHO
23.EDERSON