The all important second leg of the Copa Libertadores final takes place this week, as Paraguayan club Olimpia take a two goal lead into the game in Belo Horizonte – the home of their Brazilian opponents, Atlético Mineiro.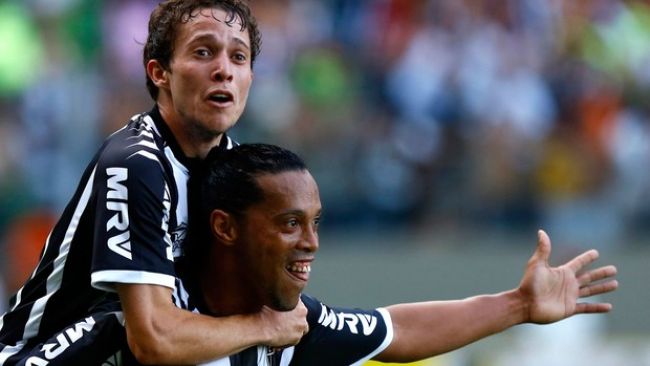 The in demand Brazilian winger Bernard will be looking to help his side turn the tie around, as he plays what could be his final game for the club before his transfer to one of the many teams in Europe who are interested in securing his signature.
Porto, Arsenal, Tottenham Hotspur, Liverpool, and the serial procurers of Brazilian talent, Shakhtar Donetsk, have all shown interest in the diminutive but extremely talented forward, and Atlético Mineiro have indicated recently that they will be looking to cash in on the player even if they triumph in Wednesday's final.
This makes the game all the more important for Bernard, and in what is to be the biggest game of his career so far, he'll be heavily relied upon as Atlético attempt to make up the two goal deficit. Bernard's link up play with the experienced but inconsistent former Barcelona and Milan playmaker Ronaldinho will be vital to his team's fortunes in the game, and it will only take one or two moments of craft and guile from either player to give the home side a glimmer of hope.
Olimpia's two goal lead comes courtesy of the impressive full back Alejandro Silva, whose excellent goal in the first half put the Asuncion based club in the driving seat, and then Wilson Pittoni sent fans into raptures when he scored a free kick in the ninety-fourth minute. But it was Silva whose goal really gave his side belief, and at the same time put his name in lights on an international stage.
Having made his way forward from the right back position, Silva made a driving run through the Atlético Mineiro defence and instead of taking the outside route, he surprised them by cutting inside onto his left foot. Helped by an intelligent run by Juan Manuel Salgueiro which pulled defenders away, he unleashed a powerful effort from just outside the area which sneaked just inside the post, leaving Victor grasping at thin air in the Mineiro goal.
If the aforementioned Bernard takes up a position on the left wing for the Brazilians, Silva could play a big part defensively in the second leg from his right back berth. However, should he go wandering forward again and leave space in behind for Bernard, then this will be tailor made for Ronaldinho to stand in the middle of the pitch and pick out the counter-attacking passes to his speedy young team-mate.
We've already seen Silva's great attacking talent in this final, but he could win the cup for Olimpia if he performs his defensive duties with similar proficiency. The battle between the young pair will give viewers something extra to watch out for in what is already set up to be an entertaining game.
Atlético Mineiro will need to be on the attack if they're to have any chance of lifting their first Libertadores cup, and Olimpia could be just as ruthless on the counter as they look for their fourth, with their last triumph coming in 2002 when they defeated another Brazilian side, São Caetano.
It promises to be an intriguing battle between the two teams, but you get the feeling in Europe that people are just waiting for the game to finish to see which European side Bernard will join. However, the real value could be in Olimpia's 23-year-old versatile full back, Alejandro Silva.