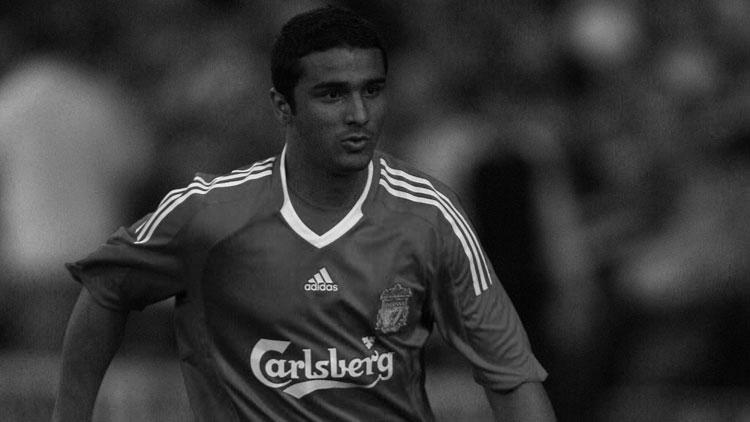 There is something undeniably romantic in a story of a young player plucked from anonymity by a big club.  This is partly because such stories happen so rarely but mostly it is because it is easy for the rest of us to identify with such a player; to want him to succeed and prove that perhaps there is latent talent in all of us if only someone bothered to look close enough.
It is why many were so intrigued by Vitor Flora when he joined Liverpool in September of 2008.  Apart from the basic facts – that he was an eighteen year old Brazilian striker – absolutely nothing was known about him.  This lack of knowledge wasn't limited to England because even in his native Brazil very few people had heard of him.
Initially that seemed strange given that his club of origin – Botafogo – is one of the biggest and most titled clubs in Brazil.  Closer inspection, however, revealed that the Botafogo club that Flora had played for wasn't the one based in Rio de Janiero but rather Botafogo SP, a club based in Ribeirão Preto (in the São Paulo state) who played their football in what is effectively the third tier of Brazilian football.
Flora, it later emerged, had been on Santos' books in his early teens but his stay at Pele's old club had been a brief one that had been cut short by his home-sickness.
Given the size of the country, many Brazilian boys who sign for one of the big sides are asked to leave their families at a young age to go and live in the lodging provided by these clubs.  Inevitably many are not emotionally equipped to handle this and their desire to be with their family overwhelms any dream of becoming a footballer.  For most of those who do return home, this means that whatever talent they possess ends up being played out in anonymity.
That would have been Flora's fate if it hadn't been for his enterprising father who took to recording his performances.  Ten goals in the regional U17 championship gave him plenty to tape and he sent out the resulting DVD to the top sides in São Paulo, Rio de Janeiro and Rio Grande do Sul.
This caught the attention Gremio but also ended up finding its way to Europe.  Italian giants Juventus took Flora on for a trial that lasted forty five days and were interested in signing him.  Ultimately, however, no agreement could be reached partly because Juventus wanted to send him out on loan to a Serie B side but largely because they weren't willing to pay as much as Flora's father, and agent, was asking for.
Back in Brazil, other clubs were evaluating making a move for Flora with Santos and Cruzeiro interested but whilst they thought about the deal, Liverpool stepped in to make Flora one of the more unlikely transfers in the club's history.
Flora arrived at a club that was in the middle of an internal civil war.  Rafa Benitez wanted control over every aspect within the club, including the youth system, but this was being denied to him.
His response was to start building a collection of young players to train alongside the first team; a reserve team made of largely of individuals that he had chosen rather than those who were graduating from the club's academy.
This was rather fortuitous for Flora as it made him an ideal signing.  He was someone with potential who could be signed for very little.  If he turned out to be a talent then the manager would end up looking great for identifying him; if not then it would be no great loss.
Inevitably, the lack of information about Flora created a fair deal of interest in him.  Those eager to see him play, however, would have to wait a bit as his international clearance took time to come through and whilst he could train with Liverpool, he couldn't play for them.
This must have been terribly frustrating for him but at least it gave him the opportunity to acclimatise.  Indeed, the forced rest certainly didn't seem to do him any harm as he scored in one of his first appearances, a 1-1 draw with Blackburn.  It was a well taken goal, with Flora latching on to a flicked pass and breaking through defence before slotting past the onrushing goalkeeper.  The frustration was about to end.
Only it didn't.
Flora had good technique and the kind of touches you would expect from a Brazilian; his game was all about flicks and tricks.  He was a hard worker who built a very good relationship with his first manager in Liverpool's reserves, the late Gary Ablett.  Yet all this wasn't enough; there wasn't enough quality, intelligence and consistency in there to really make a mark.
Between the paperwork issues and competition for places, he only played nine games in his first season.  His second was even worse.  Ablett was removed with his place being taken by John McMahon and Flora struggled even further, ultimately making only one appearance.  Clearly Liverpool's gamble wasn't going to pay off.
Still, he had no bitterness about the move.  "It was a wonderful experience both in terms of football and in terms of life," he told terra.com last year.   "In football, because I had the opportunity to live and work with great stars like Fernando Torres, Steven Gerrard, Xabi Alonso and Brazilians Lucas, Fabio Aurelio and Diego Cavalieri; in personal life, because I know another culture, other countries and have learned English."
"I think that the best aspect was the experience of being with a club that is a major force in football, in my opinion the finest in England.  Living with Rafa (Benitez) was always good because he is the one who signed me.  The first team players were very humble and treated us equally, as if we were one of them, already established."
The move certainly enhanced his career prospects.  Both Gremio and Chievo Verona expressed an interest in him but eventually he opted to join Goiás.  Although not one of the traditional powerhouses of Brazilian football, this was a solid club who regularly played in the top national division whilst constantly challenging for honours in the state championship.  For a young player like Flora who was looking to get some experience, it looked like the ideal place for him to do just that.
Sadly for Flora, it didn't turn out that way.  According to the player himself it was largely down to the political infighting within the club.  A month following his arrival the club's president, Syd de Oliveira, resigned and this hurt Flora's prospects.
Whatever the reason, he failed to make an impact and soon he was on the move again returning to his first club Botafogo SP before sliding down the Brazilian league structure by joining ever smaller clubs; Rio Branco SP and Francana FC.  Wherever he went, however, opportunities were limited with injuries hampering his quest for regular first team football.
Even so, having Liverpool on his CV kept on opening doors and in the summer of 2014 he moved back to Europe albeit in the more humble surroundings of the Latvian league playing for FK Daugava Riga.  It is there that he still plays today, having even appeared for them in a brief stint in the Europa League.
It might not be Anfield, but it is still a level far higher than many can aspire too.  And whilst his father's initiative might not have been enough to lead to a career of top level football that he might have hoped for it still helped him to a career in the game which is more than many other equally talented youngsters can claim.