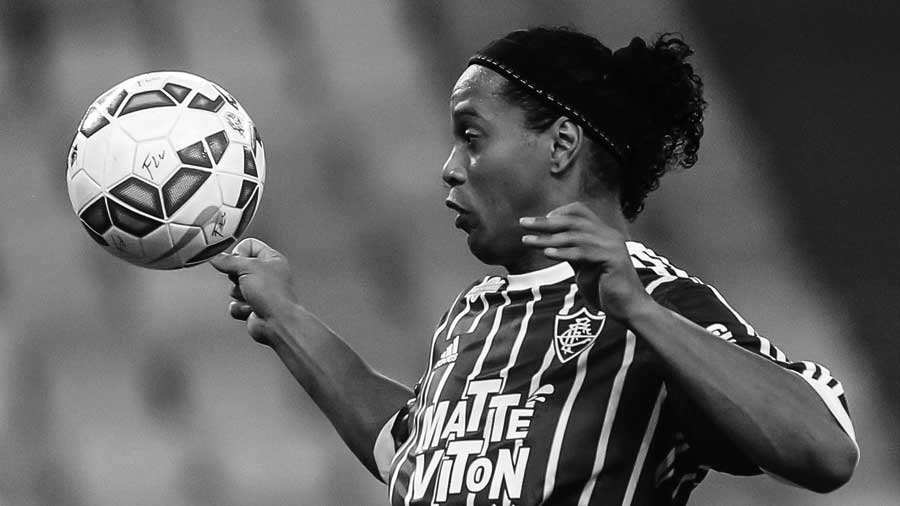 After a feckless spell in Mexico with Querétaro, Ronaldinho Gaúcho returns to Brazil with Fluminense this month.
Having turned 35 in March, he is winding down the final years of his career. He has never been the most fastidious player when it comes to his physical preparation, in fact, at times he has treated training as an optional part of a footballer's existence.
His peerless quality has masked his devil may care attitude in the past, but as the years advance on him, his lack of attention to his fitness will become an increasing issue.
Ronaldinho signed a two year contract with Querétaro initially, but the writing was on the wall when he failed to show for pre-season training back in December. He managed eight goals for the Mexican side in 43 appearances, only two of which were from open play. The death knell of his Mexican adventure was sounded in May when he left the stadium in a huff, having been substituted before half time in a listless display.
Clearly Fluminense are taking something of a risk in signing Ronaldinho, especially when one throws in the 'Rio factor.'
His spell at city rivals Flamengo was marred by reports of an "excessive" lifestyle in this nightclub loving metropolis. Given his love for the nightclub scene, airlifting Ronaldinho back into Rio de Janeiro is like remanding a prolific shoplifter into the custody of Argos.
Reportedly, Ronaldinho will be paid a salary of around R$400,000 a month, which is surprisingly modest for a player of his quality, though he will receive add ons based on income the club accrues as from the debris of his stardust. It's fairly common in Brazil for ageing superstars to be lured with proceeds of ticket and shirt sales as a kind of commission to augment salaries.
However, like most Brazilian clubs, Fluminense have suffered fiscal difficulties of late. Corporate backer Unimed pulled the plug on their sponsorship of the Carioca club in January, forcing Flu to drastically review their wage policy. Club legend Dario Conca returned to China, Cicero was loaned to Al-Gharafa (though he has now returned after his loan was terminated by the Qatar club) and the board even considered offers for captain and club talisman Fred during the off season, before finding the funds for a new contract.
Fluminense have had to rely on a promising crop of young players, such as Gerson, Marlon Santos and Victor Oliveira in recognition of the need to cut costs.
The Fluminense board have acknowledged the flight risk that Ronaldinho's signing represents. The opinion of senior players such as Fred and Pierre, a recent teammate of Ronaldinho's from Atlético Mineiro, were sought before the net was cast.
From a footballing point of view, the ex-Barcelona man helps to remove some of the responsibility from (reportedly) future Barcelona playmaker Gerson. At just 18, Gerson is one of the country's bright young things, but Brazil's punishing domestic schedule can bring the whippiest of snappers grinding to a halt. Gerson's performances in recent weeks have begun to carry the imprint of fatigue, both physical and mental.
The presence of Ronaldinho potentially provides some executive relief and maybe rekindles his imagination. It is probably asking too much for Ronaldinho to assume the role of mentor, or senior figure in the squad, alongside the likes of Fred and Pierre.
His time in Mexico suggest his professionalism has not refined with age and his unilateral decision to leave the stadium when substituted in May connotes a lingering lack of maturity.
Ronaldinho lost his father when he was eight years old in a fatal swimming pool accident. His older brother Assis has always taken charge of his football affairs, whilst his older sister Deisi acts as his press officer. As a result, Ronaldinho has never truly shed the skin of a little brother being left to play whilst his elder siblings handle the more grown up affairs of his career.
That child-like sense of fun and mischief have illuminated his play over the years and have set him apart as football's most loved trickster. But they probably make him ill-suited to the role of elder statesmen, for Flu's purposes.
There is a sense that his career is winding down into a kind of travelling circus. Turn up flashing that famously toothy grin, sell some shirts, throw some vine friendly stepovers, score a free kick or two and then leave again before the sheen of his presence wears off completely. And of course, before people begin to expound too much upon the fact that he is a fading force that should probably train more seriously than he does. In some ways, it is surprising that he has not taken his roadshow to more lucrative climes, like China, the MLS or the Middle East.
That said, we have been here before with Ronaldinho Gaúcho. Having been shown the door at Flamengo for his antics, Atlético Mineiro fans regarded his signing in 2012 with some suspicion. The club warned him of the consequences of repeated misdemeanours and his contract included a number of clauses that would have made his dismissal cheap and swift. But alongside Jô, Diego Tardelli and the coruscating young Bernard, Ronaldinho was briefly reinvigorated. He nearly fired Galo to their first title in over 40 years in 2012 and was a huge part of their maiden Copa Libertadores title in 2013. The old flame flickered brightly enough to earn him an international recall in February 2013.
However, his unlikely World Cup dream was dismantled through his lack of professionalism once more, as he turned up an hour late for a team dinner. Scolari would not indulge the whims of Ronaldo de Assis Moreira again.
He was injured shortly after that Libertadores triumph in July 2013 and failed to rekindle the flame at Galo. His performances became listless and disinterested. There is a suspicion that the Libertadores triumph represented the conclusion of his sporting aspirations. In February 2014, Ronaldinho, along with teammate Diego Tardelli, was fined by Atlético for turning up to training  'worse for wear' having celebrated carnivale with a little too much relish.
Fluminense will hope that working with the likes of Fred and Gerson, together with a possible title challenge will inspire him to recover his mojo. Though it would be far from the pinnacle of his decorated CV, Ronaldinho has never actually won the Brasileirão and if Flu can stay in contention, he may consider it a personal challenge worth sweating for.
Plenty of veterans have flourished in Brasileirão. Kaká enjoyed a good loan spell with São Paulo last season, Juninho Pernambucano's homecoming with Vasco bore fruit well into his late 30s, Clarence Seedorf turned Botafogo into title challengers, whilst Zé Roberto still glides up and down Palmeiras' left flank aged 41.
But the league has endured just as many ageing superstars content to sit on their nest egg. The fiscal oblivion suffered by Santos and Flamengo has been sponsored, in part, by the folly of paying ageing players vast salaries for scant sporting return. The issue with the commission based wage structure is that most of the financial benefits an old 'A-lister' brings in tends to end up in the pockets of the player and his agents.
Even at 60-70% intensity, Ronaldinho's talent would suffice to make him one of the league's finest performers. The question remains as to whether he is inspired by 'the project' of Fluminense, as modern footballing parlance would have it. Or more to the point, whether that 'project' fortifies his imagination as much as the Rio party scene.
Follow Tim on Twitter @Stillberto