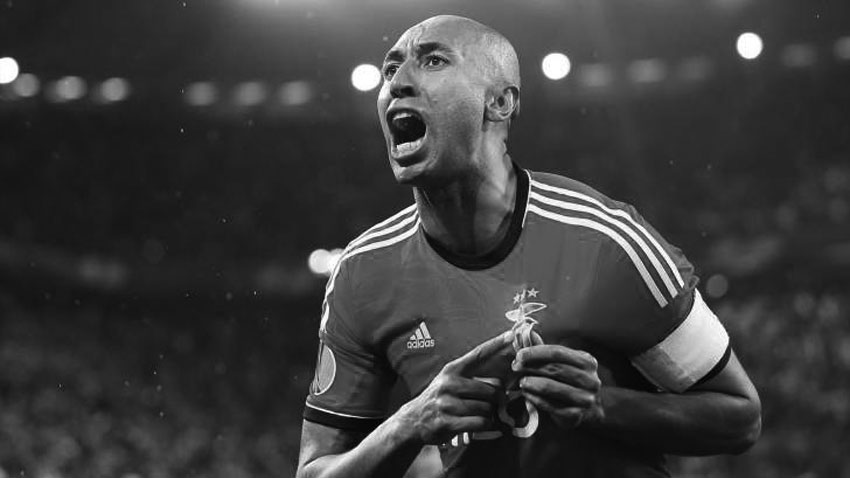 In football as in history, it is the story of the victors which is glorified while that of the defeated is, at best, forgotten.
So it is that Seville's five successes in the Europa League has seen them being put forward as the model of a club that achieves success despite constantly selling its best players whilst Benfica, twice losing finalists of this same competition, are overlooked.
Yet Benfica have remained competitive – arguably doing even better than Seville when you consider both their league triumphs and how they've done in the Champions League – despite routinely selling their star players.
In recent years they've lost the likes Jan Oblak, Fabio Coentrao, David Luiz, Nemanja Matic, Ramires, Angel di Maria and Lazar Markovic; players who would make them serious contenders for the Champions League had they stayed.
Only one player has remained amidst all the changes; loyal to the club despite possessing a talent that would have shone even brighter elsewhere: Luisão.
There are reasons why certain players are labelled legends.
Talent and success are obviously in there, but there is also the genuine love of the club.  Not the token badge kissing but rather the lack of any real desire to leave; to be so attached to a club that they cannot bear the idea of being anywhere else.
Luisão is that kind of player.  Others have come and gone while he has stayed.  He didn't push for a move elsewhere in search of silverware when Benfica couldn't break Porto's stranglehold on the Portuguese league or following any of their heartbreaks in Europe.
As with many Brazilians brought to Portugal by Benfica over the years, Luisão was unknown and un-rated when he made the move in the summer of 2003.
Or, at least, that was the situation in Europe, as in Brazil he had already distinguished himself both for his defensive and his ability to find the net.
His career had started in 1999 at Clube Atlético Juventus but he quickly moved to Cruzeiro where he emerged as a crucial member in the team.
With him in the side they won a series of honours culminating in 2003's triple success of the Brazilian Championship, Copa do Brasil and the Mineiro state championship.
Given all of that, Luisão still was something of a bargain buy for Benfica costing them less than £1 million.
A shaky first season yielded only the Portuguese cup but his introduction to Portuguese football was happy enough with Luisão heading home on his debut against Belenenses.
Indeed, over the years he has scored some pretty crucial goals.  His first league title in a Benfica shirt was secured in 2005 when he scored the winner in the Lisbon derby against Sporting.
A year later it was Luisão's goal that secured a home win against holder Liverpool in the Champions League as Benfica made it to the quarter finals.
English clubs have often borne the brunt of Luisão's goalscoring prowess.  In 2014, for instance, he scored twice against Tottenham at White Hart Lane as Benfica knocked them out of the Europa League.
It was an English club, however, that handed Luisão one of his biggest heartbreaks in a Benfica shirt.
In 2013 they entered the Europa League final against Chelsea as favourites.  They played the game in that manner as well but then lost out to a goal in the final minute of injury time.  It was a cruel way to lose a final but lose they did as Benfica's curse in European finals continued.
Luisão could have left after that game.  It had been a brilliant season for him where his leadership and defensive abilities had been truly impressive.  He could have left a year later when Benfica were beaten once again at the same stage, this time by Seville, but once again stayed put.
Benfica were confident of replacing anyone and over the years did just that.  But Luisão was the one world class talent that no amount of money could convince them to sell.  Despite the heartaches, the player himself never pushed to move.
And there were plenty of heartaches; not just in the form of high profile defeats.
In 2008 he ended up trading insults on the pitch with his partner at the heart of the Benfica defence, Kostas Katsouranis.
Four years later Luisão was hit with a worldwide ban when a pre-season friendly with Fortuna Dusseldorf had to be abandoned after the defender pushed the referee to the ground.
On both occasions he reacted to the incident with humility and worked hard to make up for the error in judgement.  That is why he is so loved within the club and, in turn, why he has come to appreciate the support so much.
An example of Luisão's character came following another pre-season game, this time in Toronto.  The defender had missed a young fan's attempt to get his autographed but then, upon realising this, stopped the Benfica team coach when it was pulling out.  Luisão then got off the bus and gave the boy the shirt that he had worn during the game.
It is through such stories that players cross the threshold into legendary status.
First, however, there has to be the football and Luisão has been excellent at that as well.  His reading of the game is so good that he can anticipate situations before they escalate but, if he does get into danger, he can always rely on his long stride to get him out of trouble.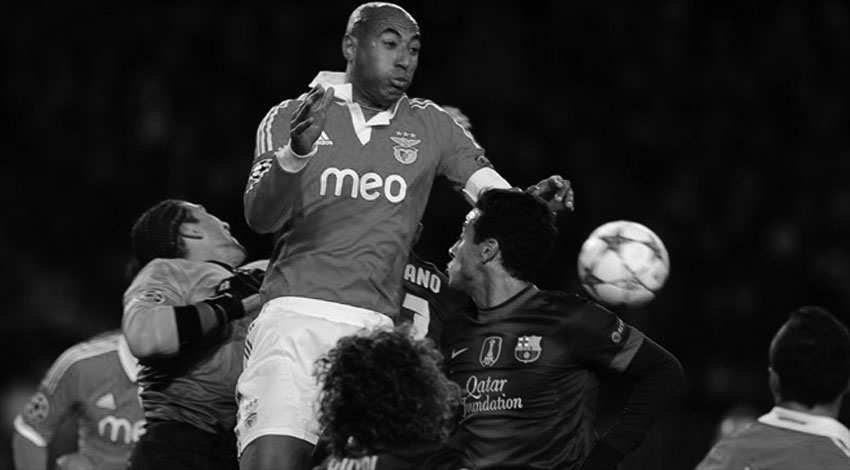 Perhaps more importantly, he is a leader; the kind of player others look up to and up their game to impress.  With him in the side Benfica know that the other defenders will perform because he wouldn't have it otherwise.  It is, perhaps, one of the reasons why regardless of what changes are forced on to Benfica's defensive back line, they always retain a fair degree of tightness.
Despite often being kept out by injury, this season Luisão once again finished as Portuguese league champion, the fifth in his career thirteen years at the club.
There is no doubt that he will get to see out his career in Lisbon, or that he will add to the streak that has seen him become Benfica's longest serving captain and exceed the five hundred game mark for the club.  In all probability he will add to the sixteen trophies that he has won in Portugal.
Yet even when all that comes to an end, Luisão will remain a player that Benfica fans will look at with fondness; a symbol of their club.
Because that, ultimately, is what legends amount to and it is clear that Luisão is a Benfica legend.