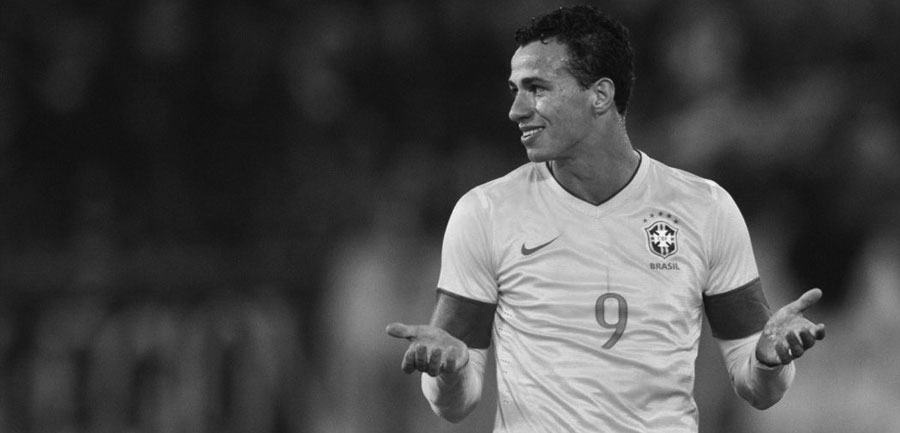 The most striking feature of the Brazil squad picked by Carlos Dunga for the Copa America was the dire lack of strikers of real quality.
For sure there was still plenty of attacking flair in his selection – Philippe Coutinho, Douglas Costa, Oscar, Willian – yet once Neymar announced that he was opting to go for Olympic gold rather than the continental title, Dunga had effectively run out of top quality strikers.
That the thirty six year old Ricardo Oliveira made the cut says it all.
At around the same time that Dunga was announcing his selection, the man who should have spearheaded Brazil's attack in this competition was instead starting his search for another club.
Back in February, Leandro Damiao announced that he had signed a short term deal with Real Betis. Though the contract was a temporary one, the minimum that he would have expected is that it would result in a longer stay if no one else made the move to offer him a better deal.
Instead, however, he is once again searching for a new club. Damiao played three times for Betis (a total of 127 minutes) without scoring a single goal. What started out as a hopeful move turned into the kind of desperate situation that Damiao has so often had to try and escape from over the past couple of years.
Damião's route to professional football wasn't a conventional one; he wasn't one of those players who excel in a big team's youth system making their elevation an inevitability.  Instead he first tasted rejection at Atlético Ibirama who chose not to sign him after a trial.  Eventually they went back on that decision but only after Damião had moved out of midfield and into attack.
Slowly he started to make a name for himself on loan at a number of smaller clubs – XV de Outubro de Indaial, Marcílio Dias and Cidade Azul – before getting an opportunity at Atlético Ibirama.  There he scored twelve times in the 2009 Campeonato Catarinense.
This earned him a move to Internacional but progression was slow once again with Damião first having to prove his worth for the club's Under 20 side and then the B team.
Yet he was ready for all that and when the big opportunity came he wasn't found wanting.  Drafted into Internacional's first team he went on to score in the final of the Copa Libertadores as the Porto Alegre club won the continental title.
This led to a call up into the national team and, eventually, in his inclusion in Brazil's squad for the 2012 Olympics.  Six goals in five games there further beefed his reputation even if, ultimately, it was a disappointing tournament that only ended with a silver medal.
Still, Damião seemed all set to move on to bigger and better things. Tottenham were strongly interested and he was Rafa Benitez's choice to replace Edison Cavani at Napoli. It would prove to be the turning point of his career.
A year after the Olympics Damião was transferred to Santos for what was a record fee paid by a Brazilian club for a local player. If that wasn't enough pressure, he was also being expected to replace the Barcelona bound Neymar. He failed and criticism over his lack of goals, agility and pace quickly followed.
Santos tried to cut their losses by moving him on to Cruzeiro, yet Damião struggled there as well and returned to Santos who clearly didn't want him.  Things got so bad that Damião had to take Santos to court in order to get paid. The move to Real Betis helped bring to an end that dispute but it couldn't end Damião's difficulties.
So now he is once again searching for another new start. It is quite a fall for a player who had promised so much but someone in there he's still the player that Ronaldo described as "tall, strong, a very good goalscorer, a threat in the air and skilful with both feet."