When the subject of your football related drivel has a name like Oscar, the silly headlines and titles are tempting. But some of the plays on words around his Academy Award winning old English name might help us delve further into the type of player Oscar is, what roles he's played, and the ones he might go on to play as his career progresses.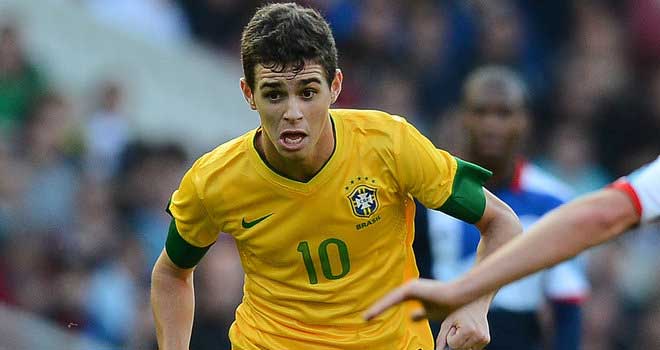 Brazil's number ten, who will take the number eleven jersey because he isn't really too bothered about that sort of thing, has been overshadowed recently by the hype surrounding his more commercial team-mate Neymar.
The cast and production team involved in I Know What Neymar Does Next Summer, will be delighted with their visual effects and box office receipts, but on the bigger stages of world football, he's yet to live up to the reputation they've engineered for him.
Oscar meanwhile, has been impressing audiences across the globe with his performances in blue or yellow shirts, and has become one of the more consistent performers amongst the Brazilian cast.
Football
Since arriving in England, Oscar has got used to his status as a player performing in a supporting role. He joined Chelsea in a transfer window where his ~£25m move from Internacional was trumped by that of Eden Hazard, who cost the club around £35m.
On top of this he was playing for the same position in the team as Juan Mata, meaning his chances of playing in the centre of the park have been sparse, but thanks to Chelsea's busy schedule during the 2012/13 season he found himself getting regular appearances in various midfield positions.
His natural versatility as a footballer has helped him during his early career. At Internacional he was known mainly for his work supporting his team's striker – another Brazil prospect and ongoing Spurs transfer target Leandro Damiao – as the two of them became an effective double act, both creating and finishing chances for their team. During this time he was also played as a deeper lying playmaker, in which he demonstrated a desire and doggedness without the ball, as well as an intelligent passing game with it.
His ability to play in deep or advanced central positions, as well as in any of the three attacking midfield stations, means that he's always on hand to slot into the team when called upon. This results in him getting the game time which is vital to his development as a player.
Oscar played a total of 2,292 league minutes for Chelsea during his first season, which equates to around 25 games, managing to pick up seven assists and four goals in this time. He was also one of the few players to come out of Chelsea's failed Champions League defence with some credit, scoring a wonder goal against Juventus in the group stages which included the added rarity of making Andrea Pirlo look a bit silly, as he turned the Juve midfielder inside out with just one touch.
Character
In the never ending feature film that is association football, with its multiple plot twists and often unnecessary sequels, Oscar is one of the more likable characters amongst a diverse cast of players which includes heroes, villains and everything in-between. With an expression of constant surprise etched on his face, a meerkat-like alertness, and a raised eyebrow approaching that of Hollywood superstar The Rock, Oscar is one of the few players who can be liked even by the fans of his current team's bitterest rivals.
If Oscar were an Oscar, he'd probably be the Best Original Score. He's creative, expressive, imaginative, and occasionally unpredictable, and if he wasn't there to pull the strings, the rest of the show would be a bit rubbish.