Vitinho's career at Botafogo will be over before it's even begun, as he looks set to join the current Russian Premier League champions CSKA Moscow, for a fee of ten million Euros.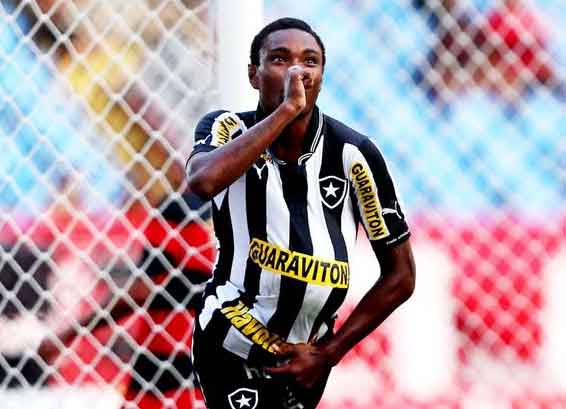 Vitinho burst onto the scene at Botafogo earlier this year, featuring in their victorious Carioca State Championship campaign and outshining Bruno Mendes as one of Botafogo's most exciting young attacking talents.
A quickness of mind, trickery, and willingness to have a go at goal from any situation, saw the young Brazilian hit the headlines with some eye-catching performances and some great goals. His form continued into the Brazilian Serie A season, and he became one of Botafogo's most potent attackers alongside Clarence Seedorf and Rafael Marques.
Vitinho notched up a total of four goals and three assists as Botafogo found themselves unexpectedly competing at the top of the table with the season half way though, and they're also into the quarter finals of the Brazilian Cup.
Botafogo hold 60% of Vitinho's economic rights, with the other 40% of the fee going to his youth side Audax Rio Sports Club. The move is likely to help the finances of both clubs, and Vitinho's young family will also be welcoming the inevitable pay rise.
The move hasn't gone down well with fans at Botafogo, but the club have plenty of young players waiting in the wings who could quickly take Vitinho's place.
Young forward Alex came into the side to replace him in the club's recent Copa do Brasil second leg triumph over Atlético Mineiro, and players such as Cidinho, Sassa, Gegê, and 2011 U20 World Cup winner Henrique, will all be hoping to make more appearances now Vitinho has gone. That's without even mentioning Bruno Mendes.
It will be interesting to see how Vitinho adapts to the Russian league, and The Botafogo Star will be keeping a close eye on his progress.