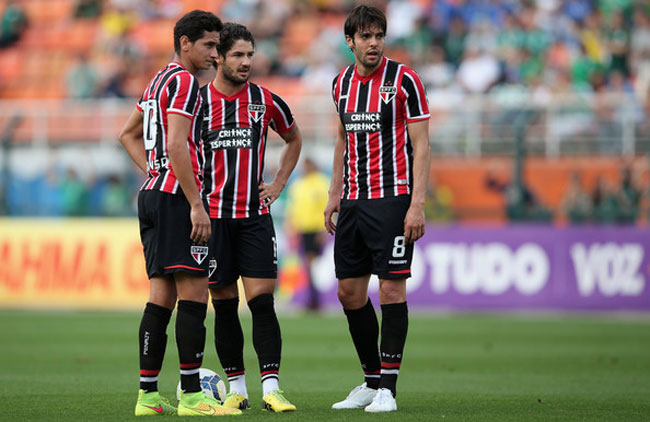 This weekend a revitalised São Paulo welcome campeões and league leaders Cruzeiro to Morumbi. It will undoubtedly be billed as a top of the table clash, but in reality, it probably represents the last chance for this season's league title race to remain competitive. Around 12 months ago, Botafogo played Cruzeiro at Esádio Mineirão in very similar circumstances, with the Rio club clinging onto the tail of 'a raposa.' Clarence Seedorf missed a penalty with Cruzeiro 1 x 0 to the good and it proved to be a fork in the road of the 2013 Brasileirão.
Botafogo collapsed, they eventually lost the match 3 x 0 and their form deserted them. They only limped into the final Libertadores spot on the final game of the season, whilst the Belo Horizonte club were confirmed as league winners with four matches remaining. You feel São Paulo have more about them than a young Botafogo side overly reliant on the creaking legs of Clarence Seedorf. They were also forced to sell one of their brightest talents Vitinho mid-season due to the crippling debts that have prevented them from paying their players this season.
The germ of São Paulo's regeneration was the reappointment of Muricy Ramalho as manager. Tricolor's start to last season can perhaps be compared unfavourably with Flamengo this year. The most fascinating subplot of São Paulo's upturn in form has been the much discussed figure of Alexandre Pato. Pato's story is a familiar one in Brazil. A young player possessed of prodigious talent who subsequently surrenders to the hype machine and finds his dedication to football dwindles. Pato has made as many headlines for his romantic exploits in the last 4 years as his footballing ones.
His return to Brazil by appointment of manager of the moment Tite was meant to lead to Pato's renaissance. But under the tutelage of a conservative coach, Pato couldn't find his feet and soon became the subject of supporter and eventually managerial scorn. Originally Tite preached patience with Pato with a series of supportive statements. But then the fleet footed striker skipped a team dressing down for a Beyonce concert after a damaging derby defeat to São Paulo and the worm began to turn.
Pato struggled to hold down a starting position amidst rumours of poor professionalism. The final straw came in Corinthians' Copa do Brasil penalty shootout defeat against Grêmio. With O Timão needing the ex Milan man to score to keep the shootout alive, he attempted to 'Panenka' his old Rossineri teammate Dida and failed. Corinthians had clearly decided that Pato was damaged goods. Tite's dressing room blast that Pato was "an irresponsible kid" conveniently made its way into the press. As did a newspaper poll supposedly demonstrating that over 80% of Corinthians fans wanted him sold.
In February, angry Timão fans broke into the Corinthians training complex armed with iron bars and reportedly, Pato was one of their main targets. A transfer was a racing certainty but it was a surprise to see him cross the city to Tricolor. He had an inauspicious start in his 'new' Paulista surroundings. Pato could not participate for his new club in the Campeonato Paulista having already represented Corinthians in the same competition, he had to wait instead for occasional Copa do Brasil matches against minnows such as CS Alagoano and Clube de Regatas Brasil.
The former prodigy fell behind the ageing Luis Fabiano and Allen Kardec in the pecking order and found himself warming another Paulista bench as the Brasleirão season began. It seemed even the prospect of a World Cup in his home country couldn't pry Pato from his entropy. Seleção's striking options were so impoverished that Jô- currently without a goal since April and himself hardly the most dedicated athlete- was a relatively straightforward pick.
However, over the last month there are nascent signs that he may be recapturing some of the old magic and, crucially, his love of the sport which seemed to have dwindled so regrettably. A chain reaction of events has led to his current burst of seven goals and an assist in his last nine matches, including a last gasp winner in the Classico against Santos. In late July, coach Muricy publicly criticised Pato. Perhaps crucially, this criticism wasn't leaked to the press in the rather underhanded way that Tite's was. Muricy did his own dirty work.
"Football today gives much more importance to the team, and that's what he needs to realise, the word team is essential, and so it is necessary to work all the time. It is important to run without the ball, and he has to understand that. He has talent, but needs to put that thought in my head that is fundamental. You see the big players running 13 km per game, helping without the ball."
How important that piece of rather public advice was to Pato is debatable, but in an interview with the Tricolor website this week, the man himself seems to deem it significant,
"I strive to the utmost to help the team but in addition, I have a coach who has helped me a lot, because Muricy was important in my growth. He is a critical part in my motivation, because he wanted me here and gave me the opportunity to play. If I had to appoint someone to be responsible for this moment, I would say without a doubt is the Muricy. He has been critical."
There is undoubtedly more to Pato's recent burst than a timely kick up the backside. It's difficult to believe a disciplinarian like Tite didn't implore him to, in Redknappean parlance, "run araaand a bit." A timely injury to Luis Fabiano gave Pato a run in the side almost instantly on the heels of Muricy's public counsel. Then of course, Tricolor beckoned one of their former sons back home to great fanfare. The great Kaká returned on loan whilst new club Orlando City remain In Utero until the New Year. Kaká has gradually had a revitalising effect on the club, not least on a man once considered the heir to his 'Enganche' throne, Paulo Henrique Ganso.
Famously, Carlos Alberto Perreira trialled the 'Magic Square' of Ronaldinho, Robinho, Adriano and Ronaldo at the 2006 World Cup, but the square proved to be somewhat lopsided. Muricy however, has had better luck with his own quadrilateral tinkerings, as Kaká, Ganso, Pato and Kardec has proved to be a virtuous rectangle. Ganso's potted history bears many similarities with Pato's, right down to their ornithological nicknames. But there's no doubt that having an in form Ganso behind him has availed Pato and it's probably not a fantastic leap of logic to suggest that Ganso's improvement has coincided with Kaká's arrival. São Paulo have now won their last 5 games, emerging as challengers to Cruzeiro's Brasileirão hegemony.
If the twin revivals of Pato and Ganso maintain until October, it is difficult to see Dunga ignoring either in his next squad selection. But you get the feeling this weekend could be a crossroads for Pato, who still has plenty of time to reignite his career. Some timely heroics against Cruzeiro give him the chance to shoot Tricolor to the title and repair his reputation and motivation for good. Lose to Cruzeiro at Morumbi and the title is a formality for A Raposa. As with Seedorf and Botafogo last season, the brutal Brazilian schedule will make it difficult for Kaká's magic to maintain. The returning hero is only in town until December, he has given Ganso and Pato wings. Now it is up to the Goose and the Duck to sink or swim.
Follow me on twitter @LittleDutchVA