Vitinho is a promising young forward who has previously impressed at youth level with Botafogo, and is now starting to play himself into the senior team at the age of 19.
Having been limited for the last two seasons – first to youth football, and then the odd appearance in the Carioca state championships – this could be the season where Vitinho starts to break through and show his considerable talents on a bigger stage.
He started 2013 with some regular appearances from the bench in the state championships, usually just for twenty minutes or so at the end of games, but showed glimpses of what he could offer on a more regular basis if given the chance by his coach, Osvaldo de Oliveira.
His two solo goals against Olaria  in April cemented his place as one of Botafogo's most exciting young prospects, and he followed this up with another well taken goal against Friburguense in the next game – again coming off the bench to score. His celebration with his manager following one of the goals shows the close relationship they have, which could mean we'll be seeing Vitinho more regularly as the season progresses.
The scouting report below will be updated as he plays more games for the club and we learn more about his style, and the skills and attributes he can bring to the team.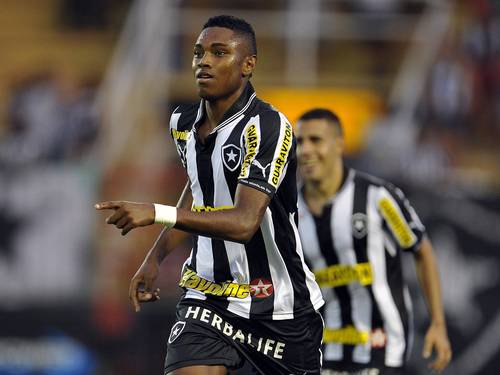 Scouting Report
Full Name – Victor Vinicius Coelho Santos
Born – 09/10/1993 – Rio de Janeiro
Postion – Forward
Foot – Right
Height – 5.10 (178cm)
Vitinho is an athletic forward player who has the pace and power to take on defenders. He's shown in recent games that he possesses a good shot with both feet, and is good at getting in positions where the midfield players can feed him the ball regularly.
Vitinho Second Goal v Olaria – 07/04/2013 – Campeonato Carioca
Vitinho Goal v Friburguense – 10/04/2013 – Campeonato Carioca