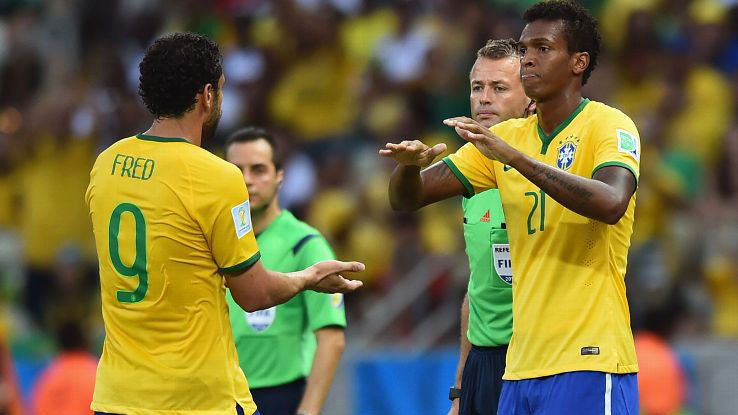 In Beijing this weekend, Brazil's 'new' era under Dunga received its stiffest examination, as they defeated World Cup finalists Argentina in the opulent 'Bird's Nest' stadium. For Seleção fans, cleansing the stain of The Copa is going to be an incremental and rather raw process. No matter how incisively stitches are extracted, the scar lingers and the skin takes on an unweathered appearance forever more.
Such was the brutality of the 7-1 mauling by Germany in Belo Horizonte, that casualties from the humiliation were inevitable. The squad charged with carrying the hopes of a nation this summer was not the most talented imagining of the Seleção "brand." But some players clearly carried a heavier can than their colleagues in the eyes of the watching world and of course, in the exasperated minds of the Brazilian public. A little under 48 hours prior to the Superclasico de las Américas, two of the summer's biggest punch bags faced off against one another in a desolate looking Estádio Maracanã.
Fluminense's Fred and Atlético Mineiro's Jô became the global poster boys for Brazil's failings. The paucity of striking talent in the country meant the two were selected as the national side's only recognised centre forwards. Both were widely mocked and humiliated by the watching world, forced to bear the cross of the world's bafflement with Brazil. This, after all, was the country of Romario, of Ronaldo, Serginho, Careca and the great Pelé. Jô had shuffled back to Brazil with his tail between his legs after a spell in Europe marked by his own indiscipline. Fred forged a decent career with Lyon but at 31 years old, his salad days were long behind him.
The humiliation Fred was subjected to during the tournament caused him to instantly declare his retirement from the national team following Brazil's elimination. In truth, he probably needn't have bothered to volunteer his place elsewhere. With Fred's limitations exposed, Scolari only had Jô to call upon from the substitutes' bench. His performances were even more impoverished than Fred's. It was drearily apt that in the clash of the scapegoats in the Maracanã on Thursday night, both men played the full 90 minutes of a dull 0-0 draw between Fluminense and Galo, in which neither striker conjured a shot on goal.
Both have endured a difficult time in the fallout of the 'vergonha' of Brazil's World Cup. In truth, Jô entered the tournament in rather miserable form in any case. Surrounded by Ronaldinho, Diego Tardelli and Bernard at Atlético, the ex Manchester City striker looked reinvigorated in 2013, finishing as top scorer as Galo swept to the Copa Libertadores. But his trademark flying chest bump celebrations with teammate Ronaldinho soon became sporadic. Bernard was sold shortly after the Libertadores final and Ronaldinho was injured, never quite reaching the heights of his form upon his return.
Jô's goals since haven't so much dried up as become totally extinct. He is currently without a goal in his last 22 appearances, a run that stretches back to a stoppage time winner against Zamora in April. That barren run includes his 3 lugubrious run outs in the copa. Not for the first time in his career, Jô's personal life seems to be overshadowing his increasingly laboured efforts on the pitch. The Brazilian gossip columns have been alive with speculation over the condition of his marriage. In August, Jô quite literally went AWOL. He skipped training for some unauthorised leave, before he was eventually unearthed in Rio de Janeiro. His agent cryptically told the press his client was attending to "personal issues."
It's not the first time in his career that Jô has taken a personal flight of fancy without his club's consent. Everton immediately terminated a loan spell back in December 2009 when he decided to spend Christmas in Brazil without David Moyes' express permission. At 27, Jô ought to be a player in his prime. There were actually concerted rumours of interest from Bundesliga cubs prior to the World Cup, but Atlético would reportedly not sanction a move, which possibly contributes to the striker's air of ennui. The interested Teutonic parties, Borussia Dortmund allegedly among them, may reflect on a bullet dodged. Carrying the cross of The Copa cannot have helped Jô's already floundering form.
To our knowledge, Fred has not juggled the additional burden of domestic torpor as Jô has, but there's little doubt that more stones were cast at the Fluminense poacher than his understudy. In Brazil, people mockingly daubed his name onto traffic cones in permanent marker in tribute to his immobility. No player's reputation suffered quite like Fred's. His career in Europe was solid, but not particularly well observed beyond Ligue 1. For many spectators outside of Brazil and France, the World Cup was their only sustained glimpse of the striker.
Whilst not in the class of past Brazil number 9's, he's not as bereft a player as he looked during the tournament. He undoubtedly suffered from Scolari's decision to move Neymar into a more central position. At 31 years of age, it is unlikely Fred will ever have the chance to rehabilitate his reputation internationally. He is doomed to be forever associated with this summer's failure. The eternal punchline to Brazilian football's darkest joke. Fred probably realises that his reputation outside of Brazil is irreparable so upon his return to the Larenjeira fold in August, he set about trying to butter up his own supporters, probably in anticipation of some leftover terrace cynicism.
Upon his return to training, Fred left an emotional Instagram post. Underneath a picture of himself framed by scores of young Flu fans, he wrote:
"Today was just a confirmation of what I already felt; my heart is definitely tricolor! I have come home to repay all the love that the tricolor family gave me today."
But his pathos soaked prose soon turned sour. He was jeered by sections of the crowd. Things came to a head after a 1-0 defeat to Chapecoense in August. Fred and his teammates were met with a cordon of angry Flu fans. They abused a group of players verbally and threw stones at their cars. As captain, Fred subsequently released a statement on behalf of his team-mates with a threat to boycott an upcoming home match with Recife.
Where Fred previously gushed about the 'tricolor family', he was now (understandably) lamenting a group of "cowards" and "vandals", adding forcefully, "It is unbelievable that we have to deal with this type of barbarity in 2014!" Fluminense did honour the subsequent home match against Recife and Fred scored twice in a 4-0 win. Yet his relationship with the Brazilian public is still uneasy, in mid-September, he was forced to insist that continued jeering from the terraces did not bother him. "I knew it was going to be a long process. It was a heavy load to bear but I'm getting over it." The criticism is extremely unfair. He is currently Fluminense's top scorer with 10 goals, having struck up a potent understanding with returning hero Conca.
Just 2 years ago, Fred shot Fluminense to the Brasileirão title and his long term absence through injury was probably the prominent factor in their relegation in 2013. Portuguesa's administrative clumsiness rescued tricolor on that occasion, but Fred was pictured in the stands in tears when the team looked to have been relegated. He promised not to leave the club, even though they were set to be marooned in the backwater of Serie B in a World Cup year. The die is very much cast by Brazil's World Cup agony and Fred will likely find that he will pick up a good portion of the tab for the rest of his life.
Whilst his story is unlikely to be as pronounced or tragic, one can't help but think of the tragedy of Barbosa, the Brazilian goalkeeper from 1950's Maracanãzo. Fred and Jô might not have made their country cry, but they did provoke no small amount of mockery and dissatisfaction. Their story uncomfortably straddles comedy and tragedy and it's unlikely that either man will convince the gallery to cast aside their vengeful mirth.