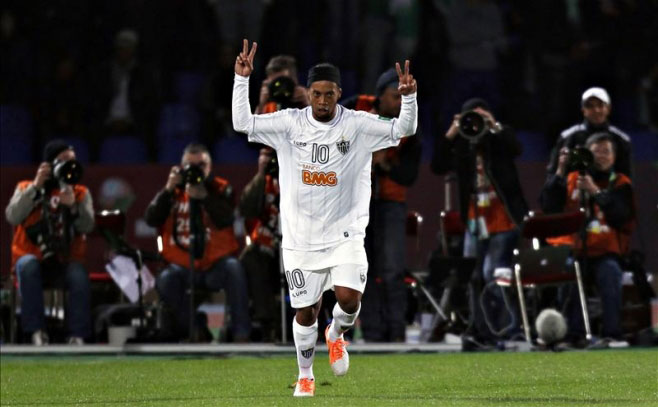 There is an old adage that the star that burns twice as bright burns for half as long and no player quite emphasises that maxim quite like Ronaldinho Gaucho. Last week he brought the curtain down an on 18 month whirlwind romance in Belo Horizonte with Atlético Mineiro. He left basking in the affection of the Galoucura and the club's hierarchy. Though in truth, Ronaldinho's spell at the club had been in steady decline since a bad thigh tear last August, Atlético's fans recognise that they've probably never quite had a world star with the profile of Ronaldinho and the Galo board know they have never had a marketing tool with quite the same pulling power as the elastic hipped trickster.
To walk around Galo's official club shop in Belo Horizonte, you'd be forgiven for wondering if the two time World Player of the Year had any teammates at all. However, in truth, it probably wasn't solely a thigh injury that precipitated Ronaldinho's loss of form at Galo. When he arrived at Atlético, his name was slowly turning to mud. An indifferent spell at A.C. Milan followed by a contentious tenure in Rio with Flamengo seemed to foreshadow a sharp downwards spike in his career trajectory.
Accusations of a lack of dedication in his salad days at Barcelona and in his spell at Milan seemed to have their roots in truth when he rocked up at Flamengo. The club weren't so much a homecoming for the buck toothed genius as a convenient conduit to the Rio nightlife. Rubinegra struggled to curtail his party lifestyle and eventually decided he was no longer worth the effort. There was an air of anxiety when Galo first announced his signing. Word got to the press that Ronaldinho had signed a rather unique contract with any number of clauses enabling Atlético to turn him loose at the first sign of mischief. For the first time since he arrived at Paris Saint Germain as a fresh faced 20 year old, Ronaldinho Gaucho had something to prove.
He quickly asserted himself at the hub of a Galo side that challenged for the Brasileirão in 2012, eventually finishing 2nd. Ronaldinho won Premier Craque do Brasileirão (footballer of the year) that season. In 2013, he headed an attacking diamond completed by Diego Tardelli, Bernard and Jô. Galo swept to the Libertadores title for the first time in their history. A bad thigh tear in August 2013 seemed to have put paid to his dream of playing in the World Club Championship in December 2013. Though with the player's desire for one last hurrah on the world stage and Atlético's eagerness to have him in Morocco for marketing purposes, he was nursed back to half fitness and played in Galo's disappointing defeat to Rajah Casablanca.
At the risk of attempting amateur cod psychology, the truth is probably that Ronaldinho had run out of things to prove at Galo. He'd restored his reputation, won the Copa Libertadores for the first time in his career, completing a clean sweep of Champions League, Copa Libertadores and World Cup medals. His World Cup dream died some time last year when, upon his return to the Selecão, he turned up late for a team dinner. He has never been the most dedicated athlete, there's simply no way a player of his ability should have been playing in Brasileirão in his early 30s. So when Ronaldino is feeling the effects of injury in his mid 30s, his lack of professional dedication becomes more of an issue.
The time was right for Ronaldinho to leave Galo. But what now for one of the greatest talents of a generation? He has been released from his contract by mutual consent, so he is a free agent, which ought to invite a hefty signing on fee at his next club. He very nearly signed with Besiktas in January, but reneged and decided to sign a new contract with Galo instead. Does he have the stomach for one last crack at Europe? Given that he has found the pace and intensity of Brazilian domestic matches a little tough going of late, I would suggest not. At time of writing, his departure has been official for one week and there is still no word on his next destination.
Boca Juniors and New York Red Bulls were two of the loudest whispers, but both clubs ruled themselves out of his capture, citing his wages. Queens Park Rangers were briefly mentioned, but it looks as though Ronaldinho and his brother and agent Roberto Assis are biding their time and awaiting offers. Subsequently, you have to think they're looking for the biggest pay day possible. It's likely that Ronaldinho will move to a developing league, maybe in the Middle East, the US or China. Somewhere that is willing to pay him obscene amounts of money to put his name to a shirt, turn up once a week with the occasional swivel of his snake like hips and flash his toothy grin at a baying crowd.
Ronaldinho and his brother have always been aware of his marketing potential, but it's hard not to look back at the immediate aftermath of Galo's embarrassing defeat to Rajah Casablanca in Morocco in December. A slew of star struck Casablanca players mobbed Ronaldinho and relieved him of every item of his clothing they could get their grubby mits on.
Ronaldinho had done little in the game other than turn up and score a quite exquisite free kick (one part of Ronaldinho's game that his obstreperous lifestyle has not dimmed). It's difficult not to think that the brothers Assis are planning on making this sort of hero worship a weekly feature of life as the player heads into his twilight years.
It's a shame that his career is winding down in this way. Ronaldinho is two months younger than Xavi. The Spanish midfielder is still a feature in the Barcelona side and with a little more professionalism, Ronaldinho really ought to still be playing at that level too. But part of the charm of Ronaldinho is that he is not a serious uber professional. He plays for fun (and probably now, for money) and at his peak, that sense of joie de vivre separated him from other players. A 'craque' in the mould of Garrincha, Ronaldinho is the star that burned twice as bright for half as long. Now it looks as though the circus will pull into town for one last show and one last ring of the till.
Follow me on twitter @LittleDutchVA