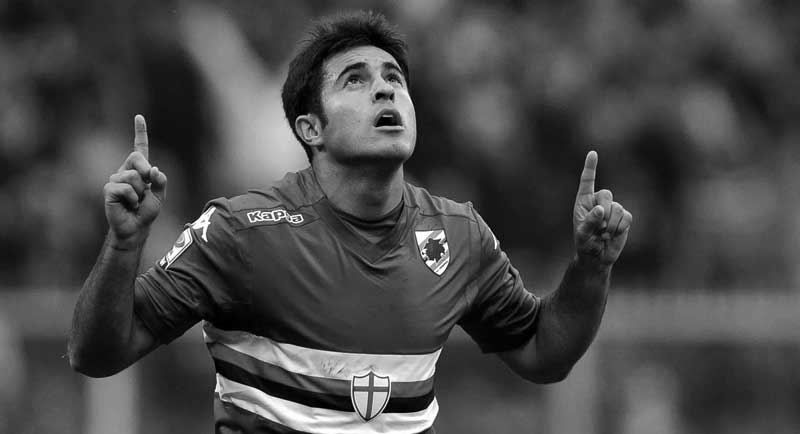 Goals have a miraculous tendency for clearing any criticism that had preceded them; they're the perfect antidote to any negative (and forcefully put forward) observations. Goals have lifted Eder from one club to another as his never faltering strike rate attracted ever bigger clubs until, this season he was asked to prove his worth at the highest stage of Italian football.
And a goal is how he answered his latest round of critics, those who had turned up their noses as Antonio Conte turned to him to help revive Italy's faltering European Championship hopes. Italy has a long tradition of integrating foreign born players in the national team – oriundi, as they are called – with the prime example being that of Mauro Camoranesi, the Argentine who won the World Cup with the Azzurri in 2006.
Given that history, Conte calling up Eder – a Brazilian – to his squad shouldn't have caused too much consternation. But instead it did, decried by some as further confirmation of the declining standards of Italian football.
Yet, in truth, Eder is as much a product of the Italian game as the rest of the players who took to the pitch against Bulgaria. Much of the merit for his 'discovery' goes to Empoli's scouting network who found this seventeen year old striker playing for the youth sides of third tier Brazilian club Criciúma and were so confident in his abilities that they spent €550,000 on him despite just one senior appearance.
Eder's initial impact with Italian football was initially restricted to Empoli's primavera (their youth team) where he played for two seasons before making a handful of appearances towards the end of the 2006-07 campaign.
Then, having failed to play more games at the start of the following season, he was loaned out to Serie B side Frosinone in January of 2008. It is a path often followed by promising young players in Italy who are thus tasked to prove their worth and it is a test at which Eder excelled. In total, he spent eighteen months with Frosinone, scoring twenty times in fifty two games and marking himself out as one of the most promising players around.
It was hardly surprising when Empoli enforced the option to call him back at the start of the 2009-10 season. Even if they ultimately had to pay €2.3 million for him given the terms upon which he had been sent to Frosinone they hardly had any cause for regrets after he scored twenty seven times (including a four goal salvo against Salernitana) to end the season as the top scorer of the Serie B.
Sadly, however, this did not coincide with Empoli's promotion but Eder was clearly too good to remain in the Serie B. Up stepped Brescia who bought out half of his contract – a quaint tradition in Italian football that has since been outlawed – to give him his first taste of the Serie A. The agreement was that they would buy out the other half of his contract only if they avoided relegation but, despite Eder scoring six time, Brescia couldn't avoid the drop.
So it was back to the Serie B for him, although only briefly. Cesena, another team hoping for his goals to stave off relegation, paid up €2.8 million in the hope that he would find his form and justify that investment. But, once again, it wasn't to be. Eder had to wait till January to score his first goal and, despite scoring once more a couple of weeks later, he was loaned off to Sampdoria
This meant a return to the Serie B and another new club, his fifth in as many seasons. The big difference was that his new club was once considered to be among Italy's elite and who were now looking to bounce back. They were looking to Eder to provide the boost needed for them to gain promotion and, yet again, he showed that in the environs of the Serie B there were few who could match him.
His arrival provided them with the boost that they needed and, having scored five time in twenty games, he helped Sampdoria to promotion via the play-offs.
Sampdoria were suitably impressed to spend €3.5 million to make the deal permanent, and, perhaps boosted by the confidence he replied with his best ever showing in the Serie A, scoring seven times in thirty games. This familiarity and confidence was further highlighted a year later as Eder improved even further pushing his total goals scored to twelve.
That goal scoring run has continued throughout this season and is what convinced Conte to call him up for the national team. To a degree, it was a surprising move yet it was also a move forced on to the Italian national coach by the paucity of striking options especially with Balotelli struggling for form.
Yet it resulted in somewhat predictable criticism at home and also some stinging comments from the Brazilian coach Dunga.
"Eder was among those we were looking at in Europe," he said. "In that position we have Neymar, Coutinho, Oscar, Robinho and Willian – prosegue. The gold and green shirt is special, you have to cherish it. Eder was hasty."
"Or, maybe, he made the right choice," he continued. "Time will tell."
Based on his international debut that he marked with a 'Brazilian' goal – a spectacular shot from the edge of the box that curled past the keeper – it probably won't take that long for Italy to agree that Eder's (and Conte's) choice was indeed the right one.