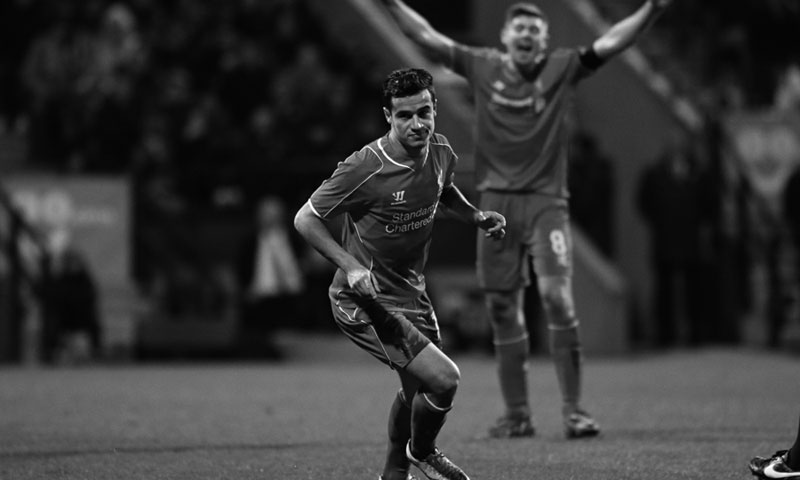 For some reason, when people think about footballers they assume that they are different; that their talent arms them with more than a simple ability to control a ball better than the rest of us.
It is (partly, at least) why so much is made when players slip up. People don't expect footballers to want to go out partying, to want to smoke, to give in to temptation of any kind….they're footballers, the luckiest people alive, playing a game for a living and representing the club as the fans have vainly dreamed of doing all their life.
Yet, and obvious though this might be it clearly bears saying, beneath all the fame and talent they are like the rest of us. If a player has a newborn in the house, he's likely to go to training bleary eyed by the lack of sleep. Or, if that kid is sick, he'll be carrying with him the worry just like the rest of us.
Indeed, it is possibly worse for them because, regardless of what worries or problems they have, once they go out to play they have to project an image of supreme confidence and try not to let it distract them.
It is, to an extent, even worse for talented young players. A more mature player will have learned how to deal with the pressure (hopefully) and will know how to handle certain criticism. Not so young players who are often either excessively hyped or else mercilessly criticised when, in truth, they are simply what it says on the cover: talented young players who are still learning and with areas in their game that need working on.
It is why often it takes not only a special talent to make it at the highest level, it takes a special kind of character that can react to whatever challenges they come face to face with.
And there can't be many greater challenges than leaving your country, go to live in a completely different culture and be expected to excel for one of the world's biggest teams. All this whilst you're still eighteen years old.
That is the journey that Philippe Coutinho took when he hit that age. Two years earlier, Inter had been so impressed by his talent that they had accepted to pay €4 million for the sixteen year old and, on top of that, agreed to let him at Vasco da Gama until he was old enough to officially join them.
Such faith is flattering, but the pressure of such a deal must have been immense.
At a similar age, the biggest kind of pressure that I had to face was at university and not disappointing my parents by failing exams there. It is impossible for me – and for most others – to imagine just how, at that age, I would have managed the kind of expectations Coutinho was under.
Vasco da Gama were looking at him as a huge source of revenue, he had to keep on improving his game whilst at the same time preparing to move to Europe to play in one of the toughest leagues.
Matters hardly got better once he arrived in Italy. Fans had been hearing for two years of this fantastic talent that the club had found in Brazil and, inevitably, expectations far exceeded what Coutinho could deliver.
Add to this the added complexity of, having won the European Cup under Jose Mourinho, Inter were struggling to hit similar heights under the unloved new manager Rafa Benitez.
"I didn't have confidence," Coutinho admitted of the time in an interview with the Daily Mail.
Hardly a surprising admission from a young player living in a new country on his own, even if one that few are likely to admit to.
"My parents stayed with me in Italy for a while, that helped at first. But then they went home and it was hard. When they left you start to appreciate how big a step it is leaving behind everything that you know."
"You miss your family and friends but you have to deal with it. I have been away four years now and I still miss them. My ambition was to succeed and you have to get on with life."
And in that final sentence you start to get a feel of what Coutinho is all about. Many others would have crumbled under the pressure – and, indeed, many do – yet he pushed on.
A spell with Espanyol under Mauricio Pochetino rebuilt his confidence and provided him with the mental strength that he was indeed good enough for European football. Yet, despite his good form, people at Inter weren't convinced and so, when Liverpool came in with an £8.5million offer they gladly accepted.
It could prove to be one of the worst mistakes in their history. And, given their track record in the transfer market, that is saying something.
Despite the physicality of the English game, which Coutinho admits took him by surprise, it didn't take long for him to start to prove his worth. His impeccable control of the ball, the ability to move into space with phenomenal ease and vision to make devastating passes quickly marked him out as one of Anfield's new favourites.
Yet arguably his best game in a red shirt – against Arsenal in February of 2014 which Liverpool won 5-1 – was a match where he showed more than pure talent. In that game, he was constantly pressing and pressurising the Arsenal midfielders, forcing them to concede possession as high up the pitch as possible. His work rate on the day far exceeded what is normally associated with a flair player.
The thing is that Coutinho doesn't see himself as ' just' a flair player. That is not his character. Instead he wants to work as hard as possible to add other aspects to his game.
"The most exciting thing isn't just how good he is now, it's the further improvement he can make in his game. In terms of potential he can still become even better," Brendan Rodgers says about him. "He's a kid who wants to train every day."
Again this is a trait that people assume is common among all football players. In truth, it is not because just as in any workplace there are those who are willing to go by doing as little as they possibly can.
Not so Coutinho. He is the kind of player who is constantly looking at what others are doing to try and learn off them, even if those other players are – in the eyes of many – less talented individuals. "I work with Joe (Allen) sometimes to see how he uses his body to protect the ball. He's amazing at it," he told Brazilian radio. Think about that for a second: Coutinho looking at what he can learn from Joe Allen.
When Felipe Scolari decided against including him in the Brazil squad for the World Cup, he used the resulting frustration as a source for motivation rather than a reason to sulk.
"I'm going to use this anger and push myself to my limits. I saw how Luisito (Suárez) was a maniac in training. At this point, my body and mind feel like clay. I will mold it the way I envision, and I will use my fire to make them harder."
In fairness, Rodgers deserves some credit for the way that Coutinho has developed.
"I owe thanks to Brendan Rodgers. After Wigan away, where I didn't stop fighting – Brendan called me to office and told me he's sure I can be a 'volanté' (for Brazilians, the role of volante is effectively that of a controlling midfielder) or a number 8."
"Brendan showed me I can learn. He said before Everton at Anfield, "do you have the fire?" Before Against Arsenal he told me to not give them peace. I gave no peace," he said of the games against those teams towards the end of last season.
Before moving to England, Coutinho had been considered a weak player who was easily shrugged out of games. That perception has now changed. So too is the impression that he doesn't score enough goals. Significantly, that progress hasn't come by chance but because both are areas on which he has worked hard.
Because ultimately it all falls down to Coutinho being a winner and having the character to work for that. "I want to be part of the Brazilian national team, to be playing, to be a great player and win titles, this is the most important thing," Coutinho told LFCTV.
"It's what makes you become an idol in the club. This is what marks the club. I have this ambition, this goal of participating and winning titles."