The Brasileirão season is winding to a close and, for the third season in a row, the title will be won at a canter, this time by Tite's Corinthians, who are a single point away from confirming themselves as campeões.
With only four rounds of the 2015 season remaining, thoughts are turning towards the individual trinkets that will be handed out. In a season where they have won the league easily, with the best away record, the best home record, the most goals scored and the least conceded, the list is going to be dominated by Corinthians players.
However, Timão have not had the absolute monopoly on fine individuals. Here, I take a look at my main contenders for the title of 2015 Prêmio Craque do Brasil.
Ricardo OLIVEIRA (Santos)
When the season started back in May, few would have predicted that 35 year old Oliveira would be leading the line for his country by October. Oliveira's combination of power and precision in the penalty area has seen him lead the artilheiros list for most of the campaign.
The ex-Valencia and Milan striker has become the archetypal penalty box prowler during a campaign where O Peixe are in the G4 mix up and have also qualified for the Copa do Brasil final.
Alan Shearer says that, once he entered his 30s, his then manager Bobby Robson instructed him to only worry about running the width of the penalty area. Oliveira, with younger creative talents around him such as Gabigol, who has flourished on the left side of a front 3 and Lucas Lima providing bullets in behind him, has proved unstoppable.
A beguiling mixture of brawn and composure, he has provided the spearhead of Santos' exciting front 3, scoring 24 goals at the time of writing.
Oliveira concentrates on providing a focal point for his team, he is able to shield and protect the ball and provides flick ons for his younger, faster attacking collegiate. But largely, his role is simply to finish moves. He doesn't dribble, he's not an especially adept passer and his control can even occasionally be wayward. He plays on the shoulder of defenders (nobody has been flagged offside more times than Oliveira this season) and sniffs out and finishes chances with aplomb. He is the perfect foil for Dorival Junior's exciting young side.
---
JÁDSON (Corinthians)
Jádson returned to Brazil with São Paulo in 2012 after seven years at Shakhtar Donetsk, but his move to Tricolor did not bear fruit. Under the management of Paulo Autuori and Muricy Ramalho, he often cut a frustrating and isolated figure.
In 2014, Jádson moved across the city to Corinthians in the swap deal that saw Alexandre Pato move in the other direction. Under the tutelage of Tite and in the well-oiled machinery of the Timão midfield, Jádson has become a reformed influence.
With the solid platform provided by Elias and Ralf in Tite's midfield, Jádson has been given license to make late runs into the penalty area. He currently has 13 goals this season, putting him second in the artilheiros list behind Oliveira.
He and creative midfielder Renato Augusto contain the blended forward thrust for Tite's side. Augusto floats like a butterfly and Jádson stings like a bee.
Many feared that Corinthians had lost the thrust in their uppercut when José Paolo Guerrero left for Flamengo at the beginning of the season. They play with a lone striker at the tip of a 4-1-4-1 formation and Vágner Love, for all of his pace, hardly seems suited to the single striker role on paper. However, Corinthians' midfield is so dynamic that they have been able to make amends and, in the process, Love, so often a frustrating striker, has packed some punch.
Jádson has been considered an expensive luxury player in the past, but with Ralf and Elias behind him, he has been able to focus on playing to his strengths. He has 12 assists to go with his 13 goals in this campaign, making him the most productive attacker in the division.
Timão's threat is so diverse which splits the focus of opposing defences and Jádson embodies that diversity. Ahead of him, Vágner Love acts as both a decoy to enable his forward runs and a target for his slide rule through balls. Jádson is probably the leading candidate for the award.
---
RENATO AUGUSTO (Corinthians)
Often played on the right hand side during his spell at Bayer Leverkusen, Tite has handed Renato Augusto a central role this season, which has paid dividends.
Corinthians win games by controlling them from the middle of the park with precise, targeted counter attacking. Alongside Jádson, Renato Augusto is really the brains of this operation. This is a player approaching his prime years who has really come to understand timing, picking his moments to dismantle opposition defences.
Augusto is a good dribbler and has a commendable sense for when to hold onto the ball, but also for when to release it with a cutting pass.
With the power base of Elias and Ralf at his back, Augusto dictates games creatively, but he is intelligent enough to slot into Tite's midfield machine without simply being a creative maverick. In 2015, he has shown bifurcate qualities of intelligence and imagination that are so pivotal to Corinthians' domination of games.
With 5 goals and 5 assists this season, his numbers are not as impressive as teammate Jádson's, but his influence is not diminished by these statistics. If you'll forgive me a crude comparison as an Arsenal fan, Augusto is more Cazorla than Özil.
According to whoscored, Augusto averages 1.7 tackles per game as well. He helps Corinthians dictate the tempo of matches, a quality Dunga clearly appreciates too, with Augusto having been called up to the last 3 Seleção squads.
---
DOUGLAS SANTOS (Atlético Mineiro)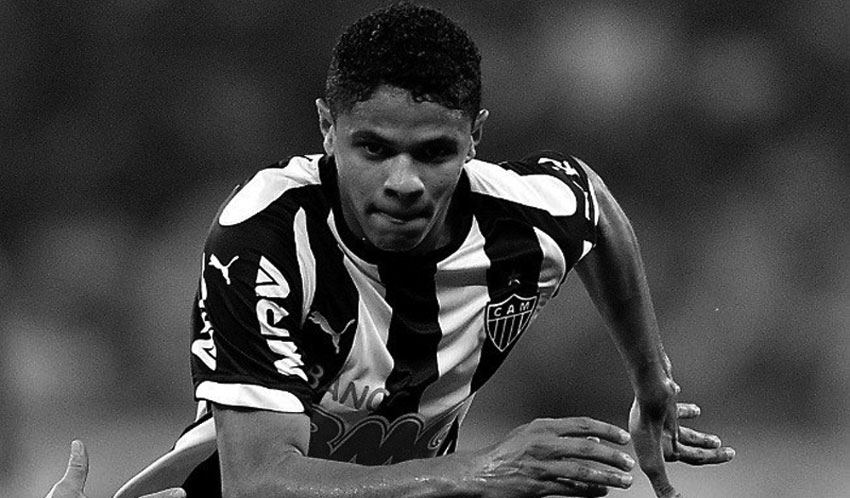 The 21 year old Galo left-back came into the side regularly at the end of the 2014 campaign and his improvement in 2015 has earned him international recognition.
Douglas is a buccaneering lateral in the archetypal Brazilian tradition, patrolling the left flank with his rangy runs and pinpoint delivery.
Galo tend to play with one of Jesus Dátolo, Thiago Ribeiro or Carlos on the left hand side of the front three. The trait that they all share is that none is a typical winger, all three prefer to move inside.
This creates a balance with Atlético's right hand side, where Luan is a much more traditional wide man. Consequently, there is a great burden for Douglas to provide the width on Galo's left.
In 2015, he has simultaneously become one of the team's best attackers and best defenders. He has a youthful, springy gait that allows him to bound up and down the left with gazelle like overlaps; his recovery pace is proving to be a valuable weapon in his defensive arsenal. He still has some education to undergo in this respect; having picked up 6 yellow cards this season, occasionally his tackling can be rash. But there's a slight mitigation in the fact that he is able to catch his opponents up even when attacking from advanced positions.
Atlético have not truly settled on a preferred left sided attacker, with Carlos, Thiago Ribeiro and Dátolo all having been in favour at one time or another during the season. But this has done little to effect Douglas' performances.
In Lucas Pratto, Galo have a jackhammer of a striker that thrives on service from wide areas. This is where Douglas' game has come into its own this season, he has honed his delivery. His crossing is nearly always lasered into the famed "corridor of uncertainty."
He has a respectable 3 assists this season, but that does not nearly do justice to the threat provided by his crossing. Douglas has become arguably the finest left-back in the division.
---
LUCAS LIMA (Santos)
Under the guidance of Dorival Junior, Santos have become one of the most watchable teams in the Brasileirão in the second half of the season. Their counter attacking style is easy on the eye, with a blend of qualities.
Gabigol continues to blossom into one of the finest attacking talents in the country, Ricardo Oliveira has enjoyed a renaissance as a finisher extraordinaire. But the key to O Peixe's fluid style is held by 25 year old playmaker Lucas Lima.
Lima has laid on 6 goals for teammates this season, as his quick feet and penchant for defence splitting passes have propelled Santos into the G4 equation and the Copa do Brasil final.
Lima also delivers devilish set pieces from all areas of the pitch and his tidy feet see him draw fouls pretty constantly in dangerous areas of the field. Lima's progression this season has been such that he started for his country in Buenos Aires ahead of the likes of Coutinho (not considered in the most recent squad), Oscar and Kaká.
Lima is no stranger to hard work either, he commits an average of 2.1 tackles per game according to whoscored.com.
Santos are largely a counter attacking side and Lima is the devil in their detail, enabling swift transitions with either his ability to carry the ball, or else his eye for a through pass. The likes of Oliveira and Gabigol, who have scored 39 goals between them in all competitions this season, are certainly grateful for the creative talents of Lucas Lima, the stream through which O Peixe are able to swim.
---
ELIAS (Corinthians)
Another of the key midfield cogs in Tite's clockwork Corinthians midfield. Elias' presence as a box to box midfielder has kept O Timão ticking over this season.
The team are set to win the league with the best defensive and offensive records and nobody embodies that dominance of both crafts quite like the tireless Elias. His performances have won him a place as Brazil's starting number 8 ahead of Manchester City's Fernandinho.
With a total of 5 goals and 7 assists, Elias has added a string to Corinthians' attacking bow in midfield, he has replaced Paulinho at both club and international level. But Elias is also adept at breaking up play, making an average of 2.5 tackles (and 0.9 fouls) per game.
Elias often starts Corinthians' attacks with a well-timed tackle followed by thrusting forward run. He has formed a good defensive partnership with Ralf, who sits at the base of the midfield, but is also able to join the likes of Jádson in attack.
There are three Corinthians midfielders in this list and all serve very distinct roles. Renato Augusto is the rhythm guitarist, maintaining the midfield melody. Jádson the frontman, applying the gloss to the tune of the backing band. Elias is like the drummer, ceaselessly providing the pounding beat.
If Renato Augusto keeps the tempo, Elias acts like an electric charge, injecting it with purpose and conviction. He has become a leader for Timão and the symbol (or cymbal?) for Tite's refined groove.
---
Follow Tim on Twitter @Sillberto