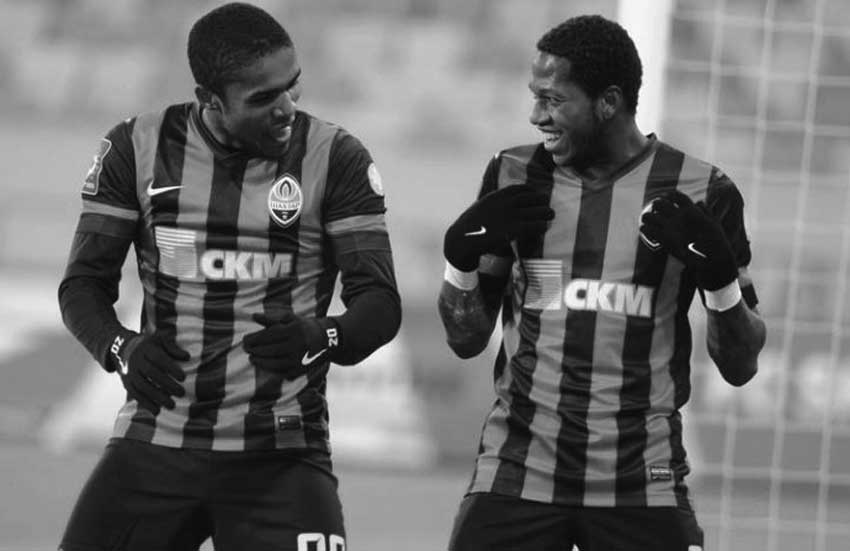 Neymar's recent four match suspension caused Brazil coach Dunga a great deal of consternation as the Seleção embarked upon CONMEBOL World Cup qualifying.
Prior to the opening qualifier with Chile in Santiago, the CBF went cap in hand to CONMEBOL and asked for their captain's ban to be reduced. Dunga selected only 22 of his 23 squad allocation in case the governing bodies looked kindly upon Brazil's pleas. It was to no avail.
Hulk and Ricardo Oliveira stepped into Neymar's shoes in static number 9 roles, with mixed results. (Both men made goalscoring contributions, but neither was especially inspiring otherwise).
The duo that replaced much of Neymar's absent spark were the wide men, Chelsea's Willian and Bayern Munich's Douglas Costa. Willian and Costa share a bond that an increasing amount of prominent Brazilian footballers share. They both played for Shakhtar Donetsk.
Shakhtar has become a kind of finishing school for Brazilian players in Europe. It's a mutually beneficial relationship. Shakhtar feather their nest with some of the finest upcoming Brazilian talent and reap the profits once the birds are ready to fly the coop to bigger clubs.
The jump from Brazilian football to top level European teams is significant and clubs such as F.C. Porto and Villarreal have made it their business to bridge this divide, scouting the finest talent in South America, polishing away the rough edges and then redistributing to Europe's behemoths for a tidy profit.
Villarreal and Porto have been the two most striking examples of this business plan of sorts, but over the last decade, Donetsk has pitched its flag into the ground to become Brazil's most celebrated footballing college.
The strategy works for the Ukrainian club on a number of levels. In the best case scenario, they benefit from playing talent such as Fernandinho, Douglas Costa and Willian for a few years, redoubling their domestic dominance and ensuring that the carat of the Champions League stays firmly in place, before selling on at huge profit to more decorated European clubs.
Alex Teixeira, scorer of 23 goals this season, is likely to be Donetsk's next cash cow. In July, after eight years and 77 goals, they sold Luiz Adriano to A.C. Milan for a tidy €8 million, good money for a 28 year old.
If the vultures do not circle, they are usually able to simply hold onto a player for their own ends, especially since they can pay competitively. Jádson spent seven years with Shakhtar, before returning to Brazil in 2012, aged 29. They were able to use him during his peak years. Shakhtar scout very carefully, but obviously not every gamble pays off.
Bernard, signed from Atlético Mineiro, has struggled to settle and has not seen eye to eye with laconic coach Mircea Lucescu. That said, Bernard has shown a flicker of a renaissance in recent weeks and many of their purchases have taken time to settle. Shakhtar have been charitable, affording young Brazilians that time. But with big sales such as Fernandinho, Luiz Adriano, Willian and Douglas Costa behind them and talents such as Teixeira and Fred fattening up nicely for future profit, Shakhtar can afford the odd hair in the soup in any case.
With domestic dominance in Ukraine and Champions League football, Donetsk are able to offer a sort of introductory course to European football for Brazilians. The move from Brazil to Ukraine nicely distils the acclimatisation process for bigger European clubs in the west, breaking the back of that difficult process for them. Ukraine has almost become a kind of cryogenic chamber for young Brazilian talent.
Shakhtar also offer a cohesive imagining of a team game for young Brazilian players. Lucescu and Shakhtar's philosophy is simple, they want their attackers to be Brazilian and for their defenders and goalkeeper to be Ukrainian, or at least Eastern European.
In Brazil, youth coaches tend to shape talented players as individuals. Accomplished youngsters are taught to impress European scouts, as a result, there is a deficit in their education; they do not learn to become team players and are given little tactical grounding. Coaches are hired and fired with such regularity on the domestic football scene that teams flit wildly between different ideas.
It took some time for Shakhtar to convince young Brazilian players to move to a cold and unglamorous industrial city in a remote part of the Ukraine. But slowly, they have built a reputation that has made them an attractive prospect.
An economies of scale effect has taken hold, the more Brazilian success stories that emerge, the more willing players and agents are to broker contracts. It also helps that Shakhtar are able to pay well, due to the presence of local steel magnate Rinat Akhmetov. It's true that Shakhtar had to rely heavily on big contracts to tempt Brazilian players over initially, but the motto "if you build it, they will come" has proved immeasurably apt.
Shakhtar have worked hard to ease the adaption of their young Brazilian players. Coach Lucescu is fluent in Portuguese. A long term Brazilophile, Lucescu toured the country as a player in the 1970s with the Romanian national side.
He instantly fell in love with the nation and says that he was very interested in moving to play for a Brazilian club. "Fluminense sent me an invitation to play here, in Brazil. Back then, Romania was a socialist country, it was very difficult to go abroad. I still keep this invitation at home. I've always been in love with this country and with Brazilian football," Lucescu revealed last year. The club fund the migration of player's families to the Ukraine and even ensure that supplies of popular Brazilian cuisines are flown over at regular intervals.
Shakhtar's first Brazilian signing was striker Brandão, who joined in 2002 and stayed for seven years. But Lucescu, speaking to FourFourTwo magazine in 2013, suggests that the capture of midfielder Matuzalém in 2004 proved to be the turning point. "We started to create the new team around this player, who immediately became its true leader," he said.
A steady trickle of Brazilian players have migrated to Shakhtar ever since, there are currently 9 Brazilians in the first team squad. Lucescu's team even toured Brazil during pre-season last January, playing friendlies against Bahia, Flamengo, Atlético Mineiro, Internacional and Cruzeiro, further strengthening their bond with the country and, no doubt, exchanging the odd business card.
Lucescu's love of Brazilian football may have smoothed Shakhtar's transition into a bona fide Brazilian brand, but scout Frank Henouda has formed the brains behind this university.
Henouda was involved in the transfer of legendary Brazilian 'keeper Claudio Taffarel to Galatasaray in 1998, where Lucescu was manager. The two formed a strong bond and Lucescu immediately called Henouda when he was appointed at Shakhtar. Together, the two hatched a plan to succeed in incubating young Brazilian talent where many European clubs had failed. They decided to pay special attention to player's home lives, "Brazilianising" them as much as possible to ease the culture shock. They prevented these players from giving interviews to the media and, in some cases, barely even played them in their first seasons in order to focus on their domestic acclimatisation.
In an interview with Footballski.fr (translated here), Henouda revealed that he was given a brief to scout talented young Brazilian players. Once they had been tempted over to the Ukraine, the by-word was patience. Many players from this sprawling nation fail to settle quickly in Europe and clubs do not indulge them with temperance.
"He made the decision to build an all-Brazilian team from midfield on in order to avoid mixing nationalities. In this way, he wanted to create immediate cohesion and automatisms. Above all, Lucescu knew that he needed to be patient with the young Brazilians, and that he needed to wait for them to adapt to the everyday life and the tactics that are different between Europe and Brazil," said Henouda.
Now, Shakhtar's "Brazilian brand" means that they are even in a position to fend off competition from other European clubs for the country's finest young talent. Lyon wanted Willian, Inter wanted Douglas Costa and F.C. Porto were very interested in Bernard. Shakhtar have the money to pay competitive salaries, but they also have a reputation as a fruitful "career option" for emerging Brazilians.
It is a reflection of modern football perhaps, that footballing philosophies have been reduced to thinly veiled business plans, but Donetsk have adapted to the reality of their situation and gain an edge on competitors in their immediate market.
It is troubling for the Ukrainian national team that the nation's dominant club invests so little in domestic talent. But for Brazil, the club has become a welcome satellite. It amends some of the gaps that Brazil has in its own coaching culture and offers players a good tactical education.
Shakhtar has effectively become a set of stabilizers, gradually introducing young talent to the rigours of European football and culture and exposing them to the Champions League. The latter is a crucial carat, offering a shop window to prop up these footballing mannequins.
The two countries may be over 10,000 km apart, but Shakhtar Donetsk has become Brazil's golden bridge to Europe.
---