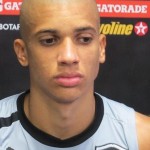 The ongoing series on Brazilian wonderkids begins with a look at Botafogo's left sided centre back, Doria.
Doria emerged at Botafogo in the 2012 season and immediately began to attract attention from clubs in Europe, particularly from the Italian clubs Juventus and Roma. Manchester City of the English Premier League also sent their scouts out to look at the player, and you can guarantee that a lot of other clubs will have investigated the buzz surrounding the defender, who looks almost certain to be a future star of the Selecao.
Doria was brought to Botafogo after he was spotted playing for the Futsal team Tio Sam in the nearby city of Niterói, but he so nearly signed for Porto Allegre based team Gremio. A broken toe prevented him from travelling south for trials with the club when he was just 14 years old, and not long after this he ended up signing for a club closer to home.
At the age of 17 Doria was brought through from the youth ranks to the Botafogo first team to replace the injured Brinner, and immediately settled in to the side. He made his debut for the club against Coritiba on 27th May 2012 in the Brazilian top division, Serie A. He held his own and convinced Oswaldo de Oliveira that he was a first team player, and he went on to appear regularly for the team during the last few months of the 2012 season.
This was where the plaudits began to pour in on the player, and the interest from foreign scouts began to increase. A call up for the Brazilian U20s for the South American youth championships further enhanced his profile, and he was one of just a few Brazilian players who emerged from their poor showing in the tournament with reputation intact.
He comments on the Botafogo website that he admires Thiago Silva, and there's no doubt that with a bit of luck and hard work he could become the successor to Brazil's current star centre back.
Player Information and Scouting Report
Full Name – Matheus Dória Macedo
Born – 08/11/1994 – São Gonçalo, Rio de Janeiro
Postion – Centre Back
Foot – Left
Height – 6.2 (188cm)
Doria is a tall, athletic, left footed centre back. His background in futsal means he is also comfortable on the ball and his height and strength mean he has an excellent clearing header. He is adept at carrying the ball out from defence into midfield, and he can occasionally pick out a long pass to a forward.
Positionally he can improve and this will come with more regular first team football which he hopes to get at Botafogo going into the 2013 season.